In Memoriam: Vasyl Lisovy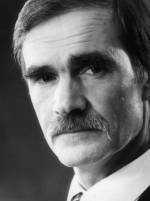 Vasyl Semenovych Lisovy, philosopher and former dissident and political prisoner died on Friday 20 July 2012. He was 75.
Vasyl Lisovy was born on 17 May 1937 in a village in the Kyiv region. He studied and later lectured in Philosophy. He began distributing samizdat in 1961, and from 1966 actively prepared and circulated samizdat material among students. It was the second wave of arrest of members of the intelligentsia in 1972 which prompted Lisovy to open protest. He and Yevhen Pronyuk issued №6 of the samizdat journal "Ukrainsky visnyk" ["Ukrainian Herald"], which they revived in order to provide society with information about those arrested and to undermine the charge against those arrested of having published the previous issues. He also wrote an Open Letter to the Members of the Central Committee of the Soviet Communist Party and to the Central Committee of the Ukrainian Communist Party", This ended with the following:
"Taking into consideration the conditions under which this letter is being submitted, it would be difficult for me to hope for a constructive reaction to it. Although I am not appearing here in the role of respondent, nor witness, nor even in any role as somebody involved in this case which is now called "the Dobosh case", after passing on this letter I will without any doubt become one of the "enemies". Perhaps this is correct since Dobosh has been released and the "Dobosh case" is simply a case directed against the living Ukrainian people and living Ukrainian culture. Such a "case" does indeed unite all those arrested. However I consider myself to also be implicated in this case, which is why I ask that I also be arrested and tried", (Yaroslav Dobosh, a Belgian national, had had been arrested by the KGB, and after "admitting guilt" on television and in the press, had been deported to Belgium where he immediately withdrew his statements).
Both Yevhen Pronyuk and Vasyl Lisovy were arrested in July 1972. Vasyl Lisovy was sentenced in December 1973 to 7 years hard labour and to 3 years exile. The "charge" was under Article 62 § 1 of the Criminal Code (« anti-Soviet agitation and propaganda").
As a result of his protest against Soviet troops occupying Afghanistan, on 17 July 1980 Lisovy was sentenced for "parasitism" to one year harsh regime labour camp. The remainder of his exile period he spent in Ilka in the same area. He worked as a lathe operator in a car repair factory. Lisovy was joined in exile by his wife Vera and children Myroslava and Oksen.
He was released in July 1983. In Kyiv he was unable for a long time to find work, and it was only after he made a request to the KGB that he was taken on as a research assistant in the Kyiv History Museum.
In 1989 he was rehabilitated and had his PhD officially reinstated, as well as his position in the Institute of Philosophy of the Academy of Sciences.
Вічна памˈять Eternal Memory