Court amnesties one of the officers charged over the death of Ihor Indylo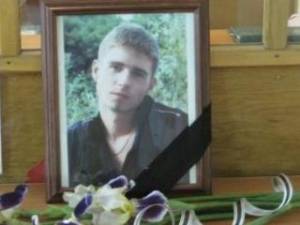 The Desnyansky District Court which is for the second time examining the case brought over the death in police custody of young student Ihor Indylo, has amnestied one of the two officers who were facing charges.
Serhiy Kovalenko had been charged with not checking the grounds for detaining Ihor Indylo. The lawyers representing Ihor's family had asked why Kovalenko who was responsible that night for watching over detainees did not call an ambulance for the young man who was obviously in a very bad state.
The amnesty was explained as being because Mr Kovalenko has a five-year-old son.
The CCTV footage shows how Kovalenko reacted when Ihor fell from the bench. The police officer himself claims that he asked him how he was feeling and was told (rudely) to go away. Another detainee on the contrary asserts that after falling, Ihor laying groaning.
Yehor Sobolyev from Svidomo asked Kovalenko if he would have done anything differently if he had known how it would end, Kovalenko refused to answer. He said only that he was now "on a pension" when asked if he planned to continue working in the police force.
The court is continuing to examine the case against the other police officer, Serhiy Prykhodko. He detained Ihor and took him to the Shevchenkivsky Police Station. Ihor's parents believe that he inflicted the skull injury that led to their son's death. Prykhodko is only charged with unwarrantedly detaining the student.
Ihor Indylo died in police custody on the night from 17 to 18 May 2010.  He had committed no offence, went voluntarily to the police station, apparently after an altercation with a police officer living in the same student hostel. He died from head injuries and haemorrhaging.  After a report on the TV 1 + 1 Channel, the story became high-profile, and the police assertion Ihor fell in a state of inebriation was insultingly unconvincing.
A criminal investigation was initiated and in November the Kyiv Prosecutor's Office announced that it was handing the case to the court
New information reported by Yehor Sobolyev at Svidomo