Berkut snipers aimed at protesters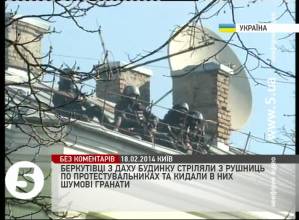 The first reports that Berkut riot police were positioned on roofs and aiming rubber bullets and grenades at protesters came early on Tuesday, with two of the injured women simply taking part in the procession
The photo above from Channel 5 is of Berkut officers shooting and hurling grenades at protesters. EuroMaidan SOS rightly notes that this is a matter for the prosecutor's office (or should be) since such activities are clearly well beyond Berkut scope.
While this is not the time to decide at which point the protest turned nasty, there was evidence very early of Berkut shooting from roofs. The aim, at least at the outset, seems to have been to stop a large and at least initially peaceful procession from moving towards parliament where the opposition are trying to get important constitutional changes at least put on the agenda.
Ukrainska Pravda reported at 10.57 that two women had received rubber bullet wounds, one around the heart (she was probably protected by seasonal layers of clothing); the other on the face.
The bullets would seem to have been coming from roofs, and therefore aimed at protesters who by and large were dressed in ordinary outside clothing, with the yellow and blue ribbons (of the Ukrainian flag).
In the early afternoon Radio Svoboda reported that demonstrators had themselves climbed onto the roof of a building on the corner of Shovkovychna and Instytutska St from where police were shooting at people and forced them off.
(Halya Coynash)