Putin's Neo-Nazi Helpers
Russian TV has a new hero, "elected" by the people and persecuted for his beliefs by the new baddy regime in Kyiv. Pavel Gubarev is certainly pro-Russian and, as of March 6, in custody, but his neo-Nazi background, seemingly shared by some of his most vocal defenders, makes him a curious choice
Pavel Gubarev in not-so bygone neo-Nazi days
Russian TV has a new hero, "elected" by the people and persecuted for his beliefs by the new baddy regime in Kyiv.  Pavel Gubarev is certainly pro-Russian and, as of March 6, in custody, but his neo-Nazi background, seemingly shared by some of his most vocal defenders, makes him a curious choice.  The Kremlin, after all, claims to be fighting what it labels the fascist hordes, not supporting them. 
A Donetsk small-time business man and head of the "People's Militia", Gubarev took part in a big demonstration on March 1 in Donetsk during which he was supposedly elected "people's governor".  On that and subsequent days Gubarev led crowds in storming the Donetsk regional administration building, hanging a Russian flag. On March 5 pro-Russian activists are reported to have attacked EuroMaidan activists on Lenin Square.  The police say that about 10 people from both sides were injured, with three needing to be hospitalized.
Gubarev, claiming to be the people's governor, demanded that the regional authorities oppose the new Kyiv administration and that a referendum be held on whether the oblast should secede or otherwise change its status.  He also directly called for Russian military intervention in the oblast. 
He was detained on March 6 and at the application of the SBU [security service] remanded in custody for 2 months. The SBU are charging him with violent acts aimed at overthrowing the authorities (109 § 1 of the Criminal Code) and seeking to undermine Ukraine's territorial integrity and sovereignty (110 § 2).  They have included a charge of seizing a public building (Article 341).
The Russian media mention only this last charge which they note was not brought against the pro-EU integration protesters in Kyiv who seized the Kyiv City Administration building and others. 
This is just one of many geographical differences in presentation of these and other details.  A popular Ukrainian blogger says that Gubarev was close to the local Party of the Regions people, and was earlier involved in organizing paid rallies and the party's PR campaigns.  On March 1, after a number of lacklustre addresses, Gubarev got up on stage and said what the audience wanted to hear.  The author believes that this was a reflection of what he calls their "fascist, chauvinist views" based on Russian, great-state nationalism. "For just that reason the audience liked Pavel Gubarev. In the past he was a member of the fascist organization Russian National Unity."
By declaring himself governor, Gubarev doomed his pro-Russian rebellion to failure.  Instead of the promised 50 thousand people the following day, there were only around 5 thousand.  Most were from Donetsk and the oblast however the most aggressive, the blogger believes, were probably from Russia. "The skinheads dressed uniformly were clearly not local. Here shaved heads and bomber jackets have long gone out of fashion with those on the right."
Whether Gubarev was given reason to believe in Russian intervention of a military, rather than motley marginal nature is not clear.  Certainly the benefit to the Russian propaganda machine of Gubarev the martyr seems far in excess of any uses as "people's governor". 
The state TV channel ORT calls him "the governor proclaimed by decision of the city residents themselves", while NTV goes all out to present Gubarev as representing the people in battle with oligarchs, suggesting that the "February coup in Kyiv" was also of an oligarch nature. "The security service took custody of the people's governor as if he were an especially dangerous terrorist, not bothering to observe the legally stipulated procedure".
TV news broadcasts are ideal propaganda tools.  Nobody asks for claims to be substantiated, and even if a viewer felt suspicious, switching channels in Russia would change only the presenter, not the lies and manipulation of information.  Nor will you hear the facts mentioned above that make this choice of hero exceedingly strange.
Gubarev was a member of the neo-Nazi, Russian chauvinist Russian National Unity movement, and judging by his address on March 1, this chauvinism has not changed. According to reports in the Ukrainian media, Russian nationalists with xenophobic and far-right views may be involved in the separatist movements in Donetsk and the Crimea.  A member of the "Other Russia" party led by National Bolshevik leader Edward Limonov, Rostislav Zhuravlyov is believed to have negotiated with the SBU attempting to obtain Gubarev's release.  Other members of Other Russia are currently being recruited as volunteers for the secessionist moves in the Crimea , while Igor Azar, a Russian journalist, asserts that Alexei Khudyakov from the migrant-bashing Russian organization "Shield of Moscow" is also helping Gubarev. 
None of this is illegal, but it is surely worthy of investigation given the claims made by Russian president Vladimir Putin that his country is protecting Russian nationals from the "orgy of nationalists, extremists and anti-Semites on the streets of Kyiv".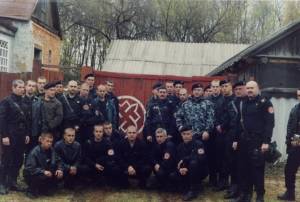 The western media has returned over and over again to certain topics, such as the role of the rightwing in the Maidan movement, claims of anti-Semitism, etc, especially with respect to the VO Svoboda party and Pravy Sector.  However many times the claims are compellingly refuted, not least by prominent Jewish organizations, Ukraine's Chief Rabbi, and others, journalists continue to dredge them out,  reporting them as vague "fears", "concerns", etc..
One likely reason is that the Russian media, via major press agencies, are easier sources of information than Ukrainian media.  Journalists thus miss the moving account given of the funeral in Chernivtsi of Aleksandr Shcherbanyuk, one of the Maidan defenders killed by Berkut police snipers on Feb 21.  After prayers were read by the Rabbi, Pravy Sector members and police officers honoured the slain Maidan defender with a salute. 
And they miss the obvious questions that should be asked when Russian TV is creating heroes out of motley neo-Nazis.  With Putin's use of "anti-fascist rhetoric" to justify real military intervention in Ukraine, the lack of attention to this is truly baffling.