Crimean Tatars left no space for illusion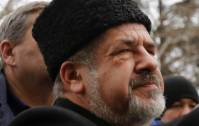 Asked why the Crimean Tatars do not trust the assurances given them by Russia, the head of the Mejlis, Refat Chubarov answered with a question: I'd like to ask you: would it be better that they discussed how you will live together BEFORE they broke into your flat, or AFTERWARDS? 
A day after Vladimir Putin claimed that the Crimean Tatars' rights would be fully recognized in the Russia-annexed Crimea, the puppet government installed at gunpoint on Feb 27 has stated that Crimean Tatars will be "asked" to move from land unofficially occupied.  Wednesday's announcement was accompanied by assertions regarding Crimean Tatar participation in Sunday's "referendum" which diverge widely from the figures given by the head of the Mejlis, the representative body of the Crimean Tatars, Refat Chubarov.  The latter's response to a question from Life News is worth quoting in full.  Chubarov was asked why the Crimean Tatars are not satisfied with the guarantees offered by the self-proclaimed Crimean prime minister, Sergei Aksenov.  He explained that he was not a diplomat and would better give an example:
"Imagine that one morning some people unexpectedly enter your flat. You don't know them, they look scary and they're armed. They don't touch you. They talk to you politely. They use your toilet, bathroom, but are extremely courteous. And then they say: "Let's continue to live this way!"  I'd like to ask you: would it be better that they discussed how you will live together BEFORE they broke into your flat, or AFTERWARDS?  Please excuse me, but that's an answer to your question."
The problem with asking such a question at the right time is, of course, clear.  The answer would not have been the one Moscow wanted to hear.  Previous opinion polls in general had never given a majority in favour of joining Russia. The Crimean Tatars as a people were always totally opposed, both for historical reasons and because of their treatment by certain pro-Russian groups following their return from forced deportation.  The events of the last weeks have been a tragedy for many in the Crimea like the 83-year-old woman knocked down by a pro-Russian vigilante. She and others have seen a scale of violence and intolerance which make them doubt that they can remain.  The Crimean Tatars are an indigenous people for whom the Crimea is their only homeland.  This latest tragedy comes on the eve of the seventieth anniversary of the Deportation and it is not difficult to imagine how bitter the thought of new exile must be. 
The intolerance and lawlessness demonstrated by pro-Russian vigilantes over the last weeks is probably all too familiar.  In the dangerous power games on the peninsula, politicians had long sought to stir up enmity between pro-Russian groups in society, and the Crimean Tatars.  The latter are in no doubt that they are part of Ukraine and wish to remain so.  On Feb 18 this year, MP, veteran defender of Crimean Tatar rights and former head of the Mejlis, Mustafa Jemiliev addressed his fellow Ukrainians from Maidan, saying he was proud of them, proud to be Ukrainian. 
This is not to say that the Crimean Tatars have been treated properly by consecutive governments in Kyiv.  There was never the money and seldom the will to resolve long-standing problems, including housing for those who returned home from exile after Ukraine gained independence.  This is largely the reason that many Crimean Tatars are living on land which they simply occupied because the authorities failed to allocate land due them.  Now Aksenov's deputy,   Ruslan Temirgaliyev has announced that they will be asking the Crimean Tatars to vacate this land which, he claims, is required "for social needs".  He asserts, like Putin the day before, that land will be provided "to ensure a normal life for the Crimean Tatars". 
Life under conditions imposed on them.  The first, though already not the only, person killed since the invasion was a Crimean Tatar father of three small children.  Reshat Ametov was abducted while taking part in a protest against the military occupation.  His body was discovered, with marks of torture, on March 16. 
The Mejlis called on all Crimean Tatars and other Ukrainians to boycott the March 16 referendum which was unconstitutional and gravely flawed in content and procedure.  At a press conference on Monday, Chubarov pointed out some of the irregularities and clear tampering with the results of this supposed referendum.  He stated that only around 1 thousand Crimean Tatars out of a possible 180 thousand took part, against the 30% claimed by Temirgaliyev  After making various promises in an attempt to gain Crimean Tatar support, the puppet government has simply resorted to lies about the results. It is small wonder that the Crimean Tatars don't trust any of their assurances. 
On March 20, Ukraine's parliament took a much belated first step towards officially recognizing the Crimean Tatars as an indigenous people.  A statement adopted guarantees the inalienable right of self-determination of the Crimean Tatar people within a sovereign and independent Ukrainian state, and also recognizes the Mejlis as the Crimean Tatars' authorized body.  The Verkhovna Rada has instructed the Cabinet of Ministers to urgently draw up draft laws setting out and affirming the Crimean Tatars' status as indigenous people. 
The move was long overdue and may be seen as a mere political gesture by some. It does however highlight the inalienable rights and duties of Ukraine before the Crimean Tatars.  Their fate, their tragedy at this time is Ukraine's also.