Top militant linked with Dugin's neo-fascist Eurasia movement killed
Alexander Proselkov, referred to as deputy foreign minister of the self-proclaimed Donetsk People's Republic and Gubarev aide was shot and killed on July 31. Proselkov was a Russian national and member of the neo-fascist International Eurasia Movement and Eurasian Youth Union
Alexander Proselkov,  referred to by the Kremlin-backed militants as deputy foreign minister of the self-proclaimed Donetsk People's Republic and aide to the 'People's Governor, Pavel Gubarev, was shot and killed on July 31.  Proselkov was a Russian national and member of the neo-fascist International Eurasia Movement and Eurasian Youth Union.  Both organizations are closely linked with Alexander Dugin's ultra-nationalist Eurasia Party.  Proselkov was the most prominent, but by no means the only Dugin follower among those actively leading the militants in Ukraine and / or taking part in the fighting.
According to the militants' version, Proselkov was shot dead by a hired killer near Krasnodon in the Luhansk oblast.  They claim that he was accompanying a column of militants' vehicles carrying 'humanitarian aid'.  Proselkov, they say, had "moved away from the column, distracted by some unidentified individuals, and for a short time was out of sight of the column's guards.  Gubarev claims that Proselkov was carrying some 'important information'.
The Ukrainian anti-terrorist operation headquarters believe that the militants themselves shot him by mistake.
Proselkov was one of 6 Russian nationals whom News of Donbas recently named as among the leaders of the so-called Donetsk People's Republic  The others as of June 24 were listed as: Igor Girkin (non de guerre: Strelkov), 'defence minister' identified by US officials as working for Russia's GRU military intelligence service;  Alexander Borodai, who worked in PR in Russia and, like Girkin, actively contributed to the ultra-nationalist Russian newspaper Zavtra; Alexei Khudyakov, former head of the Russian anti-immigration group Shield Of Moscow; Ravil Khalikov and Rostislav Zhuravlev, from Edward Limonov's "Other Russia' Party.  Since that time one other highly telling appointment has been made.  Vladimir Antyufeyev, a Russian who served as the Russian-supported region Transdniestria's KGB chief and 'state security minister' from 1992 to 2012 has been brought in to be DPR 'deputy prime minister in charge of security matters'.
News of Donbas says that Proselkov never concealed his anti-Ukrainian and his neo-fascist leanings.  One of his stunts was an 'execution of the opposition' on May 6 2013 in Rostov [Russia].  The targets seen in the picture are Boris Nemtsov, Alexei Navalny; Mikhael Gorbachev and Gennady Gudkov.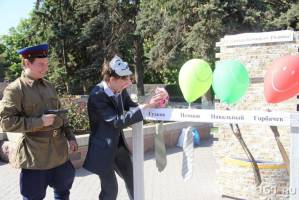 "First blood on Alexander Dugin's hands"
This was the response from Anton Shekhovtsov, prominent specialist on far-right movements.  The first where the link with Dugin's Eurasian ideology is well documented, since it is quite possible that other young men have also ended up losing their lives in Ukraine, after being brainwashed by Russian media and ultra-nationalist propaganda from Dugin and his supporters.
Proselkov was active in the International Eurasia Movement and the Eurasia Youth Union and presumably a conscious supporter of the semi-mystical Eurasian imperialism which their ideologue, Alexander Dugin preaches.   
Dugin has been referred to as 'Putin's ideologue' and he certainly seems to be popular among people high up in Russia.  He is full of anti-Western and anti-democratic rhetoric and believes that Russia will fulfil its historic mission by joining with its former Soviet neighbours in a Eurasian Union.  The address given by Russian president Vladimir Putin in justification of Russia's annexation of the Crimea reflected the same kind of thinking, if not actual influence.  Dugin and his followers have provided active support, training etc. for pro-Russian groups in Crimea and over the last months in eastern Ukraine. 
Duglin's ideology is overtly fascist and anti-liberal.  It is a dangerous force in Russia, and it is a telling part of Russia's aggression against Ukraine that the Kremlin should be using such allies for its undeclared war in Ukraine.