Ekho Moskvy warned over 'extremism' for its report on Donetsk airport siege
Roskomnadzor, Russia's censor has accused the radio station of 'extremism' and claims that the material on Ukrainian soldiers' defence of Donetsk airport 'justifies war crimes'. A second such warning could mean the station is stripped of its licence
The Russian independent radio station Ekho Moskvy has received a formal warning from Roskomnadzor, Russia's censor.  The latter accuses it of 'extremism' and claims that the material in its Oct 29 programme "With our own eyes" [Svoyimi glazami] "justifies military or other crimes".  The letter is spread out on two pages, yet gives no indication as to how the said material can be deemed to 'justify war crimes'.  Ekho Moskvy's chief editor Alexei Venediktov has said that they will be lodging a court appeal against the warning. 
According to Russian law, two such warnings within the space of a year can be used to close down the media source in question, and are therefore extremely worrying.   
It is easy enough to take the fact of a Roskomnadzor warning seriously, as well as the formal demand that the radio station present its official documents also received on Oct 31 from the Interior Ministry's Anti-Extremism Centre.  It is impossible, however, to view seriously the charges of 'extremism' over the material in question, let alone 'justification of war crimes'. 
The material in question is no longer available on the Ekho Moskvy site.   One of the two people who took part in the programme is, however, Sergei Loiko, a journalist for Los Angeles Times, where his material and pictures have not been deemed to 'justify war crimes': Ukraine Fighters, surrounded at wrecked airport, refuse to give up
A full transcript and recording of the Russian interview can be found here.  The officials in Roskomnadzor preferred not to explain where exactly they considered the text to be 'extremist', so the following can only be suggestions.
Sergei Loiko speaks of Tolkien having 'come to life' through the days he spent on the two floors of Donetsk airport which Ukrainian soldiers are defending.  Kremlin-backed militants have occupied the basement area and also, most surreally, are moving about the third floor.    Boiko says:
"I saw what was really absolute enough good right here in this airport, which cannot be defended, that shouldn't be defended, fighting with absolute evil, with these Orcs who are surrounding the airport from all sides and pounding it with Grad missiles, mortar fire, and so forth"
Loiko a little later calls the airport of symbolic importance, "a Ukrainian Stalingrad", which means that not one smallest piece of it can be given up.
According to Timur Olevsky from TV Dozhd, all Ukrainian soldiers dream of getting to the airport. "For a real Ukrainian soldier, for a Ukrainian patriot, that is precisely the secret room from "Picnic at the side of the road" by the Strugatsky Brothers, it's the secret room from Tarkovsky's "Stalker", where he will get and learn what he, a Ukrainian man, exists for. "
He points out that many of the soldiers are men with two higher educations, successful in life.  Many of them speak only Russian, some are ethnic Russians who are not even integrated into Ukrainian-speaking culture. "They are defending their country", and some, he says, believe that they must get to the border and liberate Ukraine from what is going on in DPR [the self-proclaimed Donetsk people's republic].
"It really did seem to me that I saw what will happen if good, kind people are driven to boiling point."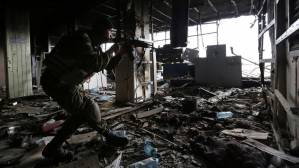 The journalists both rubbish the idea that Ukrainian soldiers are carrying out shelling from the airport Olevsky, for example, says that the Ukrainian army is scrupulously trying to maintain the ceasefire, and tells soldiers not to answer gunfire.
Loiko says that "if the Ukrainian army, as your television claims, wanted to destroy the Ukrainian people, as they claim on your television, it would have done it long ago. This is my 25th war, my 25th work trip to a war. I was at the destruction of the first Grozny in 1995; I was at the destruction of the second Grozny in 2000. Now there they wanted to destroy the people, and destroyed the city, raised it to the ground, two times..  Here, you look at Slovyansk".   He explains that the city is back to normal, with electricity working etc.  Yes, there is destruction in Donetsk, but it's nothing in comparison to Grozny and in Grozny after all they were carrying out a counter-terrorism operation.
It is probably no wonder that Russia's censor wanted removed an interview in which two Russian journalists deny key themes of Russian propaganda and present Ukrainian soldiers as defending their country.  Roskomnadzor has claimed, however, that they are 'justifying war crimes'. 
Others might say that they are exposing such crimes and they're not committed by the Ukrainians defending Donetsk airport. 
Photos by Sergei Loiko