G20 Putin Pack: Russian Offensive against the Crimean Tatars
Who else could achieve a return to the worst forms of Soviet repression in less than 9 months? Why is Vladimir Putin's only response to the disappearances and abductions of Crimean Tatars a claim that it's all news to him?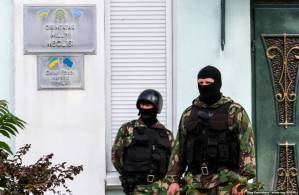 Armed search of the Mejlis building lasting 12 hours.  
Who else could achieve a return to the worst forms of Soviet repression in less than 9 months?  How can remembrance of the victims of a terrible crime against humanity be banned and the use of words like 'annexation' and 'occupation' be termed 'extremist'?  Why is Vladimir Putin's only response to the disappearances and abductions of Crimean Tatars a claim that it's all news to him?  
Vladimir Putin asserted that Russia's effective invasion of the Crimea was to protect people and save lives.  The first death was of Reshat Ametov, a Crimean Tatar peacefully protesting against Russian annexation.  Since then all deaths, disappearances and abductions have been of Crimean Tatar and other Ukrainian opponents of Russian rule. 
The Crimean Tatars were not alone in opposing the annexation, but as the largest indigenous people of the Crimea the refusal by the Mejlis, or Crimean Tatar representative body, to support the pseudo-referendum on March 16 was a major embarrassment for Russia.  It was one that the Kremlin and its puppet government in the Crimea have not forgotten.
The Soviet tactics began almost immediately.  On April 22 veteran Crimean Tatar leader Mustafa Dzhemiliev was handed a 5-year-ban on entering his homeland.  This came two days after the 71-year-old former Soviet political prisoner and Ukrainian MP, on his first return to Simferopol since annexation, insisted that the Ukrainian flag be reinstated over the Mejlis building. 
Since then a similar ban has been imposed on the current head of the Mejlis, Refat Chubarov.  A major offensive has been launched against the Mejlis itself with the occupation regime clearly trying to crush a body which it has tried and failed to force into submission. 
On the eve of the seventieth anniversary of the Deportation of the Crimean Tatars, the occupation regime banned all public events and used riot police, paramilitaries and soldiers to prevent Crimean Tatars from gathering in the centre of Simferopol as they had for the last 23 years.  Even military helicopters were used over prayer gatherings on the outskirts of Simferopol and Bakhchysarai. 
FSB [Security Service] surveillance and a hunt for 'extremists' began almost immediately.   The first warning about 'extremism' issued to the Mejlis newspaper 'Avdet' was because it used  such impolite terms as 'annexation' and 'occupation'.  Later it was again accused of  extremism in reporting the Mejlis' call to boycott the Sept 14 elections.
With such a broad understanding of 'extremism', anything can be expected and over  recent months Russia and its puppets in the Crimea have been proving that anything will be tried.  There have been a number of searches by armed men in masks  of private homes, mosques and religious schools, with these most ominously coinciding with unfounded claims of radicalization of Crimean Muslims. 
There have also been a number of disappearances and abductions of young Crimean Tatar men.  According to Ali Khamzin from the Mejlis, Russia used such disappearances, allegations of radicalization and armed searches at the beginning of armed conflicts in Chechnya to justify more aggressive measures by the Russian enforcement bodies against particular groups. 
The occupation regime has shown no real effort to find the killers of Reshat Ametov, or three civic activists in opposition to Russian rule who disappeared back in May.  Quite the contrary, it is seeking to have a law passed which would provide a past and future amnesty for the so-called 'self-defence' paramilitaries who played a large, and often bloody, role in establishing Russian rule.
In stark contrast to this, arrests are still taking place on trumped-up charges dating back to the peaceful protest on May 3 when Mustafa Dzhemiliev was prevented from entering the Crimea.  Three men were recently remanded in custody for 2 months with the prosecution and court seeming unclear whether the men were accused of 'extremism' or of an alleged incident back in early May.
It seems ominously clear that Moscow is trying to intimidate the Crimean Tatars into silent submission or into exile.
With world-renowned Crimean Tatar leaders banished from their homeland;  disappearances and abductions of young Crimean Tatars; armed searches of mosques, religious schools and private homes and dodgy prosecutions, how could western countries even consider easing sanctions against Russia?