Setting alight Kyiv's Zhovten' cinema during an LGBT film called 'hooliganism'
The police have reclassified the crime from arson because the two men who have confessed say they 'only' wanted to disrupt the showing of one of the films at an LGBT film festival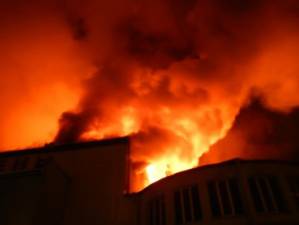 Kyiv head of police, Oleksandr Tereshchuk stated at a briefing on Nov 28 that the Zhovten' Cinema in Kyiv was deliberately set alight, although the aim was to disrupt the showing of an LGBT film, not to burn down Kyiv's oldest cinema. 
Tereshchuk was explaining why the police have reclassified the case from deliberate arson to 'hooliganism'.  He says that after interrogating the two suspects, the police decided that they were 'only' seeking to disrupt the film, and "never dreamed that their action would lead to the fire and destruction of the cinema".   Tereshchuk says that as a lawyer he remains convinced that it was arson and says that the court will have to decide.
The fire began on Oct 29 at 21.40, during the last session.  The building was swiftly evacuated, but the fire itself took four hours to extinguish.  Two young men – one a student, the other unemployed, were arrested and held originally for 3 days, then placed under house arrest.  The police found hand grenades in their hostel.
The two have confessed, but asserted that they had no idea of the damage they would cause and wanted only to disrupt one of the films ('Summer Nights') in a film festival around the theme of non-traditional sexual orientation.
There was anger at the time and a protest was held the following day demanding a full and transparent investigation into the incident.  The same call was made by the US State Department which condemned the arson attack during the showing of an LGBT-oriented film.
The classification of actions which could have led to loss of life as hooliganism seems likely to anger many people following this case.  It is quite possible that the young men [assuming their confessions were genuine] did not expect the fire to rage with such ferocity and destroy 300 square metres of the roof.  The use of incendiary devices in a cinema hall could, nonetheless, have led to deaths or injuries, and appears to have been motivated by aggressive intolerance to people with different sexual orientation.  
Halya Coynash