We urge PACE to speak out on behalf of Nadiya Savchenko
Please sign and circulate this appeal to the President of the Parliamentary Assembly of the Council of Europe asking that they demand the release of MP and PACE Delegate Nadiya Savchenkowho who has been on hunger strike in a Russian prison for over a month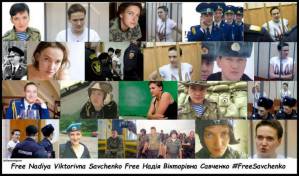 The appeal below is open for endorsement here https://change.org/p/president-pace-anne-brasseur-president-of-pace-anne-brasseur-pace-urge-russia-to-release-nadiya-savchenko-2.
Ms Brasseur is visiting Ukraine on Jan 15-16, by which time Nadiya Savchenko will have been on hunger strike for well over a month.
Please sign the appeal and circulate it as widely as possible (ensuring that people know that response is needed urgently. The number of signatories 2 days after the appeal was posted has reached 2, 600 - let's make it higher!
Thank you!
To the President of the Parliamentary Assembly of the Council of Europe, Anne Brasseur
We are writing to draw your attention to the urgent need for PACE reaction to the prosecution of Nadiya Savchenko, Ukrainian MP and PACE Delegate who is on hunger strike following 6 months held in Russian detention after being taken prisoner in Ukraine by pro-Russian militants.
Ms Savchenko has now been on hunger strike since December 13, 2014, and has stated categorically that she has no other means of fighting the injustice against her, and will not stop it "until the day I return to Ukraine, or until the last day of my life in Russia!". She has been moved to solitary confinement and the prison authorities are refusing to pass on letters to her.
Ms Savchenko is facing dubious criminal charges, and Russian courts have refused to release her from custody despite the lack of any evidence against her and an irrefutable alibi.
Her case has been studied by the authoritative Memorial Human Rights Centre which has declared her to be a political prisoner. US State Department spokesperson Jen Psaki has twice called for Ms Savchenko's immediate release.
The former military pilot was captured around June 17/18, 2014 in a part of the Luhansk region of Ukraine under pro-Russian militant control. Less than two weeks after a video of her interrogation by these militants was posted on the Internet, Ms Savchenko was found to be in Russia where she was remanded in custody for two months by a Russian court.
The Russian investigators' claim that Nadiya Savchenko entered Russia of her own volition lacks any credibility. Ms Savchenko herself says that she was taken by force, with a bag over her head and in handcuffs, across the border into Russia.
The investigators have provided no evidence to back the charges laid against her of implication in the deaths of a Russian journalist and sound engineer who died on June 17 after being caught in shellfire while travelling close to militants of the self-proclaimed Luhansk people's republic.
The defence, in contrast, have unassailable evidence which demonstrates that Ms Savchenko was nowhere near the place where the two Russians were killed.
Nadiya Savchenko was elected to Ukraine's parliament in October and has therefore resigned from the military. She was, however, a Ukrainian officer when taken prisoner by the militants, making Russia's refusal to release her under the Minsk Agreement in clear breach of that accord.
We urge you as President of the PACE to call on the Russian authorities to release Nadiya Savchenko from custody. We believe it imperative that an independent delegation be sent to Russia to speak with Ms Savchenko and her lawyers, and ask that her case be placed on the agenda for the first day of the next PACE session on Jan 26.
Please see the following for more information about the capture by pro-Russian militants in Ukraine and ongoing detention and criminal prosecution in Russia of Ukrainian MP and elected PACE delegate, Nadiya Savchenko.
Nadiya Savchenko will not end her hunger strike nor let them break her spirit
Russia silent as Nadiya Savchenko enters fourth week on hunger strike