In Memory of Boris Nemtsov – Minute of NON-Silence
It is 40 days since Boris Nemtsov, fierce opponent of Moscow's war against Ukraine and against its own people, was gunned down near the Kremlin. Please join in a Moment of NON-Silence in Boris Nemtsov's memory and in defiance of those who want him forgotten.
It is 40 days since Boris Nemtsov, fierce opponent of Moscow's war against Ukraine and against its own people, was gunned down near the Kremlin.   Since that time, the flowers laid at the place of his murder keep being removed by pro-Kremlin vigilantes and no club or other venue in Moscow was willing to hold a concert in his memory.   Russia's State Duma actually refused to honour the former Russian prime minister with a minute's silence.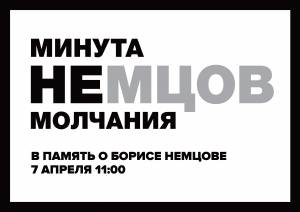 Open Russia has initiated a Moment of NON-Silence [Минуту НЕмолчания] in Boris Nemtsov's memory and in defiance of those who want him forgotten.  
 "They're telling us that it's better to forget.
But we remember.
At 11.00 on April 7 where ever you are – in Moscow, near the Kremlin, on Bolshoi Moskvoretsky Bridge, in any city in the world or outside the Russian embassies in other countries , -
In memory of Boris Nemtsov
We ask
All pedestrians to stop for a minute;
And all people in cars to toot.
We remember.  We can be heard. "
Vladimir Kara-Murza, well-known journalist and Open Russia Coordinator explains that just as when Boris was alive, he was harassed, detained, prevented from speaking on television, "they still hate and fear him and are trying to blot out his memory."
"We remember him and will always remember him. Therefore on April 7 at 11 o'clock, where ever you may be, we will remember Boris Nemtsov.  And we will never forget him, however much the present regime and their propaganda lackeys want that. He was one of the most decent, honest and sincere politicians that our country has ever had.  We won't forget him."
PLEASE join in remembering Boris Nemtsov. 
Since no physical venue could be found, TV Dozhd, one of the last independent media sources in Russia, will be opening its studio on April 7 from 16.00 to 23.00.  Musicians will join relatives, friends and colleagues in remembering Boris Nemtsov.
Among those present will be Sviatoslav Vakarchuk, leading soloist of the Ukrainian band "Okean Elzy";  Russian Andrei Makarevich who has suffered constant harassment and threats over the last year for his opposition to Russian aggression in Ukraine, and many others.
Whoever was directly responsible for the murder of Russian President Vladimir Putin's fiercest critics, the Kremlin and pro-Kremlin media have been in overdrive ever since trying to 'prove' the unprovable – that the Kremlin had no interest in Nemtsov's death, that he was no threat to them, that he was murdered because of some allegedly anti-Muslim utterance after the Charlie Hebdo killings, etc.
Boris Nemtsov spoke the truth – about the corruption and total destruction of people's lives because of Putin's determination to hold the Winter Olympics in Sochi; against corruption in general; about Beslan, Nord Ost and much more.
Most of all, over the past year, he spoke out against Russia's invasion and annexation of Crimea, and its undeclared war in eastern Ukraine.  He was gunned down on February 27, exactly one year after Russian soldiers seized control in Crimea.  The demonstration planned for March 1, which he was co-organizer of, was against the war, and against the huge increases in military spending in Russia. 
 "The government's anti-crisis plan envisages continuation of the war against Ukraine.  Expenditure is being decreased on medicine, education, culture, that is, virtually everything except military expenditure."  He explained that military spending had increased by 33% since 2014.  "This type of increase is impossible in peacetime. This is a war budget".
In 2014 he and Leonid Marynyuk presented a film entitled 'The Warmonger' [Разжигатель войны] about Russia's aggression in eastern Ukraine. 
https://youtube.com/watch?v=vfFhnqw0sE8  (press the bottom right icon for English subtitles). 
He investigated and reported all evidence of Russian soldiers and Russian military equipment in Ukraine.  In his last interview, just two hours before he was killed, he suggested that any debate with Putin could begin with just one simple question:  "Why are Russian soldiers dying and why do you, as Chief Commander, Mr Putin, deny them, lie and claim that they're not fighting?  We see the graves of these soldiers – we see them in Kostroma, in Pskov, in Nizhny Novgorod…."
His friend and colleague Ilya Yashin and others are hoping to publish the report Nemtsov was writing on Russian troops in Ukraine and publish it in April. 
A video memorial to Boris Nemtsov can be watched here
https://youtube.com/watch?t=19&v=M9xKPNkWjcQ
(the song is by Vladimir Vysotsky, originally written as though sung by a soldier about a comrade in arms who "yesterday did not return from battle".
The words are poignantly appropriate.