The Deaths & Disappearances in Crimea Putin Lied About
There were multiple distortions in the interview given by Vladimir Putin to the German tabloid Bild. Some were simply absurd, like his denial that Russia's actions in Crimea entailed a violation of international law. His claim that nobody had died as a result of Russia's invasion and annexation of Crimea was a downright and especially offensive lie.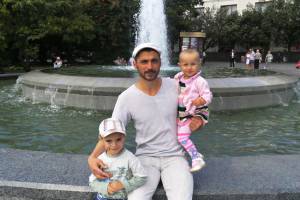 Reshat Ametov with two of his children
There were multiple distortions in the interview given by Russian President Vladimir Putin to the German tabloid Bild.  Some were simply absurd, like his denial that Russia's actions in Crimea entailed a violation of international law.  One was a downright and especially offensive lie.  Putin claimed that "there was no shooting, no one was killed during the events in Crimea. Not one person"  Russian soldiers, whose presence he had long denied, were there, he alleged, only to stop Ukrainian soldiers "from interfering with the free expression of will by the residents of Crimea."  The latter had supposedly chosen to be part of Russia.  
The Russian soldiers had in fact seized control before any 'referendum' was mentioned.  Nor were they alone, with so-called 'self-defence paramilitaries' heavily supported and armed by Russia used to crush or remove opposition.
Even if we question the serious evidence that the 1999 Russian apartment bombings were organized by the FSB [security service] to bring Putin to power, the use of tanks and heavy artillery against a school with well over a thousand hostages in Beslan in 2004 were a clear reflection of the value place on human life under Putin's regime. 
The numbers of deaths and disappearances in Crimea are smaller, but each was a victim of Russia's invasion and occupation of Ukrainian Crimea. 
39-year-old Crimean Tatar and father of three, Reshat Ametov was abducted by pro-Russian paramilitaries in March 2014 from his lone picket in protest at Russian occupation outside the Crimean parliament. His badly mutilated body was found almost two weeks later. Despite video footage of the abduction, no arrests have been made and his brother was told in January 2015 that the investigation had been terminated. 
Ukrainian soldier Stanislav Karachevsky, who was married with two children, was murdered in cold blood on April 6, 2014.  On March 13, 2015, a Crimean military court convicted Russian sergeant Yevgeny Zaitsev of killing Karachevsky in a hostel in Novofedorovka where the Ukrainian military personnel from the Saki military base in Crimea were living before being moved to mainland Ukraine.  Zaitsev, who received a 2-year sentence,  had never been taken into custody and had continued his military service as before the killing. Witnesses at the court said that Zaitsev was not under convoy guard, nor was he in handcuffs.
The following are just some of the civic activists or young Crimean Tatars who have disappeared without trace under Russian occupation. 
Timur Shaimardanov
Timur Shaimardanov was 33 when he disappeared on May 26 2014.  A civic activist, he had been actively involved in peaceful protest against Russia's annexation of Crimea and had been taking food and cigarettes to trapped Ukrainian soldiers. 
33-year-old Seiran Zinedinov disappeared a week after Shairmardanov, on May 30.  Contact with him was lost shortly after he left Shaimardanov's relatives whom he had visited to discuss efforts to find him. At the time his father reported specific details about a car which had possibly been involved in his son's abduction.  They were even able to establish the exact location – a sanatorium near Yevpatoria - where Seiran's phone had been switched off, though when they went to the place, the guards wouldn't let them in.
Human rights groups believe that both men were abducted by paramilitaries, as had been many other activists, like Andriy Shchekun, who were tortured but finally released.  Shchekun says that his abductors and torturers were from a group run by Igor Girkin, the Russian military intelligence man and Crimean Igor Bezler, both heavily involved in both the annexation of Crimea and military action in Donbas.
Vasyl Chernysh, an Automaidan activist from Sevastopol was last seen on March 15, 2014, the day before the so-called 'Crimean referendum'.  His relatives have changed their phone numbers and refuse to speak with the media or rights organizations about Chernysh, and one of his Automaidan colleagues believes that someone may have threatened them. 
Two young Maidan activists from Rivne in Western Ukraine set off for Crimea at the beginning of March 2014, to help the pro-Ukraine movement and have not been seen since.  Both Ivan Bondarets and Valery Vashchuk phoned their families after arriving in Simferopol and said that they had been detained by police officers, but then released.  Both said that they were to meet a 'coordinator'.  That was the last anybody heard from them.
Islam Dzhepparov
Islam Dzhepparov
was just 19 when 
he was abducted
 in Crimea on Sept 27, 2014, together with his 23-year-old cousin
Dzhevdet Islamov
.  Despite the fact that they were seen being forced into a dark blue Volkswagen Transporter and taken away in the direction of Feodosiya, with the police even having the minivan's registration number, they have not been seen since. 
These were the most brazen and unequivocal of the disappearances of Crimean Tatars which followed a major offensive against the Crimean Tatar Mejlis or representative office in September 2014.  There were other disappearances which have never been properly investigated, and Ukrainian rights groups are planning seek justice against Russia at the European Court of Human Rights over the continuing failure to investigate disappearances in Russian-occupied Crimea. 
After a period of respite, there have recently been new disappearances and there is s increasing concern about the whereabouts of two Crimean Tatars Ruslan Ganiev and Arlen Terekhov from Kerch who have not been seen since Dec 15.