Crimean prisoner slashes his throat in protest at forced Russian citizenship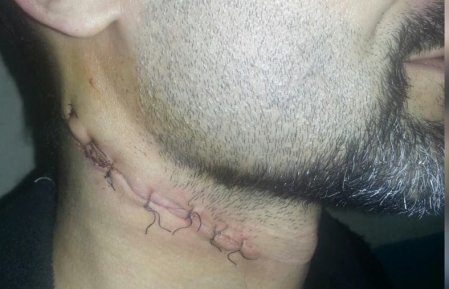 Crimean prisoners sentenced under Ukrainian law are having Russian citizenship foisted on them and being illegally 'retried' under Russian law.  Elvis Asanov, a life prisoner, registered his protest at such attempts on May 11 by slashing his throat directly in the courtroom. He thankfully survived. 
Such 'retrials' have been reported here. The lawyer representing Ukrainian political prisoner Oleksandr Kostenko met with three prisoners while visiting Kostenko in the Kirov prison colony where he was taken, against his will, from Crimea.  Viktor Skoblikov from Mykolaiv; Vladislav Burlaka from Kharkiv and Grigory Larionov had all been convicted of crimes and were serving sentences in Crimea in Feb 2014.  All three rejected Russian citizenship, and should have been returned to Ukraine.  Instead, they were 'convicted' again of the same crimes so as to "bring their sentences into accordance with Russia's Criminal Code". 
Human rights activists believe that Russia could be foisting its citizenship in this way on more than a thousand Ukrainians who were serving sentences when Russia invaded and annexed Crimea.  Ukraine's Foreign Ministry only has official information about 179 prisoners. 
In a moving letter, Crimean prisoners who are facing such forced 'retrial' as Russian citizens write:
"We are the same Ukrainian citizens as all other citizens of our country.  We love and honour our motherland, but often can't understand why our motherland is so unprincipled in its attitude to our fate. Each of us has a family in Ukraine, children, parents whom we aren't able to contact and who suffer from that, perhaps even more than we do.
We stepped out of line at one time and committed offences.  We are guilty before the Ukrainian public and have long repented and take this opportunity to ask for forgiveness.  The fact that we once committed [an offence] does not take our citizenship away from us.  We want and hope to return home, to our loved ones. We want to work for the good of our country, yet we do not see any wish from our country to help us. Over the last two years, many of our citizens have been made Russian citizens, and are already serving sentences in Russia as Russian nationals.
People have become despairing and feel deeply offended.  They simply no longer believe in justice", the authors end. 
Roman Martynovsky, a lawyer for the Regional Centre for Human Rights and Ukrainian Helsinki Human Rights Union points out that it is extremely difficult to receive information, but they are aware of some specific cases.  The pressure, he adds, can be physical, as well as psychological.   They know of occasions where pro-Ukrainian prisoners were flung into cells with people supporting the Kremlin-backed militants in Donbas.  In other cases, people who yet again refuse to sign documents accepting Russian citizenship are placed in solitary confinement or other punishment cells. 
There were more than 3 thousand Ukrainians in Crimean remand prisons [SIZO] or serving sentences in February 2014.   Their fate, unlike that of Ukrainian political prisoners held by Russia, is scarcely mentioned. 
Martynovsky is convinced that the legal mechanisms are available to return prisoners to Ukraine, but that the government lacks the political will and sense of responsibility for its own citizenship.  Ukrainian prisoners who were serving sentences at the time of annexation fall under at least 3 conventions, he stresses – that on the Commonwealth of Independent States [CIS]; the European Convention on Human Rights and the UN Convention. 
He also criticizes Ukraine's Foreign Ministry for not making more effort to visit Ukrainian prisoners who have been taken to Russia, yet have expressed their wish to serve their sentence in Ukraine.  He calls their passiveness inexcusable.
While this may well be the case, it is clear from the above-mentioned Ukrainians in the same Russian prison as Oleksandr Kostenko that the Russian authorities resort to any pretext, including unwarranted punishments, to prevent Ukrainian prisoners meeting, as requested, with the Ukrainian consul.  
There has been outrage over attempts by Russia to foist Russian citizenship on Oleg Sentsov and three other opponents of Russia's annexation of Crimea who were illegally taken to Russia, 'tried' and sentenced to huge terms of imprisonment for non-existent terrorism.  The same attempts are known to be persisting in the case of Khaiser Dzhemiliev, the son of the veteran Crimean Tatar leader and Ukrainian MP Mustafa Dzhemiliev and Oleksandr Kostenko. 
If such cases are more obviously outrageous, any attempt to force Ukrainians to accept Russian citizenship and to deprive them of contact with their family is a flagrant violation of their rights.  They clearly need Ukraine's help and should not have to resort to self-mutilation to be heard.