Held Prisoner & Tortured by Kremlin-backed Militants for Wanting to See His Parents
Volodymyr Fomichov has been held prisoner in the so-called 'Donetsk people's republic' for over 6 months. He is believed to have been subjected to torture, and there are serious grounds for concern about his physical safety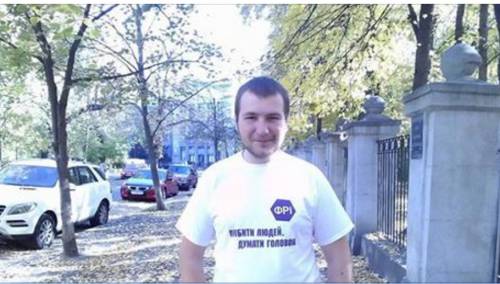 Volodymyr Fomichov has been held prisoner in the so-called 'Donetsk people's republic' for over 6 months.  He is believed to have been subjected to torture, and there are serious grounds for concern about his physical safety.  Fomichov has paid a big price for naivety and also, perhaps, for having believed unwise advice from one prominent volunteer. 
It was reported back in January, when religious expert Ihor Kozlovsky was taken prisoner, that the militants had also seized some former Donbas residents who had returned to militant-controlled territory.  Fomichov was not named earlier, Denis Kazansky, the exiled Donetsk journalist writes, out of fear that this could harm the young man.  Both Kazansky and another activist have now raised the alarm, and they clearly have grounds for concern. 
The wave of new 'arrests' and other repressive measures by the militants in January 2016 included the temporary seizure of Marina Cherenkova, the head of the volunteer initiative 'Responsible Citizens' and subsequent expulsion of the members of the initiative.  One of those members was Enrique Menendes whose post effectively encouraging Donbas residents to return had angered journalists closely following the situation in the militant-controlled areas like Kazansky and Oleksiy Matsuka.  They had long warned that nobody is safe in the so-called 'republics'. 
Half a year later, 60-year-old Kozlovsky and Fomichov are both bitter proof that the warnings were correct. 
Fomichov, unfortunately, believed that things were 'stabilizing' and decided to visit his parents in Makiyivka.  He is believed to have been handed over to the militants by a highly dubious individual called Roman Khuzyakhmetov, who probably wanted to thus demonstrate his 'loyalty' to the militants.  Khuzyakhmetov appears to have played a double game from at least the time of Euromaidan.  He told Donetsk Maidan supporters that he had 'infiltrated' the anti-Maidan movement to gain insider information.  Kazansky now assumes that he told this to both sides with his main aim being to ensure he was on the winning side whatever happened.
Fomichov was a young student and civic activist for the Regional Initiatives Foundation before the war in Donbas.  Although the Foundation was a decent NGO, it was there that Fomichov met Khuzyakhmetov.  
Both men were actively involved in Euromaidan, and Fomichov doubtless had no idea that Khuzyakhmetov's motives were far different from his own.  Kazansky has described Khuzyakhmetov's activities after the militants seized control and the picture is an ugly one.
Fomichov may simply not have realized any of this.  Like many others who had supported Maidan and were in danger for their pro-Ukrainian position, Fomichov left Donbas in the first months of the military conflict.   He had never been involved in any active conflict and was mainly involved in academic work.  According to Stanislav Fedorchuk, Fomichov shares the same specialization – religious studies – as Kozlovsky.  This may simply be coincidence, but it is known that the militants have tried to claim that Kozlovsky has been 'arrested', rather than simply taken hostage.  It is possible that they are concocting some kind of 'charges' involving both men. 
In early January Fomichov set off to visit his parents.  He ignored all the warnings, citing Medendes' upbeat words about how life was now peaceful and people were no longer being seized.
He unfortunately decided to also meet with Khuzyakhmetov.  According to Kazansky's sources, the latter personally handed the young man over to the DNR's so-called 'security service' telling them to use the most severe methods against "the dangerous ukrop" [an insulting term for Ukrainian].  Khuzyakhmetov apparently claimed that Fomichov was planning terrorist acts in Donetsk.  
Fomichov has now been held and subjected to torture in a basement for over 6 months and is in an obviously bad state.  The situation is particularly grave since his name is not even on the list for possible exchange and publicity is now urgently needed.