Putin critic living in Ukraine seized, tortured and jailed in Russia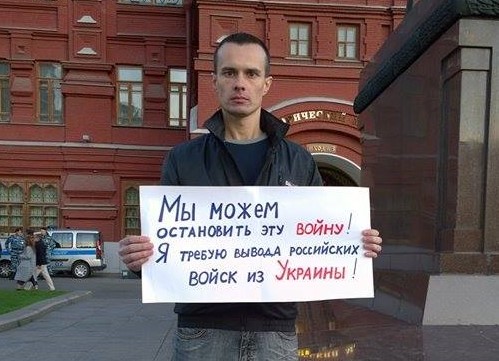 Denis Bakholdin, a Moscow activist and opponent of Russia's war against Ukraine has been found in a Russian SIZO, or remand prison, three months after he disappeared in Kyiv.  Little is known about how he came to be there, with this and the apparent use of torture chillingly reminiscent of stories of how Ukrainians have come to be in Russian detention. 
According to Svetlana Sidorkina, a Russian lawyer well-known to Ukrainians for her defence of Oleksandr Kolchenko,  Bakholdin is charged with involvement in an 'extremist society' (under Article 282.1 § 2 of the Russian criminal code).  She told Mediazona that she had seen Bakholdin, who had refused to give any testimony and had not signed anything. Sidorkina has not been provided with any documents, and has no idea what the charges are based on. 
Friends in Kyiv say that they have had no contact with 36-year-old Bakholdin since March 8, and he had not spoken of any plans to travel to Russia.  His last Facebook page entry was at the beginning of March.
Nadezhda Bakholdina has told OVDinfo that she was officially informed on March 17 that her son had been arrested in Russia, supposedly "while trying to illegally cross the Russian-Ukrainian border".   This is ominously like the situation in 2012 with Russian activist Leonid Razvozzaev, who was abducted from the centre of Kyiv, and then later charged by a Russian court with the same 'illegal crossing of the border'. 
Bakholdin has been living in Ukraine since the end of 2014.  He had taken part in anti-war pickets in Moscow and the monthly protests in support of political prisoners.  Like other peaceful protesters, he faced attacks from pro-Kremlin provocateurs and was detained on several occasions. On 4 March, 2014, a few days after Russia's invasion of Crimea, he was jailed for 10 days for an anti-war protest.  Bakholdin gained considerable publicity in October 2014 when detained in the very centre of Moscow wearing a mask clearly intended to represent Russian President Vladimir Putin, striped prison clothes with a sign reading 'war criminal'.   He was released from a local police station a few hours later, with no charges laid.  It is not unlikely that he was warned what to expect if he didn't stop his protests and before the end of the year, he had settled in Kyiv where he has also taken part in demonstrations in solidarity with Russian political prisoners.
Nadezhda Bakholdina says that her son is now in the Bryansk SIZO No. 1, and that he was subjected to torture after being detained.   She has only recently, on June 5, been allowed to see her son , who told her that he had been chained with handcuffs to a radiator, beaten and kicked to get him to 'confess' to being a member of Right Sector.   This Ukrainian nationalist organization has been over-demonized by Russia since early 2014, and is now banned in Russia.  He was later taken to the Investigative Committee in handcuffs and a winter coat over his head.  His mother reports that he fainted and almost suffocated along the way.
If Bakholdin is indeed accused of illegally crossing the border into his own country of origin, this is presumably an excuse for holding him imprisoned, while the 'investigators' try to put together a case for prosecuting him for alleged involvement in an 'extremist' group'.  
His mother says that a search was carried out of her home and the hard drive from her computer taken away by the FSB [Security Service] at the end of May.
Ukraine's Migration Service regularly tries to refuse asylum to Russians who have come to Ukraine after taking part in Maidan, anti-war protests or demonstrations in support of Ukrainian political prisoners held in Russia.  During court appeals against such refusals, migration officials have been known to accept fictitious charges used by Russia to persecute activists or to claim that Russia is a law-based country and that the activists have nothing to fear.
Bakholdin has now been in custody for three months.  It is unclear on what grounds he was detained, and what evidence there is for accusing him of involvement in an 'extremist' organization.  It also looks very much as though most of this time he was deprived of any legal defence, and that at a time where, according to his mother, he was subjected to torture to get him to confess to 'involvement' in an organization which is legal in Ukraine.