'Lost' Russia FSB border guards captured near Crimea accused of violating Ukraine's territorial integrity
Ukraine's Security Service [SBU] has announced that it has initiated criminal proceedings against the two Russian FSB border guards whom Russia has claimed 'got lost' in the Kherson oblast on June 30. The news comes a day after reports that the men had been fined a nominal amount by a Kherson court and given a 15-day administrative detention sentence aroused bemusement and anger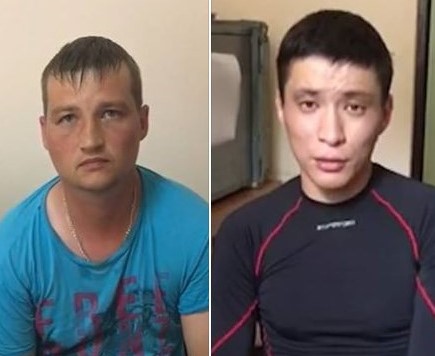 Ukraine's Security Service [SBU] has announced that it has initiated criminal proceedings against the two Russian FSB border guards whom Russia has claimed 'got lost' in the Kherson oblast on June 30.  The news comes a day after reports that the men had been fined a nominal amount by a Kherson court and given a 15-day administrative detention sentence aroused bemusement and anger. 
The two men were found during the early hours (around 02.30) of June 30 on the shore of the Gulf of Perekop  They were stopped by a local border guard unit and Ukrainian soldiers, and had no papers with them, only their boat. They admitted to being military officers from the FSB Border Service, and claimed that they had been taking part in military exercises, supposedly playing the role of border infringers, and had 'got lost'. 
Russia normally reacts with automatic denial when its military personnel are seized in places where they had no right to be.  This was the case, for example, with two military intelligence officers – Yevgeny Yerofeyev and Alexander Alexandrov – who were taken prisoner while fighting in the Luhansk oblast and killing a Ukrainian soldier.  In exactly the same mode, the Russian Defence Ministry has tried to claim that Viktor Ageyev, seized in the Luhansk oblast on June 24 had never been a Russian contract soldier.  This time, however, the FSB Border Guard Service did ask Ukraine for information about two of its military officers 'lost' in Ukraine. 
The 'border' in question is, in fact, Ukraine's administrative border between the Kherson oblast and Crimea.  After invading Crimea in 2014, Russia has been occupying Ukrainian sovereign territory and has even banned Crimean Tatar leaders Mustafa Dzhemilev and Refat Chubarov, as well as other Ukrainians from their homeland.  The FSB men now in custody had therefore long been in breach of Ukraine's law on the occupied territory which prohibits anyone from entering Crimea except by a Ukrainian border control.
The news on July 5 that a Ukrainian court had imposed a symbolic fine and short administrative detention was therefore met with anger from many people in Ukraine.  InformNapalm noted that the court rulings were full of mistakes and omissions, and suggested that this might have been done deliberately to allow for as mild a sentence as possible.  Well-known journalist Yury Butusov wrote that it would be "a state crime and outrage for Ukraine's system of national security" if the two men were to be handed over to Russia.  The point was not only that Russia's border is many hundreds of kilometres from where the men were detained.  Their story was also highly suspect, if only because such boats are always equipped with compasses.
The main reason, however, lies elsewhere.  The two men, whether obeying orders or not, are illegally serving an aggressor nation on Ukrainian territory.   This is in marked contrast to the 44 Ukrainian political prisoners whom Russia is illegally holding in Russia or Russian-occupied Crimea.  They include, for example, Yevhen Panov from the Zaporizya oblast who was effectively tricked into entering occupied territory in August 2016 and has been imprisoned ever since.  In September 2014, Valentin Vyhivsky was also illegally seized while visiting Crimea and taken to Russia where a totally secret court sentenced him to 11 years for so-called 'spying'.  The number also includes the most famous of Russia's Ukrainian political prisoners: filmmaker Oleg Sentsov and civic activist Oleksandr Kolchenko.  Sentsov was sentenced to 20 years, Kolchenko to 10 for absolutely nothing, and Russia is now even trying to foist its citizenship on the two Ukrainians. 
All of these people and others were subjected to terrible torture by their FSB captors, and remain imprisoned. 
There is no suggestion that ordinary Russian citizens should be taken prison in revenge or to enable an exchange.  Ageyev, a Russian soldier, was fighting against Ukraine despite the fact that Russia has not declared war, and the two FSB men were also in breach of Ukrainian law and quite possibly up to something.  Russia will not want them remaining on Ukrainian territory as there is plenty that they can divulge which is damaging to Ukraine.
The families of Sentsov, Kolchenko, Panov, Vyhivsky and many others are desperate for any way to get the men released, including through an exchange.
Whether or not Ukraine's SBU really did begin a criminal investigation on July 3 (before the scandal over the Kherson court) is unclear, but they have, at least, now done so.  The investigation is under Article 110 § 2 of the Ukrainian Criminal Code (encroachment on Ukraine's territorial integrity and inviolability).  The two men are named as Askar Kulub and Vladimir Kuznetsov, with the SBU asserting that "from December 2016 to 30 June 2017, they carried out work-related tasks serving the interests of the Russian Federation in order to change the boundaries or state border of Ukraine".  Charges are shortly to be laid.