Ukrainian arrested in Russia for going to political meetings in Ukraine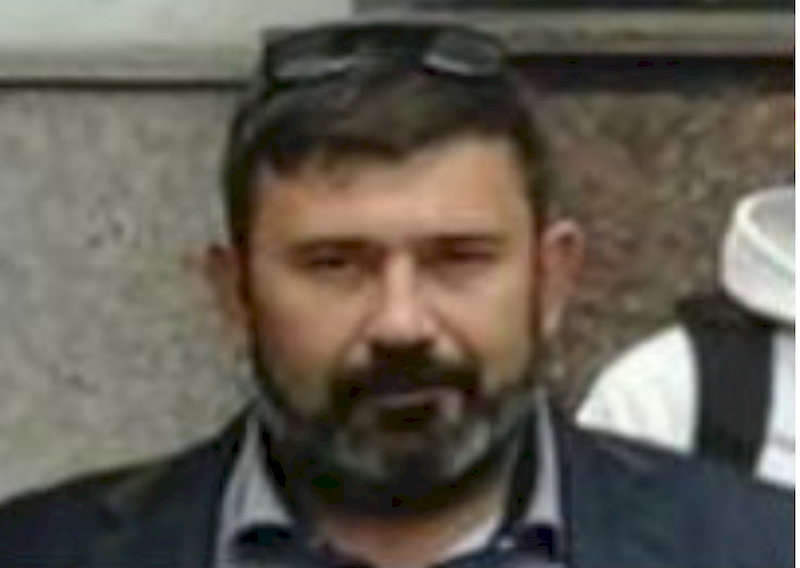 Russia's Investigative Committee and FSB have arrested yet another Ukrainian on surreal charges linked with the Ukrainian nationalist organization 'Right Sector'.  Roman Ternovsky is accused of attending entirely legal Right Sector events in Ukraine and of promoting the organization on Facebook.  Very little is currently known about him, besides his arrest on such extraordinary charges which brings the number of Ukrainians held by Russia on politically-motivated charges to over 60.  
Right Sector has long been demonized in Russia, and is now banned as 'extremist'.  The Investigative Committee's report would   be humorous, were it not for the fact that Ternovsky is imprisoned and likely to be put on 'trial'.  The report says that he was detained in the Rostov oblast, and that "it has been established that as a member of Right Sector, he took part on many occasions in pickets, protests and other mass events on the territory of Ukraine". He also used a Facebook page to carry out what the report calls 'propaganda of Right Sector activities', with, oh horror, this available to "people permanently resident in the Russian Federation".
Both written and audio text claim that "Ternovsky's above-listed activities were directed against the interests of the Russian Federation and are classified by the investigators under Article  282 § 2 of Russia's criminal code, namely participation in an 'extremist organization'.  This carries a sentence ranging from a fine to a possible 6-year prison sentence.
The evidence is certainly damning.  "During the course of a search of the suspect's residence in Rostov on the Don, items of clothing and other personal things were discovered with Right Sector symbols".
It is not stated how long he has been remanded in custody, but the Investigative Committee's opus ends with the ominous statement that "work on identifying and prosecuting the leaders and participants in Right Sector is continuing".
This is worryingly likely to be true.  Ternovsky is the third person known to be in Russian custody, facing charges linked with Right Sector. 
Oleksandr Shumkov, a Ukrainian civic activist, is currently in custody in the Bryansk SIZO [remand prison] on the same charge of involvement in Ukraine in a Ukrainian organization. .  While Ternovsky appears to have been living in the Rostov oblast, Shumkov was probably tricked into crossing into Russia and then abducted.  When finally allowed to see the Ukrainian consul in early October, he passed on that he had ended up in Russia as the result of a 'provocation'.
Shumkov disappeared towards the end of August, however it was only on September 26 that Larisa Shumkova received a letter from the Russian FSB for the Bryansk oblast informing her of her son's whereabouts.  The letter stated that he had been detained on September 6 on suspicion of "committing a crime", namely 'involvement in an extremist organization' (more details here).
36-year-old Denis Bakholdin is a Russian activist and critic of Russia's war against Ukraine.  He had been living Ukraine since 2014, but when his mother fell ill in March this year, he tried to visit her and was detained in the Bryansk oblast, and remanded in custody, on the same charges of involvement in Right Sector.
All three men do appear to have some connection with Right Sector.  In Ukraine, not Russia, but jurisdiction is clearly something Russia's leaders see as a minor detail to be ignored.  The same is true of evidence and minimal credibility, as the grotesque trial and huge sentences passed on Ukrainian filmmaker Oleg Sentsov and left-wing civic activist Oleksandr Kolchenko over an entirely unproven and implausible 'Right Sector terrorist plot' demonstrate.
The most chilling part of all of this is that the only difficult moment appears to be in getting Ukrainians into their hands.  Afterwards, the prosecutors and judges provide the sentences demanded.  It is increasingly clear that Ukrainians are a group at risk in Russia and, most tragically, in occupied Crimea.
There has been a very worrying increase over recent months of cases involving direct abduction of Ukrainians.  There is every reason to assume that Oleksiy Sizonovych, a 61-year-old pensioner was first captured by Kremlin-backed militants in the so-called 'Luhansk people's republic' and taken by force to Russia.  There he was clearly put under pressure to refuse a proper lawyer and 'confess'.  He was sentenced in July 2017 to 12 years' imprisonment (details here).
The recent abduction of 19-year-old Pavlo Hryb shows that the danger zone can also include Belarus from where Hryb was taken by force to Krasnodar where he is being held in detention without urgently needed medication.  He is facing 'terrorism' charges, although the lad had never once set foot in Russia, with the charges apparently over strongly critical opinions expressed in private correspondence with a young Russian girl (details here).