Ukrainian citizens turned into 'foreign nationals' in Russian-occupied Crimea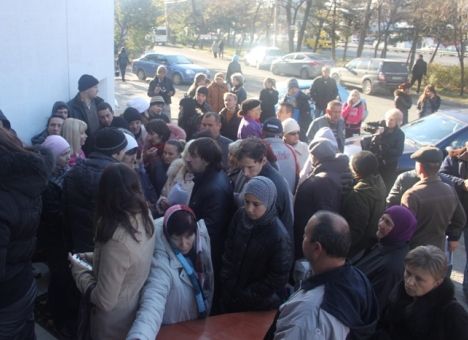 Having invaded and occupied Crimea, Russia gave Ukrainian citizens wishing to formally reject Russian citizenship a month to do so, with only four offices available for the entire peninsula.  Russia has since, very selectively, used the lack of such a formal statement to claim that Ukrainians, like imprisoned filmmaker Oleg Sentsov and civic activist Oleksandr Kolchenko 'automatically became Russian citizens'.   The formal rejection of Russian citizenship has been used as grounds for treating Crimeans living in their own home as 'foreigners' and, judging by the story Volodymyr Shlyakov from Feodosia has told Krym.Realii, to make their life into a nightmare.
Since there was no mention to the manner in which he needed to submit his formal statement that he wanted only Ukrainian citizenship, and he did not live in one of the four cities mentioned, he sent the statement by post.
He needed, however, to submit all his documents to the local migration service office, with a notarized translation of his passport into Russian, and that was where this new nightmare began.  The queue contained around 1,500 names and since they only received up to 20 people a day, it was pure luck, he says, that he managed to get it done before the end of that year, which was designated as the transition period.
The experience gave him a chance to talk to others and realize that a major problem was how many others don't know migration legislation, with the officials using such ignorance to intimidate them.  They would claim, for example, that people faced being evicted from their flats.
He studied the migration legislation and has since written six formal appeals, including two to the Ukrainian and Russian Human Rights Ombudsmen, as well as two complaints.
Shlyakhov challenged the legality of the migration service's issuing of 'residence permits' to Ukrainians.  In a law passed after Russia's illegal annexation, such permits were not, in fact, envisaged.  In practice, the migration service simply issued Ukrainians not wishing to take on Russian citizenship with 'residence permits for foreign nationals".  
What this now means is that Ukrainians living in their own Ukrainian home in Crimea can be forced by the Russian migration service to each year notify that they are (according to Russia) resident in the 'Russian Federation'.
This absurd 'residence permit' Shlyakhov received only in 2017, although it does state that it is from 22 December 2014.
It seems quite likely that all this was deliberate.  Surreal demands on Crimean Ukrainians have been used against those Russia wants to get rid of.  As well as banning Crimean Tatar leaders Mustafa Dzhemilev and Refat Chubarov from their homeland soon after annexation, they have 'deported' at least one Crimean Tatar human rights activist.
Early on 23 January 2015, the three coordinators of the Crimean Tatar Rights Committee – Sinaver Kadyrov; Eksender Bariyev and Abmedzhyt Suleymanov – were stopped by Russian border guards at the Armyansk Crossing as they attempted to cross into mainland Ukraine.  
All had Ukrainian passports and Crimean registration ['propiska'] but were treated as 'foreign nationals' because they had not assumed Russian citizenship. 
Even according to Russian law, all three men were 'legally' in their homeland, however only the two members of the Crimean Tatar Mejlis [representative assembly] which Russia had not yet banned were allowed to return home. Sinaver Kadyrov was 'deported', and is now forced to await an end to Russian occupation from Kyiv.
Over the first year after annexation, the Crimean Human Rights Field Mission reported widespread cases where people had been threatened with dismissal,  told they couldn't leave the Crimea without Russian citizenship or faced losing their right to land if they didn't become Russian nationals.  Most people with children were simply forced to take on Russian citizenship, without which they couldn't get health care, etc.
There were also other occasions where people who had not gone through the same arduous procedure as Shlyakhov had Russian citizenship foisted on them.  One woman from Krasnoperekopsk spent at least a year trying to get rid of this unsolicited Russian citizenship (there is no news as to whether the battle was successful.).