Russia adds a vital source of information about rights abuse in occupied Crimea to its list of 'foreign agents'
Russia has used the recent requirement in the USA that its propaganda outlets RT and Sputnik register with FARA to add Krym.Realii, one of the only media resources providing information about politically-motivated prosecutions and other rights abuses in Russian-occupied Crimea to its list of 'foreign agents'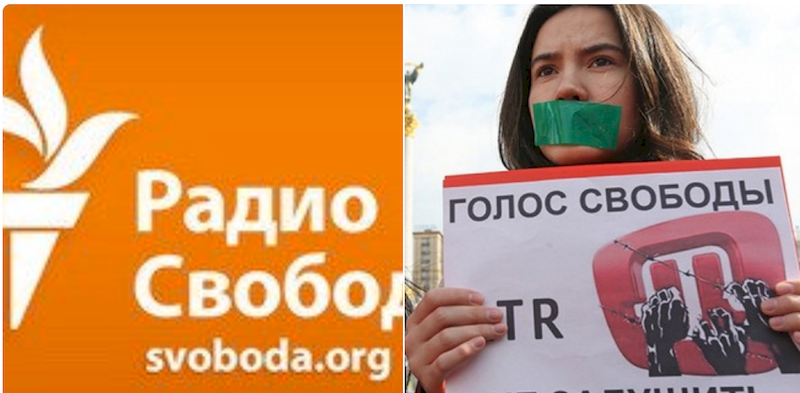 Russia's Justice Ministry has added Krym.Realii, one of the only media resources providing information about politically-motivated prosecutions and other rights abuses in Russian-occupied Crimea, to a new list of media services labelled as 'foreign agents'.  The list also includes Voice of America, Radio Free Europe/Radio Liberty (RFE/RL),and other related service, though not, as yet, Donbas.Reallii.  What restrictions will be imposed is as yet unclear, but the move is undoubtedly negative and can only further stifle freedom on the press and information in occupied Crimea.
Russia is claiming that the move is a 'symmetrical response' to the USA's decision to oblige the Russian-state funded RT [Russia Today] and Sputnik to register as foreign agents under the Foreign Agents Registration Act (FARA).
It is nothing of the kind.  John Huntsman, US Ambassador to Moscow, recently spoke of the FARA requirement.  He called it a move aimed at ensuring transparency regarding media sources financed by other governments and promoting a particular political line. 
The FARA website calls itself a "disclosure statute that requires persons acting as agents of foreign principals in a political or quasi-political capacity to make periodic public disclosure of their relationship with the foreign principal, as well as activities, receipts and disbursements in support of those activities."
FARA hit the headlines recently in connection with the Mueller investigation into Russia's meddling in the US 2016 presidential elections and possible collusion with Russia.
One need only compare the propaganda material on RT or Sputnik to the news coverage on Krym.Realii or other Radio Svoboda services to understand that there is no parity between them, and no grounds for this supposed 'tit for tat'.  While RT is rather more subtle in its approach, its coverage of Crimea, the war in Donbas and indeed, any events in Ukraine show clear signs of propaganda and disinformation.
RT, for example, has continued to push Russian state-fuelled lies about a supposed 'massacre by Ukrainian radicals' on May 2, 2014 in Odesa. 
The number of times RT has been reprimanded and / or forced to remove material by press standards authorities in various countries indicates that its propaganda services covers events in those countries as well.  The material is fully and lavishly funded by the Russian state to follow the political line taken by Moscow.  In its assessment of why RT should register as a foreign agent, the Atlantic Council, noted that during the Cold War, TASS's New York bureau registered under FARA, and the US correspondents for Pravda, Izvestia, RIA Novosti, Radio Moscow, and Soviet Life Magazine were all at different times registered as foreign agents.
The situation is quite different with Krym.Realii or any other Radio Svoboda service.  According to RFE/RL, both it and Voice of America, are overseen by the Broadcasting Board of Governors, a U.S. agency that supervises civilian government broadcasting and media operations. VOA is a federal entity, while RFE/RL is a private, nonprofit organization funded by a grant from the U.S. Congress.
The key point, however, is that the funding arrangement does not impact upon the material on the sites. 
The information about Russia's ever-mounting number of Ukrainian political prisoners, restrictions on peaceful assembly, freedom of speech, etc. are especially critical given that Russia is blocking many other independent media services, which were driven out of Crimea and are now publishing or broadcasting from mainland Ukraine.
Russia is also persecuting those who express their own opinion, especially on Russia's annexation of Crimea.  In September, 67-year-old journalist Mykola Semena received a two and a half year suspended sentence for expressing the same position on Crimea as that taken by the UN General Assembly, EU, OSCE, and all democratic countries.  This widely shared position was claimed to contain  'public calls to action aimed at violating Russia's territorial integrity."
He has also been banned from making any public statements, or engaging in journalism.  The prosecution was clearly about silencing Semena and intimidating other journalists into leaving Crimea or falling silent, for fear of arrest and possible imprisonment.
While Moscow has yet to reveal what specific restrictions it will impose, the mere possibility of being labelled a 'foreign agent' for ones work with Krym.Realii or fear of trouble for providing information to a news service so labelled will be is yet another weapon that Russia will doubtless use to try to further stifle press freedom in occupied Crimea.