Russia uses loyal 'observers' and repression for illegal elections in occupied Crimea
As expected, Russia has invited unwavering supporters from different countries to act as supposed 'observers' of the presidential elections which it is illegally holding in occupied Crimea.  No list has been made public, however at least some of the individuals involved, like Finnish activist Johan Bäckman, are people who were brought in four years ago for the fake 'referendum' organized after Russian soldiers without insignia seized control of Crimea.
While some reasons for doubting that the event on March 18 which will result in Vladimir Putin receiving his fourth presidential term can be called an election may only discredit, but do not nullify the outcome, one factor makes any result null and void.  The election is illegally taking place in occupied Crimea, and any votes cast there are illegal.  This should have been argument enough against the OSCE's sending any observers to Russia, and the propaganda value that Russia would seek to gain was entirely predictable.
Russia is clearly trying to talk about 'observers' to mean both the OSCE mission in Russia, and unqualified freelancers in occupied Crimea in the assumption that many will not distinguish the two. 
The difference is critical, and lies not only in the training that the OSCE mission have.  No legitimate international observer mission would come to Crimea which is illegally occupied territory, nor would any country or international body commission observers.  Volodymyr Vasylenko, former judge at the International Criminal Court, stresses that any individuals who want to come and 'observe' are doing so without any official status or authority. 
This, of course, is not the impression that Russia seeks to create. Soon after the OSCE announced that it would be sending a mission to Russia, Russia's Izvestia reported only that the OSCE would not be observing Crimea, but that, as an official put it, "a group of other international observers invited through parliaments will work there.  These are not less competent researchers".  Somewhere in the middle of a lengthy article, they briefly mention that "consensus was not reached" over the status of Crimea, no more than that.  This enabled Russian-controlled media to report that "the elections in Crimea would be monitored by parliamentary observers".
Leonid Slutsky, head of the Russian parliamentary committee on international affairs, has stated that "over 300 authoritative foreign politicians and public figures have accepted the invitation to take part in observing the presidential elections". He did not particularly mention Crimea, however one of the names mentioned was that of  Thierry Mariani, a French politician who in July 2016 headed a so-called 'delegation' to Crimea where he parroted Putin's unsubstantiated claims about Crimea and the pseudo-referendum, and denied the mounting evidence of grave human rights violations, especially against Crimean Tatars.
As with the pseudo-referendum on 16 March 2014, it is proving difficult to find out who is to be on Russia's list of so-called 'observers' in Crimea.  It nay be that many of them prefer not to make their presence widely known.  Ukrainian political analyst Boris Tizenhausen notes that "Russia traditionally finances the right and left-wing in Europe", and assumes that people from the far-right Liga Nord in Italy, Le Pen's French National Front and others will work for their money by such a trip.
For the moment, the grandiose promises translate into four individuals – two each from Norway and from Germany.  Most is known about the supposed 'Norwegian delegation' which consists of the head of the NGO Folkdiplomati Norge Hendrik Weber and Mette Rosenlund. 
Weder is reported as saying that "we are the only ones, outside the OSCE, who are allowed in Crimea".  Judging by his general comments, his previous illegal visit via Russia to occupied Crimea and his reported plans to also visit the Kremlin-backed, armed and financed militants in the self-proclaimed 'Donetsk people's republic', his approval of the 'elections' seems a foregone conclusion.
The named German politician is Andreas Maurer, head of the far-left Die Linke faction in the Quakenbrück City Council.  Members of this party have been active propagandists for the Kremlin previously both in Crimea and in Donbas.
In short, it is all looking very much like the makeup of the team of 'observers' who appeared in Crimea to observe the 16 March 2014 'referendum', with at least one member of that group, Johan Bäckman coming back again this time.  Neither Bäckman, nor any of the others said a word about the fact that the supposed 'referendum' was in breach of Ukrainian law, did not contain the possibility of retaining the status quo and was being held in the presence of armed Russian soldiers and notoriously violent armed paramilitaries, who were already known to have tortured to death one peaceful protester, Reshat Ametov.
Russia found no problem in using extraordinary lies about 'fascist hordes' in Kyiv and a 'Kyiv junta', while also enlisting supporters from far-right and neo-Nazi parties to wax lyrical about their 'referendum'.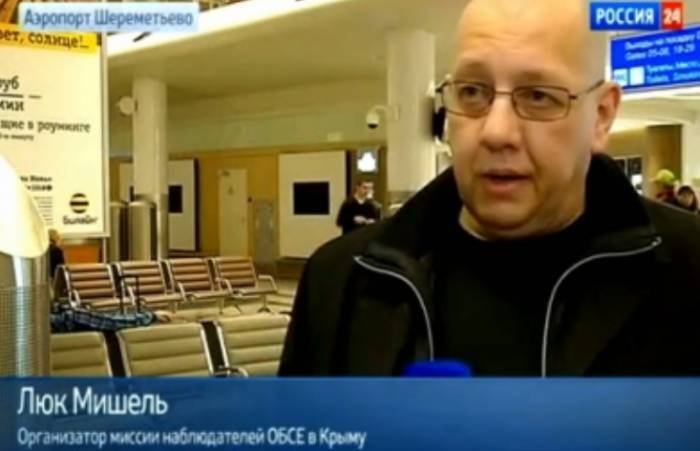 Far-right Belgian 'observer' Luc Michel was presented in March 2014 as being the head of an OSCE mission
Russian propaganda channels also very clearly tried to mislead their audience into believing that the OSCE was taking part in this illegal event.  Far-right Belgian politician, Luc Michel was presented by pro-Kremlin TV Rossiya 24 as from the OSCE. At least some of the Crimean 'observers' were financed by the Russian-based Eurasian Observatory for Democracy and Elections headed by Luc Michel and Jean-Pierre Vandersmissen, both supporters of the neo-Nazi Jean-François Thiriart and members of the extreme right Parti Communautaire National-Européen (PCN-NCP).  The list of supposedly 135 observers included representatives of the far-right parties Jobbik (Hungary); Ataka (Bulgaria); Vlaams Belang (Belgium); Freedom Party (Austria) and others. There were also members of neo-Stalinist or extreme left-wing parties, including Germany's Die Linke. 
In a report on March 15, over a day before the event, the Kremlin-funded Russia Today quoted "an American foreign affairs analyst of Serbian origin, Srdja Trifkovic" as describing it as "legal and legitimate, democratic and right". Trifković,  Anton Shekhovtsov, who has monitored Russia's widespread use of loyal 'observers', pointed out that Trifkovic was a member of Radovan Karadžić's wartime Republika and spoke in his defence during the war crimes trial in the Hague. Russia's helpful guests were all effusive, with far-right Catalonian politician Enrique Ravello claiming that the pseudo-referendum was "an example for us all". 
That 'exemplary' event was found by the President's own Human Rights Council to have had a significantly lower turnout than that claimed and to have not provided a clear vote in favour of 'joining Russia'.
Russia is clearly worried about the turnout on this occasion and has stepped up the measures, already reported, to force public sector workers to vote and teachers to ring up parents and ensure that they also turn up.  There have also been numerous reports of Crimean Tatars facing visitations from enforcement officers trying to hand them 'warnings' about the inadmissibility of 'mass events', etc.  All of this is clear intimidation linked to the fact that the vast majority of Crimean Tatars will not be taking part in the 'voting'.  It is, unfortunately, likely that just as in 2014, this entirely peaceful resistance to Russian occupation will result in further repression as soon as the elections are over.