14 years demanded for Brazilian Donbas fighter and star of Russian propaganda films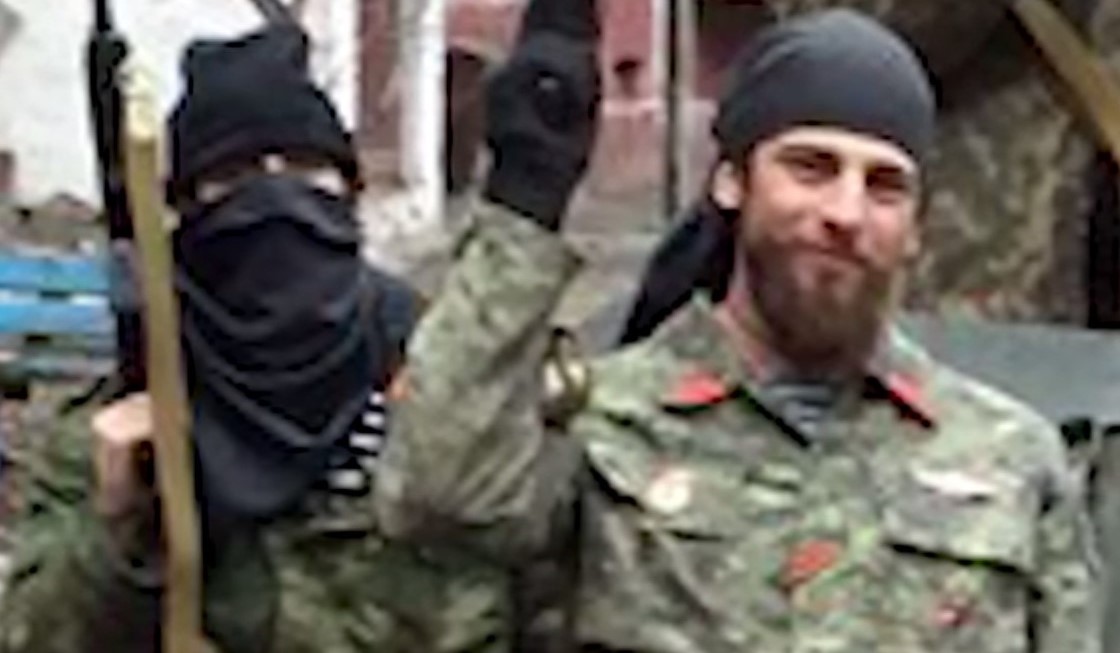 The trial is coming to an end of Rafael Lusvarghi, a 34-year-old Brazilian national who fought in Donbas on the side of Russian and Russian-backed militants,  with the prosecutor asking for a 14-year prison sentence, as well as confiscation of property.  Lusvarghi is charged with taking part in a terrorist organization and involvement in illegal armed groups, seemingly from September 2014 to May 2015. He denies that he was involved in a terrorist organization, while admitting to having taken part in an illegal armed formation. Denial of at least the latter would have been difficult since Lusvarghi was frequently shown fighting on Russian propaganda channels and reportedly posted a mortar attack on Ukrainian soldiers on social media.
The prosecutor asked for the above sentence during the court debate on 19 March 2019 at a court in the Dnipropetrovsk oblast. After hearing both defence and prosecution, the court extended Lusvarghi's detention for a further two months, and scheduled the next hearing, where the Brazilian is to give his final address, for 2 May.
This is the second trial in a prosecution that took some very strange turns.  Lusvarghi left Ukraine, travelling through Russia, and returned to Brazil in the summer of 2016.  He claims that he was fighting for the Russian-backed, armed and controlled 'DPR' for  ideological reasons (supposedly fighting 'fascists', however he came back in October 2016, having been tricked by the Ukrainian SBU [Security Service] with a pretend offer of work. 
In fact, the question of whether he was a mercenary does not appear to have been critical in this case.  Nor was it important,  for example, in the trial of Ben Simson, who was sentenced by a British court in July 2017 to 5.5 years' imprisonment.  The British court also agreed that his involvement on the side of the militants fell under its terrorism legislation.
On 25 January 2017, the Pechersky District Court in Kyiv found Lusvarghi guilty of having created a terrorist group and sentenced him to 13 years.
The court then accepted that Lusvarghi had been a member of the so-called 'Viking battalion' within he self-proclaimed 'Donetsk people's republic' and had taken place in a number of battles, including at Debaltseve and the Donetsk Airport.
It was reported at the time, that, aside from the preliminary hearing, the trial had lasted only one day.   This was, the prosecutor asserted, because Lusvarghi had fully acknowledged guilt and there could be a fast-track (reduced) consideration of the case. 
Lusvarghi had received less than the 14 years and 224 days demanded by the prosecutor (this being the maximum possible where a person has fully confessed and cooperated with the investigators).
Lusvarghi's lawyer Maxim Herasko initially said only that they would be appealing to try to get a lighter sentence, however the defence clearly changed that position in the appeal lodged.
On 17 August, 2017, the Kyiv Court of Appeal accepted the defence's arguments regarding jurisdiction and the fact that the original trial had concentrated only on Lusvarghi's admission of guilt, without consideration of the evidence.  The conviction was revoked, and the case sent back for retrial.
At that stage, Lusvarghi was remanded in custody for a further two months.  He was, however released in December 2017, and found his way to the Svyato-Pokrovsky Holosiyivsky Monastery (an Orthodox monastery under the Moscow Patriarchate) on the outskirts of Kyiv.   No explanation was provided, however this came shortly before the last major exchange of prisoners and it may have initially been assumed that he would be one of the prisoners Ukraine was willing to hand over in exchange for Ukrainian prisoners of war and civilian hostages held in appalling conditions by the Russian-controlled militants.
In April journalists from Radio Svoboda / RFERL learned of his whereabouts and headed of to the monastery.  Lusvarghi initially tried to deny his identity, but then gave an interview. 
This was to prove unfortunate for him since far-right activists, seeming from the Azov Civic Corps, turned up at the monastery and forced Lusvarghi, quite roughly, to walk with them to the SBU office in Kyiv where they 'handed him over'.   The scenes were disturbing, however there was also bemusement that Lusvarghi had been released in this fashion, with no clear idea when he was to go on trial. 
He was placed in a SIZO [remand prison] in Dnipro on 9 May 2018, with the trial beginning shortly afterwards.