Ukraine is about to release the only prisoner that Russia wants to exchange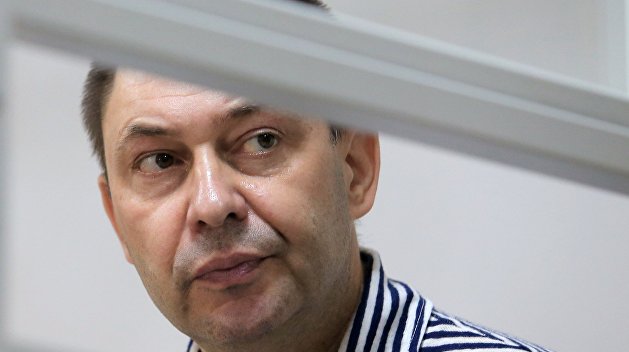 It is likely that a Ukrainian court will release Kirill Vyshynsky from custody on 15 July, despite strong concern that the journalist, probably with Russian help, will flee. Vyshynsky, who is facing treason and other charges over his work as director of the Russian-funded RIA Novosti Ukraine from the time of Russia's annexation of Crimea is the only person held in Ukrainian custody at present whom Russian President Vladimir Putin has shown any real interest in getting released.
Ukraine's Constitutional Court issued a judgement on 25 June, finding unconstitutional the norm in the Criminal Procedure Code which stated that in the case of people charged with state treason, sabotage or terrorism, only detention is possible.  While the Court stressed that freedom and personal inviolability are not absolute, and may be restricted, this must only be in circumstances where the prosecutor can prove that any other options (bail, house arrest, etc) would be too dangerous.
There were two broadly similar dissenting opinions – from Ihor Slidenko and Oleh Pervomaisky.  Slidenko was scathing, asking: "what is the sense of individual liberties if they lead to the destruction of the state?"  He recalled the release in September 2014 of Dmytro Sadovnyk, a Berkut special forces commander charged over the gunning down of Maidan activists.  Sadovnyk went missing immediately, despite his supposed house arrest and electronic bracelet, and is now believed to be in Russia.
"A state which is fighting for its independence does not need dead symbols of dogma, but living hope of victory. The opportunity for terrorists; collaborators; and an internal 'fifth column' to end up at liberty, having paid a small amount of bail, is clearly killing that hope".
These concerns are shared by others, and the situation with Vyshynsky is of immediate concern with the hearing in his trial on 15 July likely to bring an application for his release from detention.   
Kirill Vyshynsky was arrested by Ukraine's Security Service [SBU] on 15 May 2018 and charged with state treason over his role as director of RIA Novosti Ukraine, particularly during the period around Russia's invasion and annexation of Crimea.  He is alleged to have personally taken part in propaganda campaigns aimed at supporting annexation and the joining of the peninsula to the Russian Federation, for which he was awarded a medal 'For services to the Fatherland' by Russian President Vladimir Putin.  He was also reported to have received a medal 'For the return of Crimea' for such propaganda services.
His trial began in April with the charges falling under seven articles of the Criminal Code.  The most serious of these are: Article 109 (actions aimed at violently changing or overthrowing the constitutional order or seizing power); Article 110 (encroaching upon Ukraine's territorial integrity and inviolability); Article 111 (state treason); and Article 161 (actions aimed at stirring up ethnic, racial or religious enmity).
Vyshynsky was given Russian citizenship by Putin in September 2015, and, following his arrest, tried to 'renounce his Ukrainian citizenship', an attempt that has been dismissed by the Ukrainian prosecutor as legally meaningless.
Moscow went into extremely active mode over Vyshynsky's arrest, trying to get international bodies and media watchdogs to react to what they claimed was an attack on a journalist.  Details here:  On the arrest of RIANovosti journalist Kiril Vyshynsky & the defence of "alternative news" in Ukraine
In fact, international observers have largely been silent since, seemingly having recognized that Vyshynsky is not merely charged with publishing anti-Ukrainian texts.
In a major article entitled 'The Vyshynsky Case as a mirror of the war', Valentina Samar calls Vyshynsky a "spetsnaz fighter of Russia's information troops".
Russia, she says, is using disinformation as a weapon in all areas, and is not skimping on the resources it pours into building up its arsenal.  This is one of the reasons why the top managers of Russia's propaganda machine, like Dmitry Kiselyov, appointed head of Russia Today in late 2013, get such favourable treatment and wealth from the regime.
This is in part, she believes, why Vyshynsky is the only arrested Ukrainian in whose release Putin is interested.  There are, of course, other reasons, which become clear when you look at the Russians or Ukrainians for whom the Kremlin was prepared to release political prisoners.  Nadiya Savchenko was exchanged for two Russian military intelligence officers captured fighting Russia's undeclared war in the Luhansk oblast, while Gennady Afanasyev and Yuri Soloshenko were in exchange for two Ukrainians arrested for their suspected part in trying to create a separatist movement in the Odesa oblast.  The Kremlin has classified as top secret the decree freeing Akhtem Chiygoz and Ilmi Umerov, but there are strong grounds for believing that they were exchanged, in a deal involving Turkey, for two suspected state-sponsored killers who bungled a hit-job for the Kremlin and got caught.
The tone of Samar's article is sombre.  "For Ukraine, Vyshynsky is not only valuable for exchange purposes.  'The Vyshynsky case' is a thread that by pulling can weaken the enemy, and a mirror which reflects all the inadequacies of our defence, and not only in the information war".
Russia will clearly pay any amount of bail if it is demanded for Vyshynsky's release, but there is a serious danger that he will then disappear.  Samar says that in the case of the Kerch fishermen, the Russian consulate produced other documents allowing them to whisk them away to Russia.
In order for Vyshynsky to be exchanged for Ukrainian political prisoners, he must be tried.  That, she is adamant, means that he must not be released from detention.
Samar's criticism of the Ukrainian authorities is hard-hitting, but undoubtedly warranted.  
What excuse can there when it took the SBU until May 2018 to wake up to the fact that in the centre of Ukraine's capital, there was an unregistered branch of the Russian state agency Russia Today, which was receiving millions of euros from abroad and functioning quite publicly?
It was Kiselyov who, on 6 March 2014, appointed Vyshynsky Director of what continued to be called RIA Novosti Ukraine since Russia Today had not been registered in Ukraine. 
The SBU uncovered the manner in which RIA Novosti Ukraine and Vyshynsky had been (very generously) financed from Moscow, via a share company created by Vyshynsky which existed only on paper, but which received large amounts of money, apparently not from Russia, in euros or dollars.
One highly disturbing aspect to this story is the involvement of Dmytro Razumkov, a close associate of Ukrainian President Volodymyr Zelensky.  Razumkov is now head of the party linked to Zelensky, the People's Servant, and could become Ukraine's next Prime Minister.   From 2014 to 2018, however, he was Director of the Ukrainian Political Consultancy Group and, in that capacity, was quoted or mentioned in 385 material on RIA Novosti Ukraine.  Nor were this fleeting mentions.  Samar reports that Razumkov and his people "organized this news, including by holding press conferences and Friday programs on the results of the week's political events.
According to Samar's information, the financing for this also came from Russia. 
The author, perhaps charitably, says that it is unclear why this episode has been omitted by the SBU. 
So how do you stop helping the aggressor state?  Samar believes that the biggest obstacle for Russia's information war comes from Ukrainian solidarity and trust in each other and in state institutions. .
It is vital that we identify and eliminate vulnerable points, and one of these is the lack of transparency in ownership and financing of media.  The urgency of this reform became glaringly obvious after the purchase of three television channels by Taras Kozak, who is linked to the controversial politician and close Putin ally, Viktor Medvedchuk.  The law passed in 2015 obliging television companies to publish and inform the National Broadcasting Council information about their 'owners' has achieved little since you can give any name as the nominal owner.
There are two draft bills  - №6762 и №8494 – which would rectify the situation – if they could get anywhere near the parliamentary agenda.   According to MP Mykola Knyazhytsky, each factions has representatives of the oligarchs who have a vested interest in retaining the lack of transparency.
It is vital, Samar believes, that the new parliament passes laws ensuring full transparency regarding the owners and sources of financing.  Such requirements must apply to literally all resources, including online publications which currently do not need to register as media, despite the fact that they often have their own 'television' or radio resources.
"The level that this segment of the Ukrainian media realm is infected by disinformation and other products of Russian propaganda has reached the point of being a threat to the country's information security."  The example of RIA Novosti Ukraine, Samar concludes, demonstrates that it is possible to organize a set up for the virtually legal financing of a "factory of content aimed at undermining the state".
If the lack of such transparency up till now has been because of those in parliament representing oligarchs' interests, the same is likely to be true after the coming elections.  Samar points out that those most vocal about supposedly defending freedom of speech will be those with most to hide.
The most to lose, however, remains Ukraine.