Student imprisoned for 'liking' pro-Ukrainian social media posts in occupied Luhansk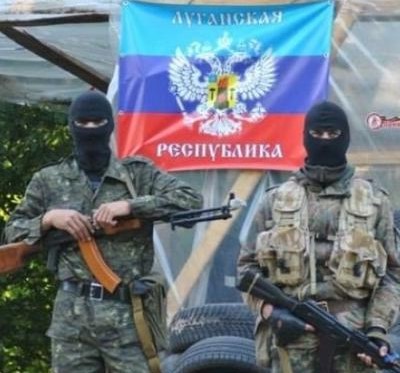 The East Human Rights Group reports that Serhiy Rusinov, a young student from Luhansk, has been imprisoned for over a year in the self-proclaimed 'Luhansk people's republic', with the charges against him and his 'sentence' probably due to his pro-Ukrainian views.  As is virtually always the case, very little information is available, with the self-styled LPR 'courts' seldom reporting more than that a person has been 'convicted' and sentenced to a number of years.
According to the report, Rusinov was seized on 24 August (Ukraine's Independence Day), 2018.  A second-year student at a college of culture and arts, he was charged with 'organization of the activities of a terrorist group' under article 244 of the so-called LPR criminal code. It was asserted by the LPR 'ministry of state security' that Rusinov was the organizer of a pro-Ukrainian terrorist group and actively supports pro-Ukrainian views.  According to the East Human Rights Group's information, there was no 'terrorist group'., and Rusinov had been targeted because he often clicked 'like' on posts expressing pro-Ukrainian views on social media.  
Judging by other cases, it is very likely that Rusinov had no real lawyer and that the 'trial'  which sentenced him to six years was a formality.  He is currently held in the Slovianoserbsk Prison Colony No. 60.  Most worryingly, he is not even on the list of people drawn up for the next exchange of prisoners, because virtually nothing has been known about him.
The East Human Rights Groups points out that Ukrainians are taken hostage every week in occupied Donbas.  They call on Ukraine's leaders to demand that the so-called Luhansk and Donetsk 'republics' provide full lists of Ukrainians detained since May 2014 and imprisoned. 
A recent study found that LPR in particular appears to be copying Russia in its zeal to block Internet sites, however both of these Russian proxy 'republics' demonstrate total intolerance to any independent thinking, and especially pro-Ukrainian views.  Two journalists / bloggers  – Stanislav Aseyev and Oleh Halaziuk – are imprisoned in 'DPR'.  The statistics would be much worse, except that at least four activists / bloggers from Luhansk who were sentenced to horrifically long terms of imprisonment for pro-Ukrainian versions were among the Ukrainians exchanged in December 2017.
The following are just some of the people still held hostage by LPR.
Roman Sahaidak is a Krasnodon entrepreneur whose problems began soon after he refused to sell his part of the business to his then business partner, Oleksandr Ryasnoy, who proved to have contacts among those in LPR with power.  The then 29-year-old was stopped on June 30, 2017 by armed men in military gear who forced him into their car. The following day, men saying that they were 'from the 'LPR ministry of state security' appeared at his flat and carried out a search, taking away everything that could be removed.
The story kept changing, and at one point his father also disappeared, though he was eventually allowed to return. In December 2018, Sahaidak was 'sentenced' to 13 years' imprisonment with full confiscation of his property. The latter was quite possibly the reason for his and his father's imprisonment. Although eventually found guilty of entirely fictitious armed robbery, the 'trial' seemingly began on charges of  working for Ukraine's Security Service [SBU] and planning terrorist attacks (more details here).
Olena Sorokina disappeared on 30 October 2018, though in her case also, it took months for any information to emerge.  The businesswoman from Pervomaisk is known to have been seized by the so-called 'LPR' ministry of state security', and it seems likely that she has been accused of 'spying for the Ukrainian security service'. 
There are at least 13 military men held prisoner in either LPR or DPR, and over 100 civilian hostages.  The latter figure is likely to be much higher, because of the lack of independent sources of information and because people are often afraid to report the disappearance of a family member for fear that publicity could put the person in more danger.