Russian-controlled 'Donetsk republic' claims more Ukrainian territory
The self-proclaimed 'Donetsk people's republic' ['DPR'] announced on 29 November that is has adopted a 'law' defining what it claims to be its 'state territory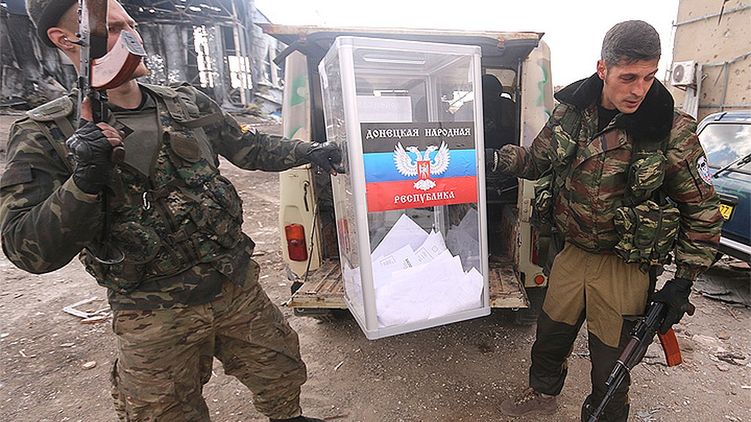 The self-proclaimed 'Donetsk people's republic' ['DPR'] announced on 29 November that is has adopted a 'law' defining what it claims to be its 'state territory'.  Unlike the actual area under 'DPR' control, the document asserts that the borders encompass the entire Donetsk oblast.  Since this so-called 'republic' has only been 'recognized' by one equally illegitimate Russian-controlled territory (South Ossetia), the move is formally meaningless.  Politically, it is not, as it comes just 10 days before a scheduled 'Normandy summit' between the Presidents of Ukraine, Russia, France and Germany and flies in the face of the Minsk Accords. 
The conflict with the agreement reached in Minsk was denied by Denis Pushilin, the so-called 'DPR prime minister' during a program on the Russian state-controlled Rossiya 1 on Friday evening.  He claimed  that the 'law' reported on DPR sites earlier on 29 November was nothing new and that it did not contradict the Minsk 2 agreement.  He said that no "secret sense" should be sought and that this merely ordinary 'legislative activities' and that the 'borders' were earlier regulated by a 'prime minister's decree'.  It had supposedly been adopted now because of "certain gaps in the work of the customs and border service".
He asserted that what he calls the 'DPR constitution' back in 2014 defined DPR territory as including the entire oblast and that nothing had changed. 
"Why this does not contradict 'Minsk 2': the line of contact is indicated in the law because, alas, the conflict is not yet over, however a referendum was at one time held through the entire territory of the Donetsk oblast. The law is absolutely logical, and it is needed for our internal use".
None of this, of course, is true, beginning with the fact that the stunt on 11 May 2014 which the militants have tried to call a 'referendum' was nothing of the kind.  You cannot hold any such vote when there are armed militants abducting and torturing people, including courageous school heads who refused to let their school buildings be taken over by rifle-brandishing militants for the 'voting'.  There were numerous reports of people 'voting for friends or relatives', and it was not considered an impediment if a person didn't live in the areas under militant control.
This was the first of several occasions where part of the performance was doubtless in Russian President Vladimir Putin's supposedly unsuccessful 'request' to the militants to postpone the event.  The logic is clear: how could it be claimed that Russia is in control if they flouted such a nice request? 
It is just possible that the same motive is at play over this new 'DPR law'.  The Kremlin appears to be concerned about Ukrainian President Volodymyr Zelensky's stated intention to come up with a replacement for the Law on Special Status, rather than simply renewing the current law which runs out in December.  Zelensky has on several occasions insisted that any local elections, as per the Minsk Agreement and the so-called Steinmeier Formula can only take place after Ukraine regains control of the border.  This is absolutely reasonable and in accordance with Minsk, however Russia cannot give up its control  of the border through which it freely brings weapons of war and other supplies to occupied Donbas.  This is presumably why both Moscow and the militants are pushing for the Special Status law to simply be renewed.  On 29 November, Putin's press secretary Dmitry Peskov specifically warned against "drifting in the direction of some other document", saying that this was fraught with huge difficulties and consequences that were hard to predict. So too would be any attempts by the 'DPR militants', to claim a 'right' to what they are now calling 'temporarily occupied Ukrainian territory'.
There is considerable concern in Ukraine over the 'Normandy summit', with this only strengthened by the apparent efforts to link discussions over the release of hostages and political prisoners and moves towards peace with gas negotiations.  Iryna Bekeshkina, Director of the authoritative Democratic Initiatives Foundation recently spoke of a survey they had carried out among analysts.  When asked what could provoke a third 'Maidan', a majority named unacceptable compromises or capitulation to Russia.  A survey of Ukrainians in general, published at the beginning of October 2019 found that an absolute majority (56%) are against 'special status' for Donbas. Over two thirds of the respondents would be against any deal in which Ukraine would essentially hand over Crimea (recognizing it as 'Russian') in exchange for liberation of the occupied areas of Donbas.  The survey essentially confirmed the warning from Bekeshkina and many other analysts that Ukrainians want peace, but not at any price.