Taras Matviyiv, Maidan activist killed in Donbas saving comrades declared Hero of Ukraine
31-year-old Taras Matviyiv died as he had lived, defending his country – on Maidan and at the front, and his death is a tragic loss to Ukraine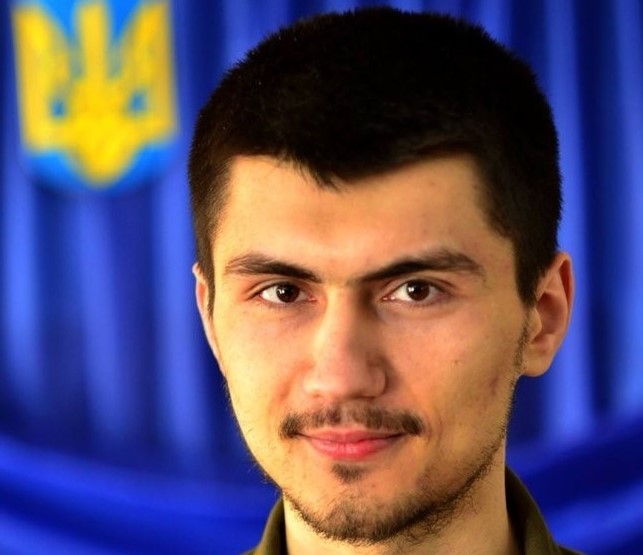 31-year-old Taras Matviyiv has been declared a Hero of Ukraine three days after he was killed by Russian-controlled militants in the Luhansk oblast, after he helped save two of his fellow soldiers.  President Volodymyr Zelensky announced the honour on 13 July, awarding also the order of 'Gold Star'.  In reporting his death on 10 July, the command of his military unit stating that they would be asking that the young officer be posthumously recognized as a Hero of Ukraine.  Taras Matviyiv died as he had lived, defending his country – on Maidan and at the front, and his death is a tragic loss to Ukraine.  His parents have lost their only son.
Taras Matviyiv was from Zhydachiv in the Lviv oblast and a journalist by profession.  He played an active role in the Revolution of Dignity (the Euromaidan protests) and initiated and coordinated the Maidan Search Initiative.  Amid the chaos and bloodshed of the final days of Maidan, this initiative played a vital role in searching for at least 85 Maidan activists who had disappeared.  While Ukraine's Interior Ministry was claiming that the whereabouts of all activists had been established, this was evidently not the case.  Taras told Valeria Burlakova that he began his volunteer initiative after meeting with the mother of Ivan Taran, a Maidan activist from the Rivne oblast and father of three.  Fayina Taran was distraught after seeing her son, then 39, on television during the worst days of the bloodshed.  Ivan Taran, then 39, remains one of the many who disappeared without trace. Mativiyiv and fellow volunteers undertook major search efforts, including of the forests around Kyiv where the body had been found back in January 2014 of one of the first slain Maidan activists, Yuri Verbytsky.  Some of the missing people were found, unharmed.  One activist had sought shelter with friends near Kyiv, fearing persecution from the enforcement bodies.  In other cases, the volunteers were only able to establish where an activist had been killed.
On 21 November, the sixth anniversary of the beginning of Maidan, Matviyiv wrote:
"I am not ashamed that I did not stand by six years ago.
I am not ashamed for a single day from 21 November through to 20 February 2014.
I am not ashamed to look into the eyes of the parents of the slain and of the disappeared.
Nor am I ashamed of the people who stood on my right and left, in balaclavas or without.  With sticks, or without.  In Kyiv or in other places.  Whether they turn to Christ, or to Muhammed.
Respect. Equality. Sacrifice. Nobody will take that away. However much those who speak for the lackey masses try to undermine, blacken, erase even the memory of the Maidan achievement.  The taste of spontaneous freedom is forever imprinted on my memory.
Those who tasted it even for one day will never forget it. For the others, that taste is unbearable.
When I am asked by my offspring what I did during those terrible moments, I will know what o answer.
At very least, I did not stand by.
So I am not ashamed.  And you?"
Like many other Maidan activists, Taras Matviyiv could not stand by either in the face of the Russian-initiated and fuelled conflict in Donbas.  He first took part, from May 2015, as a member of the volunteer Carpathian Sich.  In the summer of 2019, he graduated from the Lviv-based Hetman Petro Sahaidachnyi National Ground Forces Academy and was at the front as a member of the 24th Mechanized Brigade.
The Brigade reports that at around 20.00 on 10 July, the Russian-armed and controlled fighters near Troitske in the Luhansk oblast attacked with mortar fire, hitting a dugout in which there were two soldiers.  This burst into flames, and partially collapsed.  "Taras was the first who ran forward to help his comrades – he pulled the two soldiers out and to safety.  At that moment, another mine hit the position and its shrapnel fatally injured Taras."
"In April this year, as though his testament, Taras wrote on his Facebook page:
"I beg you, do not give up your freedom and rights through panic and fear. They will then need to be restored through bloodshed".
He had no ambitions to rise to the rank of a general, he wrote.  His aim was "to do to the full all that depends on me, to carry out my duty to the end and "to repay" the enemy for all those comrades whom I have lost."
The command of the unit and Taras' comrades have initiated the procedure for asking that Junior Lieutenant Taras Matviyiv receive the honour of Hero of Ukraine, which he deserved in full.
Eternal Memory to You, Hero of Ukraine!"