Punitive psychiatry used against blind political prisoner in Russian-occupied Crimea
There are grounds for fearing that the FSB are planning to get Alexander Sizikov incarcerated in a psychiatric hospital as his physical disabilities are too severe for even a Russian court to sentence him to ordinary imprisonment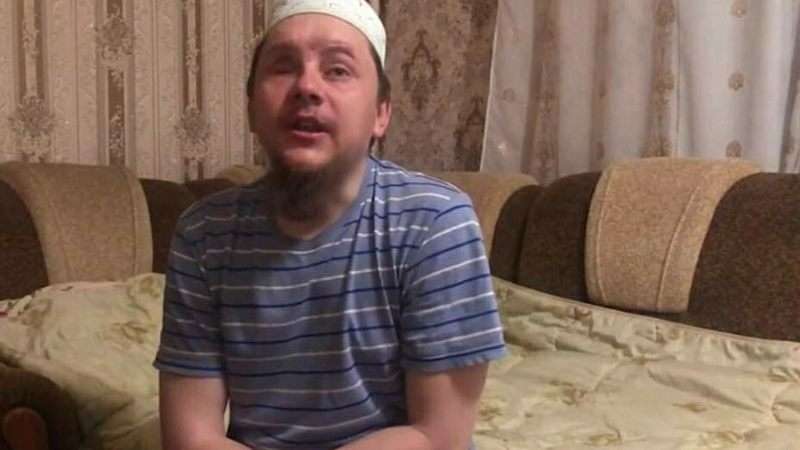 A Russian-controlled court in Simferopol has ordered 36-year-old Alexander Sizikov to be placed in a psychiatric hospital for a month, supposedly for a psychiatric assessment.  Sizikov is totally blind, and needs a special diet, making such incarceration akin to torture of the young man who has been under full house arrest since 7 July 2020. Lawyer Emil Kurbedinov says that he and his colleagues have grounds for fearing that the plan is to declare Sizikov mentally unfit, and effectively imprison him in a psychiatric hospital for many years.
The Russian FSB's inclusion of Sizikov among the latest victims of armed searches and arrests on 7 July aroused such revulsion that the 'FSB investigator' himself applied to the 'court' for Sizikov to be placed under house arrest, rather than full detention.  Nothing has changed since then and there can be no justification for now incarcerating Sizikov in a psychiatric institution instead. If this were a genuine requirement, an assessment could have been arranged in Sizikov's home, or by allowing him to visit the clinic as an outpatient.  The fact that the FSB have insisted on such confinement and on Sizikov being the only political prisoner to be sent to a clinic in Sevastopol, rather than Simferopol, means that it is, at very least, a method of pressure on Sizikov.  At worst, the defence is right and this is a ploy to use punitive psychiatry as a method of imprisoning a person whose Group 1 invalid status means that even a Russian court could not formally sentence him to a real term of imprisonment. This, Kurbedinov warns, could open up a new method of repression – where a prison colony is not allowed, the FSB can get somebody put away in a psychiatric prison.  This is not so far removed from the Soviet practice of applying punitive psychiatry in cases, like that of Ukrainian General Petro Grigorenko, where the international fallout from open imprisonment would have been too great.
Sizikov is a Russian Muslim who has openly condemned the mounting persecution of Crimean Tatars and Crimean Muslims under Russian occupation.  He lost his sight as the result of an accident in 2009 which also severely impaired his ability to move about easily.  It was because of these difficulties that Edem Smailov, the leader of the 'Topchikoy' religious community, took Sizikov under his care.
Smailov was arrested on 21 May 2018, together with Crimean Solidarity Coordinator and civic journalist Server Mustafayev.  They, and five other civic journalists and activists were sentenced on 16 September this year to horrifically long terms of imprisonment (up to 19 years, with Smailov sentenced to 14 years) without any crime.  All of the men are recognized political prisoners. 
Despite his severe disabilities, Sizikov held two solitary pickets (in April 2019 and May 2020) calling for the release of Smailov and for an end to the repression against Crimean Muslims.  According to Kurbedinov, Sizikov would also go up to the army of enforcement officers taking part in armed searches and trials, and would condemn them for the repression and the injustice they were involved in.  He is unable to restrain his emotions over the persecution he has seen over these years of innocent people and Kurbedinov is convinced that Sizikov's arrest is the FSB's revenge for his outbursts.  "There is no other way to explain the persecution of a totally blind person who has not committed any crime". The brutality against a man with severe disabilities does not end here.  Sizikov has also been added to Russia's notorious 'List of terrorists and extremists', with this resulting ini his disability pension being stopped.
Sizikov and six Crimean Tatars were arrested on 7 July, after armed searches in 11 homes.  Russia has been using trumped-up 'terrorism' charges, based solely on unproven allegations of involvement in the peaceful Hizb ut-Tahrir movement since the beginning of 2015, and is increasingly using such charges as a method of imprisoning civic activists who report on human rights violations in occupied Crimea.  The arrests on 7 July 2020 are no exception, with at least four of the men: Sizikov; Vadim Bektemirov; Alim Sufianov and Emil Ziyadinov having taken part in activities to help political prisoners and to ensure that information was circulated about such repression.  Hizb ut-Tahrir is a peaceful Muslim organization which is not known to have committed any acts of violence or terrorism anywhere in the world, and it is, accordingly, legal in Ukraine and most countries.  Russia was, until recently (when joined by Uzbekistan) the only country in the world that has called Hizb ut-Tahrir 'terrorist', in a ruling from 2003 that was kept secret until it could not be appealed.  That ruling, which the renowned Memorial Human Rights Centre believes to have been politically-motivated, is now used to imprison men for up to 24 years.  Literally all that is required is to 'prove' that a person read Hizb ut-Tahrir books or discussed their ideology, with such 'proof' provided by dodgy 'experts' and probably fake 'secret witnesses', as well as during armed searches at which lawyers are not allowed to be present and where 'prohibited books' are often alleged to have been 'found'.
The FSB are claiming, in all seriousness, that Sizikov, despite his disability, headed a  Hizb ut-Tahrir 'cell' in Bakhchysarai.  This 'organizing' role is claimed to fall under Article 205.5 § 1 of Russia's criminal code, with this carrying a sentence of up to life imprisonment.  Two of the other men arrested that day -  Alim Sufianov and Seyran Khairedinov – are accused of having been 'involved' in this supposed cell, with the charges of 'involvement' under Article 205.5 § 2 carrying sentences from 10 to 20 years.  Members of both Sufianov and Khairetdinov's families have spoken of the enforcement officers having 'found' what they themselves planted during the 'search'.
For Russian FSB officers willing to see men imprisoned for decades without any crime, it may well be galling that one of their victims is so severely disabled that they can't get him imprisoned in their ordinary fashion. It is therefore crucial that maximum publicity is given to the FSB's entirely unwarranted use of punitive psychiatry against Sizikov