Prosecutor General Venediktova is helping Russia by destroying Ukraine's vital War Department
Lawyers representing Gyunguz Mamedov have demanded to see 'Security Service letters' which the Prosecutor General has claimed were behind her extraordinary decision to remove Mamedov from his post as highly effective head of the crucial 'War Department'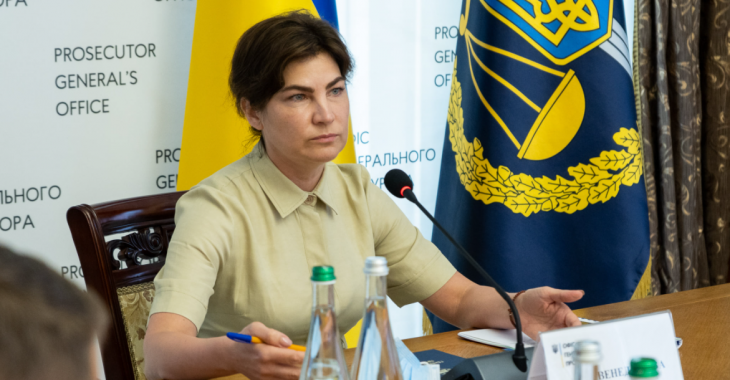 Iryna Venediktova Photo from the PGO Facebook page
Lawyers representing Gyunguz Mamedov have demanded to see 'secret letters' from Ukraine's Security Service [SBU] which Prosecutor General Iryna Venediktova cited when tackled by human rights NGOs over why she had removed Mamedov from his post as highly effective head of the crucial 'War Department'.  Representatives of some of Ukraine's most prominent NGOs reported that, during the meeting on 5 July, Venediktova spent two hours effectively ducking the question of why she had taken a decision with potentially disastrous impact on Ukraine's legal cases against Russia over its occupation of Crimea and military aggression in Donbas.  Mamedov's removal and the extraordinary decision to strip him of his access to state secrets comes just weeks before the seventh anniversary of the downing of MH17.  Mamedov has headed the Ukrainian team of investigators taking part in the Joint Investigation Team on MH17, with JIT's findings of critical importance for the trial now underway in the Netherlands and several interstate cases against Russia in international courts, including over MH17.
As reported, Venediktova issued a decree on 29 June, removing Mamedov as head of the Department for overseeing criminal proceedings into crimes committed in conditions of military conflict (generally known as the War Department).  She initially replaced Mamedov with Maksym Yakubovsky, whose earlier appointment by Venediktova to the post of Deputy Prosecutor General elicited protest from civic organizations particularly, although not only, because of his links with controversial pro-Russian politician Viktor Medvedchuk and the latter's 'Ukrainian Choice' party.  Medvedchuk is now under criminal investigation on charges linked with believed collaboration with Russia in occupied Crimea and Donbas, so any role for Yakubovsky in the War Department would pose a clear conflict of interest.
On 30 June, Venediktova issued another decree in which she, instead, placed the War Department under her direct control. If this was supposed to allay concerns, it certainly did not.  It was Yakubovsky who, on that same day, issued an order, stripping Mamedov of his access to state secrets, with this move clearly agreed with Venediktova.  The situation remains a little unclear since it is officially the SBU which allocates or removes access to state secrets, however the extraordinary result - that a Deputy Prosecutor General is not being entrusted with state secrets – is undisputed.
Venediktova has made several decisions during her 15 months as Prosecutor General that have alarmed civic activists, however her willingness to so jeopardize the significant progress made by the War Department under Mamedov is on a new, and very worrying, level. 
Mamedov had already gained considerable experience of investigating grave human rights and war crimes through his role as Prosecutor for the Autonomous Republic of Crimea from 2016 to October 2019.  Ukraine's work in documenting such crimes has been praised by, among others, the Chief Prosecutor of the International Criminal Court.  From 2016, Mamedov worked closely with prominent civic organizations who monitor such crimes and provide legal representation for victims, and gained vitally needed experience and expertise. 
His replacement by Venediktova is, at best, a baffling decision which discards several years' achievements and replaces a highly experienced manager with somebody who has no experience. 
At worst, it is a deliberate attempt to sabotage war crimes investigations and prosecutions, including those in international courts.  It took Ukraine's legislators until May this year to finally adopt a law bringing Ukraine's legislation into line with international law and enabling proper prosecution for war crimes.  Less than three months later, Venediktova is placing this achievement in jeopardy.
The meeting on 5 July was with representatives of key human rights NGOs, such as the Crimean Human Rights Group [CHRG] and Ukrainian Helsinki Human Rights Union which have played a major role in documenting and reporting on war crimes and grave human rights violations in occupied Crimea and Donbas.  CHRG Director Olha Skripnik expressed frustration at a 2-hour meeting having essentially gone around in circles with Venediktova unable to provide any good reason for removing Mamedov.  The Prosecutor General had even acknowledged that Mamedov had put huge effort into ensuring that the work of the War Department was an example of effective prosecutor's office work.
It is difficult not to suspect that the "two letters from the SBU" which had purportedly caused her decision were mentioned (or thought up) after the civic activists refused to be fobbed off.  As Skripnik points out, there can hardly be anything especially bad in the letters since Mamedov has not been fired, only moved from the War Department.   Venediktova apparently asserted that the SBU had informed her that Mamedov had "infringed the rules for access to state secrets" and that it had been on the basis of that information that she had, "scrupulously following established rules and procedure", removed Mamedov's access to state secrets.  This was, however, after first removing Mamedov from his post and without informing the latter of the SBU's accusations.  Lack of access to state secrets could now be used as a pretext for totally demoting Mamedov, and it is good that Mamedov and his lawyers are challenging accusations essentially made behind his back.
These alleged SBU letters also fail to explain why this is the second time that Mamedov's position has come under threat during Venediktova's time as Prosecutor General.  Venediktova's assurances that no other staffing changes will be made are, firstly, difficult to believe, and, secondly, hardly the point when Mamedov's removal already represents wanton destruction for no good reason. 
In the eighth year of Russia's occupation of Crimea and undeclared war against Ukraine, qualified and dedicated professions are needed to successfully document war crimes and ensure that those guilty answer for their crimes both in Ukrainian and international courts. 
Venediktova's actions have, quite simply, helped the wrong side.
See also the list of NGOs who have called on Venediktova to reinstate Mamedov and warned of the dangers of her actions here:
Collective Statement of Non-Governmental Organisations on the removal of Mr Gunduz Mamedov from office