Russian invaders accuse Ukraine of 'ecocide' for not providing occupied Crimea with water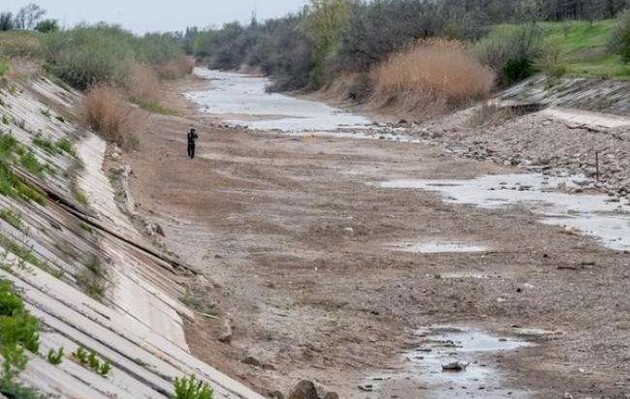 North Crimean Canal Photo ZN.ua
Russia's Investigative Committee marked Ukraine's Independence Day on 24 August by announcing one of the many 'criminal investigations' it has initiated against Ukraine or Ukrainians since 2014.  This one, over Ukraine's alleged 'ecocide', seems especially doomed, but is presumably part of a concentrated effort to convince at least those exposed to Russian state-controlled media that Ukraine is to blame for Russia's inability to provide water for the Ukrainian territory it is illegally occupying. 
The criminal investigation was launched under Article 358 of Russia's criminal code (ecocide).  The Investigative Committee [IC] talks of  "Crimea's joining of the Russian Federation" without mentioning either Russia's use of its soldiers without insignia to seize control, or the ongoing international condemnation of Russia's aggression and acknowledgement that Crimea is illegally occupied Ukrainian territory.  After this 'joining', the IC claims, "unidentified individuals on Ukrainian territory <> in violation of the Convention on the Prohibition of Military or Any Other Hostile Use of Environmental Modification Techniques, decided to cause damage to the economic, social and environmental situation in the Crimean peninsula by closing the Northern Crimean Canal."
IC goes on to say that "the lack of the proper water supplies" is causing depletion of agricultural land; salination of the Syvash and its low-lying lagoons, as well, supposedly, as wildlife populations.  Although 2020 did see severe drought in Crimea, the peninsula has always had enough water for domestic purposes.  This changed to a large degree because of Russia's occupation and mounting militarization of Crimea.  Judging by the IC report, as well as rhetoric from the occupation authorities and in Russia, the lack of Dnipro water is now to be blamed for environmental problems that Russia has created, for example, by failing to carry out ordinary maintenance of water reservoirs, etc. and by cutting down huge amounts of forest to build a highway, accommodation for population brought in from Russia, etc.
This, however, is additional to the key fact that Russia is trying to conceal by means of such Investigative Committee claims that there has been 'a crime' committed by Ukrainians.
The crime was committed by Russia in February – March 2014 when it invaded and annexed Ukrainian territory. 
Ukraine did indeed respond by stopping the flow of Dnipro water to occupied Crimea in April 2014.  This would seem to have been one of Russian President Vladimir Putin's main miscalculations.  Russia had annexed an integral part of Ukrainian territory which depended on Dnipro water for around 85% of the peninsula's fresh water needs and Kyiv rightly refused to continue providing water to the occupiers. 
It is possible that Moscow was hoping to organize resumption of water supplies after Volodymyr Zelensky was elected President, and his 'Servant of the People' party won an overall majority of the seats in Ukraine's parliament.  There were certainly very alarming noises made on a few occasions by individual 'Servant of the People' MPs, with the suspicion arising that these MPs were being used to test the ground.  There was outrage at the proposals to renew water supplies, with Refat Chubarov, Head of the Mejlis [representative assembly] of the Crimean Tatar people, stating unequivocally that "a country which is facing armed aggression and occupation of a part of its territory does not merely have the right, it has the duty (!) to use national resources available on its territory to free the territory seized or to at least make it more difficult for the occupying state to establish itself on the territory it has occupied".
Any reinstatement of water supplies would be effective recognition of Russia's annexation and would help the aggressor state to continue its occupation and its mounting persecution of Crimean Tatars and other Ukrainians.  It would also help Moscow and those in western countries lobbying for an easing of sanctions if Ukraine itself were seen to be effectively 'doing business' with Russia and accepting its occupation of Crimea.
Since then, there have been increasingly belligerent and rather hysterical noises from those installed in Crimea and politicians in Russia. One fear has always been, and remains, that Russia will either use military force or the threat of it to get hold of water.   This would, of course, give the lie to Russia's myths about Crimea as 'Russian territory' and Ukraine as 'occupier' from 1954 to 2014.  Since August 2020, there has also been a great deal of bluster about international avenues 'against Ukraine'.  There were supposed to be formal complaints in September 2020 to the UN Human Rights Committee, then in March 2021,  a representative of the occupation regime threatened "to take Ukraine" first to Russian courts, and then to international tribunals.  In May 2021, the occupation parliament asked the Russian FSB and Investigative Committee to initiate criminal proceedings against 12 Ukrainian citizens, including two former Presidents over what it called the 'water blockade of Crimea'.  The charges that the Russian invaders proposed to bring against Ukrainians included accusing them of acts of international terrorism.
Then in July 2021, Russia lodged its first ever inter-state application at the European Court of Human Rights.  The most cynical of the claims against Ukraine were over the MH17 passenger airliner downed by a Russian BUK missile over occupied Donbas on 17 July 2014 and over Ukraine's refusal to provide water to illegally occupied Crimea.  The Court  took no time in rejecting Russia's application for it to apply Rule 39 and impose interim actions, with these having included the re-opening of the North Crimean Canal. 
The reasons why such forays into international courts are surely doomed were spelled out some time ago by Anton Korynevych, President Zelensky's Representative in Autonomous Crimea. He pointed out that Crimea is Ukrainian territory and is not a part of Russia. The latter cannot pose questions linked with Crimea within the framework of inter-state relations.  "The Dnipro River does not flow through the territory of Crimea. Ukraine did not block the source of the river, but the technology equipment (a canal) which is on Ukrainian territory, as it had the full right to do.". 
Russia can hardly invoke international law when, according to the Fourth Geneva Convention, it is Russia, as occupying state, that bears full responsibility for all that happens on occupied territory, and for all such requirements, as water and food.