Russia illegally imprisons Uzbek refugee after killing her husband in occupied Crimea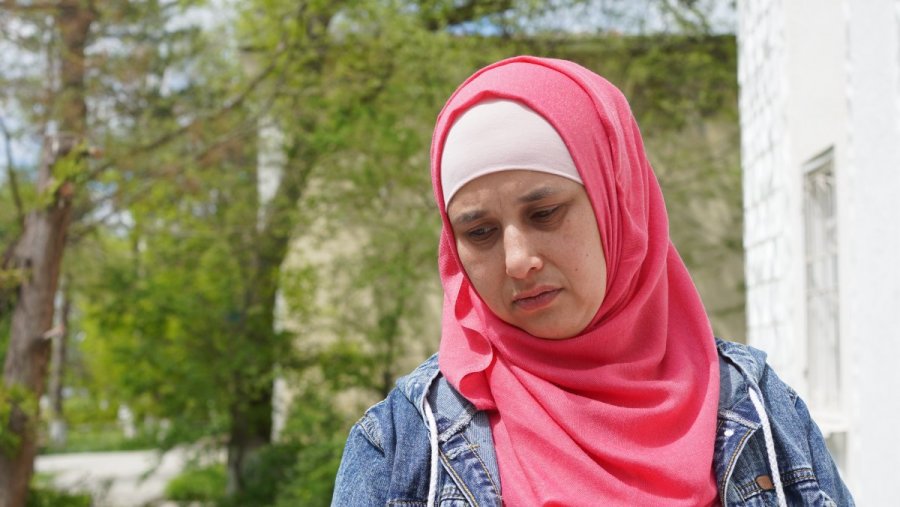 Sokhiba Burkhanova Photo Crimean Solidarity
Sokhiba Burkhanova has been imprisoned since the day after her refugee husband was killed by FSB officers in occupied Crimea.  Although it remains unclear how Nabi Rakhimov died on 11 May 2021, the Russian occupation authorities evidently have a lot to hide as they have refused to hand Rakhimov's body over for burial, with the Russian-controlled 'High Court' upholding this refusal on 22 September.  
The lawlessness is continuing also in the treatment of Burkhanova who was taken to the Krasnodar region of Russia on 12 May and placed in a detention centre for foreign nationals, where she remains to this day.  This is despite the fact that the European Court of Human Rights [ECHR] on 27 May applied Rule 39 and halted any deportation, pending the Court's consideration of her application.  There were never any grounds for the occupation authorities to have ordered Burkhanova's deportation to Uzbekistan and none for her effective imprisonment, especially since the couple's two younger children are underage and need the only parent they now have.
Lawyer Edem Semedlyaev has filed an application on Burkhanova's behalf with the Sovietsky District Court [which issued the order for her to be placed in the detention centre].  In support of his demand for her release, he enclosed the ECHR letter regarding the halt on any deportation under Rule 39 and a Russian Constitutional Court decision from 23 May 2017.  The latter stated that a person may, after three months, challenge their continued detention with the courts if circumstances  have emerged preventing their deportation. The fact that Russia will be in grave violation of a European Court of Human Rights order if it deports Burkhanova is surely such a circumstance. This does not, unfortunately, mean that the Russian-controlled 'court' will make the right decision. The appeal against Burkhanova's deportation was, after all, heard and rejected on 28 May, the very next day after the ECHR order was issued.
The story of Russia's treatment of Nabi Rakhimov and his family does not begin with his death at FSB hands on 11 May 2021.  Rakhimov was detained in Russia in 2013, with the intention being to deport him to Uzbekistan where he faced religious persecution for his alleged involvement in the peaceful transnational Muslim Hizb ut-Tahrir  party.  He turned for help to human rights lawyers who helped him apply to ECHR over both his treatment in detention and denial of effective judicial review, and over the plans to forcibly return him to Uzbekistan where he faced torture and long imprisonment in connection with his faith.  The ECHR judgement in the Case of Rakhimov v. Russia became final in December 2014.   The Court ruled that Russia had violated Rakhimov's rights, prohibited his extradition to Uzbekistan and awarded a considerable amount in damages (9 thousand euros in moral compensation and 8 thousand for expenses).
Since Russia's violations were against Rakhimov, the ECHR application and eventual judgement concerned him alone.  It is, however, near inconceivable that the Court in Strasbourg would decide that Rakhimov faced torture in Uzbekistan, but not reach the same decision with respect to his widow.
Russia chose to carry out its 'operation' against Rakhimov and his family on 11 May, as the Holy Month of Ramadan was drawing to an end.  This was not the first time that the occupation authorities have shown such disrespect for believers, and there is nothing to suggest that the 'operation' needed to be carried out then. The family had been living in occupied Crimea for some time, and Rakhimov was supporting them by doing up a new building in a neighbouring village. 
At around 6 a.m., armed officers burst into the house where Burkhanova was living, together with the two younger of the couple's four children - 15-year-old Takiuddin and his 11-year-old sister, Mariam.  They do not appear to have produced any warrant, and illegally refused (as always) to allow the lawyers who swiftly arrived to be present. Burkhanova was taken away, first to the migration service, then for questioning, with Takiuddin insisting on going with her.
It is certainly tragic that Rakhimov was alone that morning in the half-finished home that he was both living in and working on, but probably no accident.  There had reportedly been signs of surveillance and it seems very likely that the FSB knew that there would be nobody else there.
There are no credible grounds for believing that Rakhimov was armed, and nobody in their right mind would have attempted, as claimed, 'a shoot-out' against a huge contingent of enforcement officers.  Rakhimov had no reason to believe that he was facing criminal prosecution and would have understood that the only grounds for arresting him would be charges of involvement in Hizb ut-Tahrir.
Had Rakhimov really died of gunshot wounds, there would be no reason for the secrecy and refusal to allow the religious burial of a man whose supposedly terminated criminal proceedings were first mentioned after his violent death.  Lawyer Siyar Panich pointed out the false claims reiterated by the Crimean High Court on 22 September in upholding the earlier refusal to hand over Rakhimov's body for burial.  After fobbing the family and lawyers off for a month and a half with other excuses, 'senior investigator' Alexei Vadimovich Skorin cited Article 14.1 of the Russian law on burials, etc., allowing them to not hand over the body of a person killed in the course of 'terrorist activities'.  Panich debunks this, explaining that there was no action to prevent 'terrorist activities', but rather 'investigative activities' carried out at the place Rakhimov was living.  There is nothing to indicate why the armed men turned up that morning, and certainly no evidence of any criminal proceedings underway.  It seems far more probable that the FSB tortured him to death and then fired shots to try to cover this up.  Rakhimov's wife and 15-year-old son only learned that he was dead when an officer pushed a photo in front of Sokhiba and demanded that she formally recognize the man they had just killed.  They then separated children who had just lost their father from their mother as well, and are refusing to release her.