Huge sentences and mass detentions for Crimean Tatar solidarity
Outside the Crimean Garrison 'court' on 11 Ocotber 2021 Photo Crimean Solidarity
Fifteen Crimean Tatars were detained on 11 October merely for gathering outside a 'court' in occupied Crimea to show solidarity with three political prisoners, facing 17,13 and 12-year sentences for similar acts of solidarity.  The Russian occupation authorities claim that it was due to pandemic restrictions that they initially drove even the relatives of the men away from the 'court', however lawyer Edem Semedlyaev noted, that such 'anti-pandemic' measures target only Crimean Tatars.
The appeal hearing against the sentences passed on Crimean Solidarity activist  Rustem Emiruseinov (17 years); Arsen Akhairov (13) and Eskender Abdulganiev (12) was scheduled for 11 October at a military court of appeal in the closed urban settlement Vlasikha (Moscow region).  Their families had been prevented from seeing the men, all of whom are recognized political prisoners, since the sentences were passed on 3 November 2020, so the fact that this is almost a closed court was already brutal.  The men themselves were only 'present' by video link, and their lawyers, who had learned of the appeal hearing very late last week, could only address them and the court in Vlasikha by video link from the Crimean Garrison Military Court.  Wives and other relatives had therefore gone to the latter 'court' in the hope of at least seeing the men by video link. Aliye Emiruseinova arrived, together with the couple's eldest child who had not even been able to see her father when the sentences were passed.  Rustem's wife, Aliye told Crimean Solidarity, "We arrived to attend the hearing, that is our legal right. People are imprisoned for terms of up to 20 years and they want us to accept this and be silent? That will never happen! The enforcement bodies and authorities would better fight real criminals and not women and the elderly.  The repressive system cannot accept the fact that we are not indifferent."
The fifteen men who were detained from outside the Crimean Garrison 'court' included 71-year-old Reshat Emiruseinov whose son is facing the most shocking of the sentences.  He told the officers that he had come to see his son who is illegally accused of 'terrorism', yet this was ignored and now he is facing a possible 15-day jail term.  Crimean Solidarity reports that around 100 people had gathered to show their support, however they were not all in place.  It appears to have been quite arbitrary who was detained.  Despite the lack of any grounds, all were taken to the Simferopol police station where administrative protocols were drawn up on charges of 'organizing a mass gathering of citizens in public places, causing an infringement of public order'.  After seven hours passed, and the men had not been released, five other Crimean Tatars went to the police station to find out what was going on.  They too were detained.  All of the men are seemingly charged under the more serious Article 20.2.2 § 1 of Russia's code of administrative offences, rather than the usual Article 20.6.1, with this meaning that all could be jailed for 15 days for solidarity. Lawyer Emil Kurbedinov reported in the evening that the men had all been held for seven hours and were effectively being treated as though they were criminals, with fingerprints and photographs taken, and with all the men placed under psychological pressure.  As of around 20.00 the five older men: Reshat Emiruseinov (71); Enver Mustafayev (67); Gafur Mingafarov (63); Rustem Shikhbadinov (56) and Sadyk Urinbayev (55) were released on a signed undertaking to return for the 'court hearing'. 
In fact, this 'trial' was supposed to be open, and while the occupation police were detaining people, the three defendants' lawyers were applying to the court for relatives to be allowed to attend.  No application should, of course, have been required, but it was, at least, allowed.  Abkhairov's lawyer, Lilya Hemedzhi explained that her client had not been passed an additional appeal, and the hearing was therefore adjourned until 25 October.
The Russian occupation regime is using ever more repressive measures to try to crush peaceful expressions of solidarity.  On 31 October 2020, Emine Abdulganieva  Zelikha Abkhairova and Zurye Emiruseinova attempted to hold single-person pickets, in different parts of the Krasnogvardeisk district.  Each held a placard with a photo of their son and the words "My son is not a terrorist".  Even Russia's repressive laws against peaceful assembly allow single-person pickets, so the police claimed that the three women, standing alone in different places had somehow taken part in a "mass unauthorized public event".  All were prosecuted and received fairly steep fines.
Russia is clearly frightened by Crimean Tatar solidarity. On the night before the sentences were due in November 2020, around 200 Crimean Tatars were stopped by Russian traffic police and effectively held against their will near the illegal bridge from occupied Crimea and Russia, in order to prevent them reaching the court in Rostov.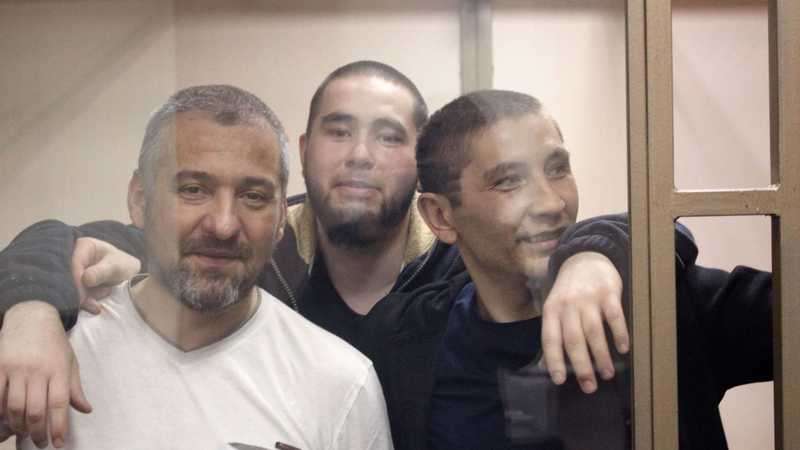 From left Rustem Emiruseinov, Eskender Abdulganiev and Arsen Abkhairov 09.10.2020 Photo Crimean Solidarity
In fact, the 'trial' of Rustem Emiruseinov (b. 1979); Arsen Abkhairov (b. 1987) and Eskender Abdulganiev (b. 1997) was probably the result of at least two of the men having attracted FSB attention through their demonstration of solidarity with other victims of repression.  Emiruseinov is a Crimean Solidarity activist who had visited political trials, taken part in flash-mobs protesting against mounting repression and in other ways helped political prisoners.  Abdulganiev, who was just 21 when arrested, had, nonetheless, actively attended political trials.
The charge of 'terrorism' is as mendacious as Stalin's attempt in 1944 to justify the Deportation of the entire Crimean Tatar people by falsely claiming them to be 'traitors'.  None of the men was accused of any recognizable crime, with the charges solely of unproven involvement in Hizb ut-Tahrir, a peaceful pan-Islamist organization which is legal in Ukraine.  The Russian Supreme Court declared it 'terrorist' in 2003 in a highly irregular, secretive ruling probably aimed at helping the authorities send victims of religious persecution back to Uzbekistan.  This ruling is now being used in occupied Crimea as a weapon, in particular against Crimean Tatar civic journalists and activists.
Emiruseinov was charged under Article 205.5 § 1 of Russia's criminal code ('organizing a Hizb ut-Tahrir group') , with Abkhairov and Abdulganiev accused of 'involvement' in this non-existent 'group' under Article 205.5 § 2.  The Russian FSB also added the even more surreal charge (under Article 278) of 'planning to violently seize power'. 
There was no proof to back the illegal charges, with the FSB having its own 'linguistic experts' who will listen to any illicitly taped conversation and claim that this word, or that subject, means that a person is a member of Hizb ut-Tahrir.  In this case, the conversation was about bringing up children in a Muslim family.  Emiruseinov has a son and two daughters, Abkhairov – a daughter who is now five, and son who was just over six months old when his father and the other men were arrested on 14 February 2019.  The FSB also used a book planted during the armed 'searches' carried out with lawyers prevented from being present, as 'evidence', and 'secret witnesses' whose 'testimony' cannot be checked.
Despite the lack of any crime and totally flawed nature of the 'evidence', presiding judge Ruslan Plisko, together with Igor Kostin and Yevgeny Zviagin from the Southern District Military Court in Rostov (Russia) sentenced three innocent men to terms of imprisonment far higher than those Russian judges generally pass against people convicted, on real grounds, of violent crimes.  
The three men were declared political prisoners by the authoritative Memorial Human Rights Centre back in January 2020, and their release has been demanded in numerous international resolutions and statements from western countries.
Please write to Rustem Emiruseinov; Arsen Abkhairov and Eskender Abdulganiev!   
The letters tell them they are not forgotten, and show Moscow that their persecution is being followed. Letters need to be in Russian, and on 'safe' subjects.  If that is a problem, use the sample letter below (copying it by hand), perhaps adding a picture or photo. Do add a return address so that the men can answer.  The address below will be valid for another month at least.  After that, please check this site again.
The envelopes can be written in Russian or English as below.
Rustem Emiruseinov
Россия 346408, Ростовская область, г. Новочеркасск, ул. Украинская, № 1 СИЗО-3,
Эмирусеинову, Рустему Решатовичу, 1979 г.р.
[In English:  Russian Federation 346408, Rostov oblast, Novocherkassk, ul. Ukrainskaya, No. 1, SIZO-3,
Emiruseinov, Rustem Reshatovich, b. 1979 ]
Eskender Abdulganiev
Россия 346408, Ростовская область, г. Новочеркасск, ул. Украинская, № 1 СИЗО-3,
Абдулганиеву, Эскендеру Иззетовичу, 1998 г.р.
 [In English:  Russian Federation 346408, Rostov oblast, Novocherkassk, ul. Ukrainskaya, No. 1, SIZO-3,
Abdulganiev, Eskender Izzetovich, b. 1997 ]
Arsen Abkhairov
Россия 346408, Ростовская область, г. Новочеркасск, ул. Украинская, № 1 СИЗО-3,
Абхаирову, Арсену Ремзиевичу, 1987 г.р.
 [In English:  Russian Federation 346408, Rostov oblast, Novocherkassk, ul. Ukrainskaya, No. 1, SIZO-3,
Abkhairov, Arsen Remzievich, b. 1987 ]