Russia jails Crimean Tatar journalists trying to report release of imprisoned lawyer
A court in Russian-occupied Crimea has jailed 21 Crimean Tatars, including five civic journalists, for up to 14 days after they were detained on 23 November while trying to report on the release of lawyer Edem Semedlyaev , also imprisoned for his work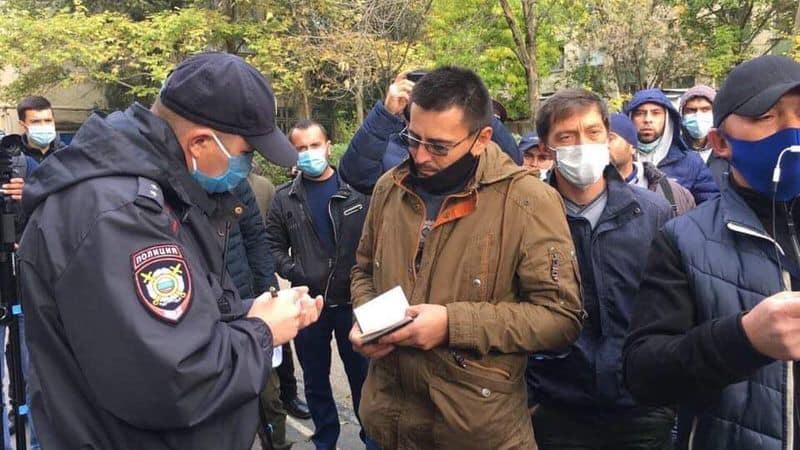 Vilen Temerayev showing his journalist ID Photo Crimean Solidarity
A court in Russian-occupied Crimea has jailed 21 Crimean Tatars, including five civic journalists, for up to 14 days after they were detained on 23 November while trying to report on the release of lawyer Edem Semedlyaev after the latter spent 12 days imprisoned for carrying out his duties as a lawyer. 'Administrative arrest' in the case of the journalists is considerably less savage than the 15-20-year sentences which eleven other journalists in occupied Crimea are either already serving or are facing, but it is nonetheless shocking, not least because the Russian occupiers are quite brazenly arresting journalists as they carry out their professional duties.
At around 19.00 on 23 November, a large number of Crimean Tatars, many carrying flowers, balloons and even cake, arrived at the detention unit in Simferopol where Semedlyaev was due to be released at 19.30. It is clear that mass arrests were planned, with large contingents of Rosgvardia stationed outside the unit, together with two empty police vans. 31 Crimean Tatars, including the five journalists and ten women, were initially bundled into the police vans and taken to three different 'police' stations, and then another person was detained. It appears that the charge in all cases was of 'organizing a mass simultaneous gathering and / or movement of citizens in public places causing an infringement of public order' (Article 20.2.2 § 1 of Russia's Code of administrative offences). There was no infringement of public order, just people who had come to greet Semedlyaev, whose tireless work in defending political prisoners has made him a hero for very many Crimean Tatar families. It seems that the officers who drew up the administrative prosecution protocols on 23-24 November even wrote that those detained had balloons with them, although they preferred not to mention the flowers and cake.
Russia is very clearly, and brazenly, demonstrating to all Crimean Tatars that they face detention, periods of 'administrative arrest' or punitive fines for the most innocent of actions. This was the first time that women were not only taken into custody, but, in five cases, held overnight. Since at least three of the women have small children, this was a serious infringement of Russia's own legislation.
The lack of grounds for any charges is, unfortunately, immaterial since conviction is virtually guaranteed in all such cases where Crimean Tatars are detained. Appeals will certainly be lodged, but the charges of success are also minimal.
All of the imprisoned civic journalists are from Crimean Solidarity, the civic initiative whose work in providing information about repression in occupied Crimea has brought it, and its members, under attack since soon after its creation in 2016. Journalist Villen Temeryaev was sentenced to 14 days administrative arrest; Enver Alimov and Dlyaver Ibragimov got 12-day sentences; Alim Suleimanov – 12 days and Simar Ablyalimov – 10 days.
These sentences are, like the 12-day sentence imposed on lawyer Edem Semedlyaev, particularly cynical as the men all showed journalist ID and were there in their professional capacity. Before the 'court hearings' on 24 November, Ukraine's National Union of Journalists issued a statement condemning the Russian occupation authorities' actions and demanding the journalists' release.
"We demand that the Russian authorities stop its practice of detainees participants of peaceful gatherings and of not letting journalists carry out their professional duties. We express our professional solidarity with our civic journalist colleagues in Crimea who are carrying out important work in providing coverage of the struggle of Crimean activists."
It is precisely this work ensuring that the world knows what is happening in occupied Crimea that Russia is seeking to stop, through arrests and imprisonment of civic journalists and activists.
Fatime Yanikova, whose husband, brother and brother-in-law are all political prisoners, having been detained for trying to greet imprisoned lawyer Edem Semedlyaev, on his release Photo Crimean Solidarity
The others detained on 23 November and now jailed for trying to greet a lawyer imprisoned for defending victims of repression are as follows:
14 days
Mustafa Seidaliev, one of the coordinators of Crimean Solidarity;
13 days:
Smail Kurtbekov and Ernest Seitosmanov (brother of political prisoner Enver Seitosmanov);
12 days:
Kemal Abdurazakov; Smail Abdurmanov; Alim Aliev; Ruslan Azizov; Server Cholakchyk; Zekirya Demerdzhi; Murtaza Fakhriev; Reshat Paralamov; Settar Settarov and Selim Teifukov;
10 days:
Lenur Appazov; Kemal Nemetullayev and Remzi Nimetulayev.
Nine women were fined.
Elvina Azizova (15 thousand roubles; held overnight in custody);
Elmaz Abduramanova (11 thousand, held overnight in custody);
Aishe Arslanova (11 thousand);
Safinaz Gazanchiyan (11 thousand);
Reikhane Kulametova (11 thousand, held overnight in custody);
Lemara Umerova (11 thousand);
Alfiya Zudiyeva (11 thousand);
Nailye Ibragimova (10 thousand, held overnight in custody);
Fatime Yanikova (10 thousand, held overnight in custody);
An underage lad was released, but with a protocol drawn up against him, while an underage girl was released without any protocol.