Crimean Solidarity Coordinator jailed amid international demands that Russia end its persecution of Crimean Tatars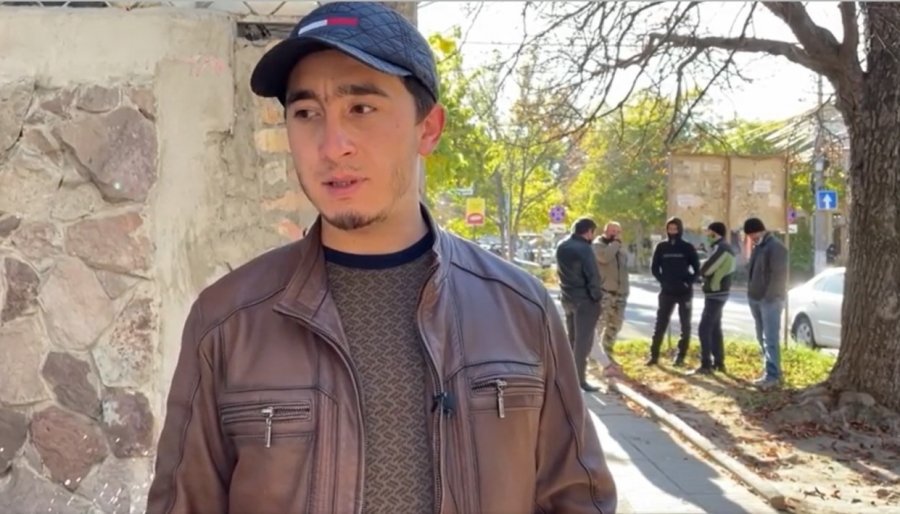 Dilyaver Memetov Screenshot from a Crimean Solidarity video where he speaks of the October 2021 detentions
Dilyaver Memetov, one of the coordinators of the important civic initiative Crimean Solidarity, was jailed for 12 days on 27 November, after a Russian-controlled 'court' made essentially no pretence of considering the charges against him.  It seems clear that the young man's imprisonment was intended from the moment on 26 November that a Russian-controlled police officer ran up and seized him outside a court involved in the political trial of seven Crimean Tatar civic journalists and activists.
Memetov's lawyer, Rustem Kyamilev, reports that the 'hearing' lasted all of 15 minutes, with the 'judge' not even bothering to withdraw into the consulting chamber before announcing the sentence of 12 days' administrative arrest.  Memetov has thus become the 22nd civic journalist or activist to be imprisoned for terms of between 10 and 14 days for standing on the street near a political trial. 
Memetov was detained on 26 November, with the Russian police captain Alexei Kuznetsov claiming that this was for 'a repeat offence'.  There was no 'offence', however Memetov has been unwarrantedly detained many times.  He was, in fact, charged with the virtually standard 'Article 20.2.2 § 1 of Russia's Code of administrative offences ('infringement by the organizer of a public event of the established procedure for organizing or holding a meeting'). 
It would seem that the occupation authorities were determined to detain Memetov whom they had somehow managed to miss when detaining 32 Crimean Tatar men and women on 23 November.  All of the detained and Memetov had come to the Simferopol detention unit at around 19.00 to await the release of lawyer Edem Semedlyaev who had been jailed for 12 days for carrying out his professional duties.  Many of those detained were holding balloons, flowers and even cake to greet Semedlyaev, one of the lawyers who has unstintingly worked to defend the ever-mounting number of political prisoners under Russian occupation.
In commenting on Memetov's imprisonment, Kyamilev said that "This is punishment because people simply wanted to peacefully meet the lawyer, their people's defender.  This is punishment against all of those who remain concerned and wish to thus express their support.  Women were held for 24 hours. Yes the article [of the Code] envisages administrative arrest, but those women have small children at home, and this act of lawlessness was carried out in cynical fashion."
On 26 November, two men were detained – Dilyaver Memetov and Abdulla Seidametov, a 20-year-old Crimean Solidarity civic journalist.  Seidametov was, fortunately, later released after his journalist ID, press card and editorial task to cover the appeal hearing had been checked.  Since five journalists (Villen Temeryaev; Enver Alimov; Dlyaver Ibragimov; Alim Suleimanov and Simar Ablyalimov) were detained on 23 November and have now been jailed for up to 14 days, it seems more likely that Seidametov was released as Memetov was the real target. 
Since early September and the revenge arrest of Crimean Tatar Mejlis leader Nariman Dzhelyal, the Russian occupation authorities have carried out several mass detentions.  In October, Memetov was detained twice and fined merely for trying to stand outside open court hearings.
Crimean Solidarity, which Dilyaver Memetov is one of the coordinators of, arose after the sharp escalation in persecution of Crimean Muslims in 2016.  His father, Remzi Memetov, is a recognized political prisoner, serving a nine-year sentence without any crime.  While those involved in Crimean Solidarity seek to help political prisoners and their families, they also play a crucial role in ensuring that information is passed on about armed searches, arrests, political trials and all forms of persecution in occupied Crimea.  it is this that is doubtless behind the ferocity with which Russia has targeted such activists, with a significant percentage of the political prisoners now serving or facing monstrous sentences almost certainly seized for their civic activism. 
Essentially all of the seven Crimean Tatars arrested in October 2017 and May 2018, whose appeal hearing is now underway, are civic journalists and / or activists.  They include Server Mustafayev, civic journalist, Crimean Solidarity coordinator and an Amnesty International prisoner of conscience.  The other six men are civic journalists Suleiman (Marlen) Asanov;  Timur Ibragimov and Seiran Saliyev; and three men who actively helped political prisoners and their families: Memet Belyalov ; Server Zekiryaev and Edem Smailov. 
It should be noted that all of the above examples of persecution up till 25 November 2021 were condemned in a statement from the Council of Europe's Commissioner for Human Rights, Dunja Mijatović The persecution of Crimean Tatars must stop
"The arrest and detention of a large group of Crimean Tatars, including several journalists, who assembled peacefully in Simferopol last Tuesday to witness the release from detention of human rights lawyer Edem Semedlyaev is the latest link in a chain of reprisals and harassment directed at members of this community. It reinforces the pattern of persecution targeting Crimean Tatar human rights defenders, activists, leaders, and journalists, as well as many ordinary members of this group, described to me through numerous and consistent testimonies by members of the Crimean Tatar community and reputable human rights organisations.
In addition to arbitrary arrests and detentions, this clearly discernible pattern is exemplified by abusive raids on their homes and mosques; criminal proceedings devoid of fair trial guarantees; and extremely severe sentences, including long prison terms, imposed in recent years on Crimean Tatar activists like Osman Arifmetetov, Edem Bekirov, Aider Dzhapparov, Timur Ibragimov, Rustem Ismailov, Suleyman Kadyrov, Emir-Usein Kuku, Server Mustafaev, Enver Omerov, Riza Omerov, Erfan Osmanov, Seyran Saliev, Ruslan Suleymanov, and dozens of others….."