29 thousand Crimean 'Youth Army' recruits taught to hate Ukraine and be ready to die for Russia
While these children will not participate in any military action that Russia may now be planning against Ukraine, they are taught how to use firearms, and indoctrinated with the aggressor state's propaganda regarding 'patriotism' and 'the enemy'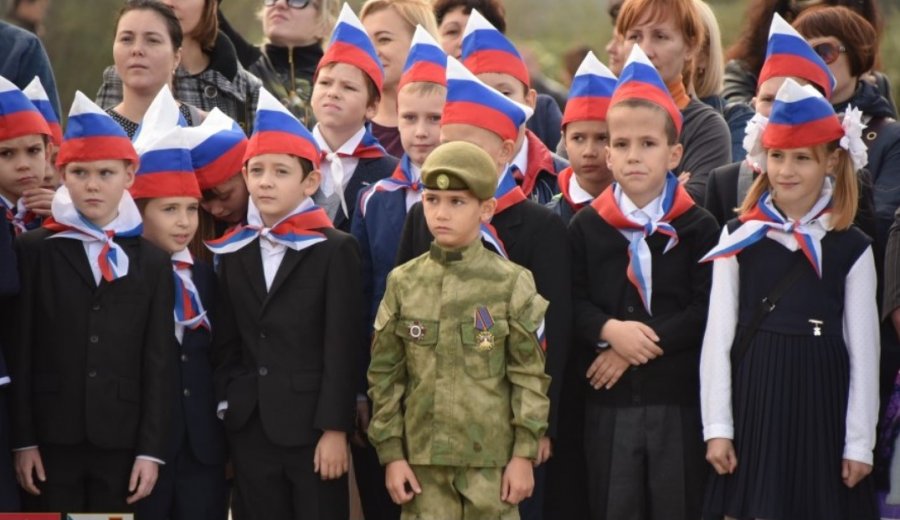 Children at Yunarmia oath ceremony in Sevastopol, 25.10.2019 Photo sevzakon.ru
Around four thousand Crimean children were 'recruited' into Russia's so-called 'Youth Army', or Yunarmia, in 2021, with the overall number of children in this militarized organization having now reached 29 thousand (divided into 874 'units'). While these children would not, yet, participate in any military action that Russia may now be planning against Ukraine, they are taught how to load and use firearms, and indoctrinated with the aggressor state's propaganda regarding 'patriotism' and 'the enemy'. Russia's militarization of childhood in the Russian Federation should already be a matter of concern. In occupied Crimea, it also constitutes a war crime, and Ukraine's Crimean Prosecutor, together with human rights NGOs, have sent information to, among others, the International Criminal Court at the Hague.
It will soon be eight years since Russia's invasion and annexation of Crimea. This is a very long time for children and young people, many of whom are unlikely to remember life before Russian occupation. The only history books they will have used are those provided by the occupying state, and Russia is using all means, including the blocking of Ukrainian media and political persecution, to eliminate all elements of Ukrainian identity from children's lives.
Most chillingly, it is trying to replace such identity with 'Russian patriotism' and the belief that they should be willing to die for the country that an illegal occupation regime is claiming to be theirs.
In its report on Yunarmia in occupied Crimea in 2021, the Russian defence ministry stated that "the kids "took part in patriotic and educational events, aimed at retaining memory of the feats and military traditions of older generations; memorable events and dates in the history of Russia, the Black Sea Fleet and the Southern Military District." The latter is one of five 'military districts of the Russian Armed Forces to which Russia illegally added Crimea in 2014.
The ministry mentions, among other events, open days in military units and a 'School of future commanders' at the Artek children's centre, which over 3.5 thousand children have so far been through.
Russia's imposition of conscription in occupied Crimea and mounting criminal prosecutions of those who reject military service are already in clear contravention of the Fourth Geneva Convention. So too are all the increasingly aggressive efforts to encourage children and young people to voluntarily join Russia's armed forces. Article 51 of the (Fourth) Geneva Convention relative to the Protection of Civilian Persons in Time of War, which Russia is a partner to, unequivocally states that: "The Occupying Power may not compel protected persons to serve in its armed or auxiliary forces. No pressure or propaganda which aims at securing voluntary enlistment is permitted".
In September 2021, the Ukrainian Prosecutor for Crimea, together with the Crimean Human Rights Group sent a second report to the International Criminal Court [ICC], providing details of Russia's violation of the Geneva Convention, through Russia's conscription and active propaganda among Crimean children to get them to want to serve in the Russian armed forces. Russia may try to deny that it is an occupying power, however it is recognized as such by all international bodies, including the ICC, whose Chief Prosecutor recognized Russia's occupation of Crimea as an international armed conflict back in 2016.
The report points to the huge funds that Russia is channelling into propaganda among young people; its use of educational institutions providing basic military training; as well as the systematic efforts to promote military service among very young children. They identify all of these activities and other aspects of Russia's militarization of childhood in occupied Crimea as war crimes.
They are also violations of the rights of the child and in November 2021, another submission was sent to the UN Committee on the Rights of the Child.
One of the most chilling of developments in occupied Crimea is Russia's so-called 'Yunarmia' which 'recruits' children from eight years upward. This 'army' was initiated as the militaristic wing of the 'Russian Movement of School Students', formed as the result of a decree by Russian President Vladimir Putin on 29 October 2015. Yunarmia was initiated by the Russian Defence Ministry and supposed to be "responsible for issues linked with the military-patriotic upbringing of young people".
The Russian defence ministry made it clear from the outset that this was to be a mass movement, with a million members planned by 2020. According to Ukraine's Crimean Prosecutor, the plan now is for one in ten children to be involved by 2024. It should be stressed that there are legitimate doubts as to whether all children are enrolled in accordance with their wishes, or those of their parents.
Ukraine's Crimean Prosecutor recently passed to the court an indictment against the 'head' of Yunarmia in Sevastopol, Vladimir Kovalenko. He is accused of violating the laws and customs of war (Article 438 of Ukraine's Criminal Code) in his capacity as 'head' of Yunarmia since 2016. He is accused, among other activities, of having directly organized and carried out propaganda among children and young people to encourage them to voluntarily join the aggressor state's army. Kovalenko was dismissive about the charges, and doubtless understands that Ukraine cannot touch him while he remains in Crimea under Russian occupation or in Russia. This should, however, result in him being placed on the international wanted list, and he could be detained if he tries to go abroad.
A lot of the activities, including those involving weapons, within Yunarmia may well seem like fun to many children and young people. This is part of the danger since the real aim, at least in occupied Crimea, has, since 2014, been to inculcate 'Russian identity' in young Crimeans, and to crush children's identification with Ukraine. One such method has been to deliberately stir up fear in occupied Crimea with Ukraine and Ukrainians presented as 'the enemy'. Human rights defenders have cited examples where children are evidently being encouraged, for example, through talks from Donbas militants full of lies about the Ukrainian Armed Forces. It is small wonder, though terrifying nonetheless, that one young girl said that she wanted to join Yunarmia so as to defend "her country" if Ukraine invaded.