Pro-Kremlin sites initially boasted of Russia's Kramatorsk bombing that killed 52 civilians, including children
As with MH17 in 2014, Russian propaganda channels on Telegram boasted of the bombing before quickly editing their texts as the enormity of Russia's war crime became clear.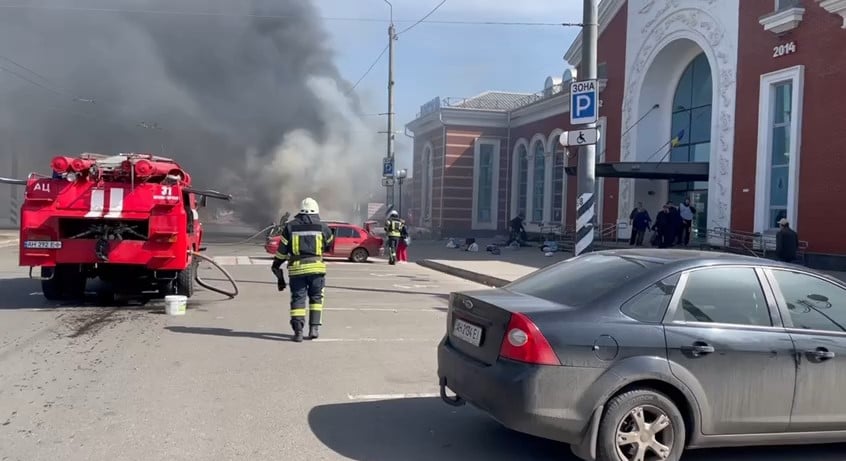 Kramatorsk after the missiles struck Photo from Censor.net
Russia has done it again.  Just as immediately after the downing of Malaysian airliner MH17 by a Russian Buk missile on 17 July 2014, Russian propaganda channels effectively admitted that Russia was responsible for the airstrike on Kramatorsk Railway Station on 8 April that killed at least 52 civilians.  They positively boasted of the act, before quickly editing their texts as the enormity of Russia's war crime became clear.
Numerous Telegram channels, including Siloviki.ru [from the word for the security and other enforcement bodies] immediately reported that "their sources in Kramatorsk" had informed of a strike in the area of the railway station, and that the Ukrainian Armed Forces had brought a lot of military equipment and ammunitions to the station the day before, with this the aim of the strike. 
It rapidly became clear that the two missiles had killed a huge number of civilians at the station, where around 4 thousand people were gathered, most of them trying to flee before the feared Russian invasion.  Siloviki.ru now follows the official Moscow line, that this was a strike by the Ukrainian Armed Forces, and claims that the Ukrainian authorities "very actively tried to blame the Russian forces" but that this has supposedly been a fiasco.
The only fiasco, in fact, is with Russia's claim that it had nothing to do with the airstrikes, and not least because of the initial boasting by sites which closely follow the regime's line.  There are a considerable number of screenshots (here and, at the bottom, here, for example), demonstrating the initial admission of Russian guilt.  There are attempts to claim that all of this was a diabolical plot, with the airstrike followed by pro-Kremlin channels being fed a fake so that they boasted a success. 
Russians are currently being detained for standing outside with a piece of paper saying 'Two words' (in code for the prohibited No War) and there is no chance of hearing the truth on any Russian channel.  It is, unfortunately, likely that those Russians who glean all of their information from the state media and who have a vested interest in not believing their country to be guilty of such war crimes, will give credence to such Ukrainian 'provocation' claims.   There is nothing to suggest that the international community will see the carnage in Kramatorsk on 8 April as anything but the latest in an appalling series of attacks on civilians in Ukraine. 
Russia has tried to claim that it has long replaced Tochka-U missiles with newer models.  This is refuted by InformNapalm which has provided video footage demonstrating that such missiles are still being used.
Russia had already, on 7 April, bombed railway tracks near Barvenkove Station in the Donetsk oblast, damaging the only exit by which three evacuation trains were due to take civilians away from Sloviansk, Kramatorsk and Lyman.  It remains to be seen whether pro-Kremlin channels will claim that this too was part of Ukraine's 'plot' to kill its own citizens, while blaming Russia, which has been doing little else but targeting Ukrainian civilians since 24 February.
On Friday evening, Pavlo Kyrylenko, Governor of the Donetsk oblast, stated that the death toll from the airstrike on the Kramatorsk Railway Station now stands at 52, with five children among those killed.  It was earlier reported that 98 people were in hospital.  He also reported that five other civilians had been killed by the Russians in the Donetsk oblast, including a family of four in Avdiivka.