Ongoing pressure on Afghanistan War veterans since action snubbing the President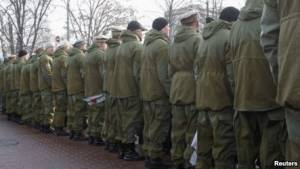 Members of the organization "Nobody but Us" say that they have been subjected to repression since their action on 15 February, the anniversary of the Soviet withdrawal from Afghanistan. As reported, on that day around 200 Afghanistan War veterans deliberately snubbed President Yanukovych and other public officials by demonstratively turning their back on them.
Yury Bychkovsky, the leader of the Kherson branch, says that his business "Start" which is officially one of the 20 best taxpayers in the Kherson region, has had eight checks over the last two weeks.
"They came and carried out checks under the direct control of the local district administration. We have absolutely transparent bookkeeping. Nobody has ever had any complaints about me. The SBU [Security Service] have initiated at least four checks at my business, without any serious grounds", he says, adding that they also came to check the office of "Nobody but Us" and that other members of the organization engaged in business have also been targeted. "They make it clear that we should short our civic activity in "Nobody but Us".
Ihor Serdyuk from the Chernihiv branch of the organization says that the SBU have started following every visit he makes to Kyiv, summoning him and asking him about his plans.
He says that after the 15 February incident when they turned their back on the President, text messages with the same phrase "Look behind" have been sent from the same mobile telephone number. He says that he and his deputies have started getting visits where they live from people saying they're housing officials or officials from the local authorities, asking who we are, whether we have criminal records, who comes to our home and other details", Mr Serdyuk recounts.
The Head of "Nobody but Us", Oleksandr Kovalyov has said that there have been searches and pressure on the regional heads of the organization in Donetsk, Luhansk and Poltava. He asserts that the authorities destroyed his business.
"The authorities think that they will break us, but they're making us free. Repressive measures are capable of uniting the guys from "Nobody but Us" more firmly that the war we went through".
UNIAN tried to get comment from SBU however nobody answered at the press service, nor did the SBU Press Secretary, Marina Ostapenko answer her phone. 
Nobody but us