Russian occupiers warn against using an'extremist symbol' on Crimean Tatar Flag Day
While Crimean Tatars and other Ukrainians throughout the world were taking part in events and flashmobs to celebrate Crimean Tatar Flag day, the Russian occupation regime issued 'warnings', claiming that the Crimean Tatar flag was an 'extremist' symbol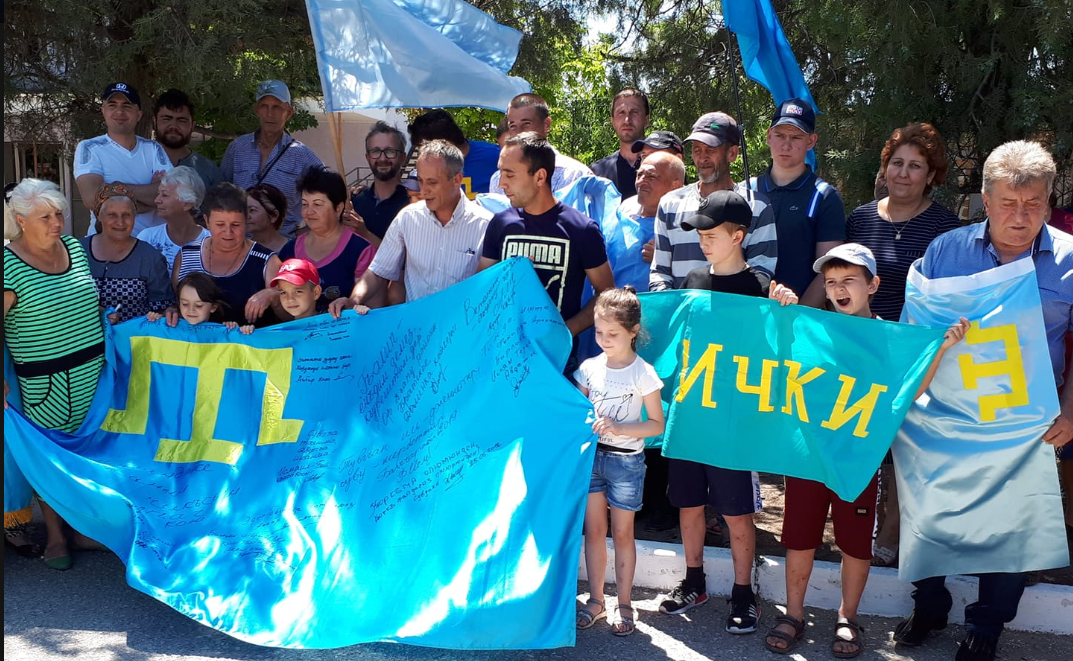 While Crimean Tatars and other Ukrainians throughout the world were taking part in events and flashmobs to celebrate Crimean Tatar Flag day, the Russian occupation regime engaged in harassment and attempts to intimidate prominent members of the Crimean Tatar community.  Several people received the 'warnings against violations of Russia's law on extremist activities' that have become a standard element of Russia's discrimination against Crimean Tatars since its invasion and annexation of Crimea in 2014.
For the moment it is known that such 'warnings' were issued to Nariman Dzhelyal; Emine Avamilyeva and Kurtuseit Abdullaev, though there may prove to have been others. 
Dzhelyal reported on 26 June that while travelling around Crimea, visiting friends and greeting them on Crimean Tatar Flag Day, he received a call from his wife telling him of yet another uninvited visitation from enforcement officers.  Having not found him at home, the latter phoned him and then sent this nth 'warning' by email.  Dzhelyal pointed out that the document was similar to many others, including the one he received on the eve of the anniversary of the Crimean Tatar Deportation on 18 May.
These documents do not attempt to explain how honouring the member of victims of the 1944 Deportation, which Ukraine has recognized as an act of genocide, or any activities celebrating the Crimean Tatar flag could possibly be considered 'extremism'.
Yet the document claims that the de facto prosecutor has information that Dzhelyal is the organizer of mass events for Crimean Tatar Flag Day, during which he will be using "extremist symbols". 
"Nowhere in the world is my beloved Crimean Tatar flag an extremist symbol".
During a car run from Dzhankoy to Simferopol, Dzhelyal and some other Crimean Tatars were stopped four times, with the Russian police insisting on inspecting all documents, although they could not name any reason for stopping the car. During the last occasion, a police officer openly videoed the entire 'operation' on harassing people who had committed no offences. The activists placed the Crimean Tatar names for the places they visited above the names in Russian.  While Russia claims that it recognizes three official languages in Crimea: Crimean Tatar and Ukrainian, as well as Russian, it has virtually eradicated education in Ukrainian and is putting pressure on Crimean Tatars to renounce their right to education in the Crimean Tatar language.  It is, unfortunately, likely that administrative prosecutions will be launched over such legitimate and temporary inclusion of Crimean Tatar place names.
It was only in occupied Crimea that Crimean Tatars were harassed for celebration of their national flag.  In Kyiv, a forty-metre Crimean Tatar flag was unfurled in just one of numerous actions in mainland Ukraine and throughout the world.  There was also a car rally with volunteers holding up the Crimean Tatar flag which had travelled through 28 countries.
Refat Chubarov, forcibly exiled Head of the Mejlis of the Crimean Tatar people, explained that for Crimean Tatars over the last five years, the Crimean Tatar flag "has not simply been a symbol of our unity, but one of the symbols of our Crimean Tatar identity. It has now transpired that we cannot freely own our land because it is under occupation.  We therefore all unite around the flag, not only in Ukraine but throughout the entire world".
26 June was chosen as Crimean Tatar Flag Day in 1991 as it was the first day of the second Qurultay or National Congress of the Crimean Tatar people.
Under Russian occupation, there have been numerous acts of repression against Crimean Tatars and other Ukrainians, with both the Ukrainian and the Crimean Tatar flags treated as 'extremist' or 'prohibited' symbols.