Russia uses horrific sentences against elderly Ingush leaders to crush peaceful protest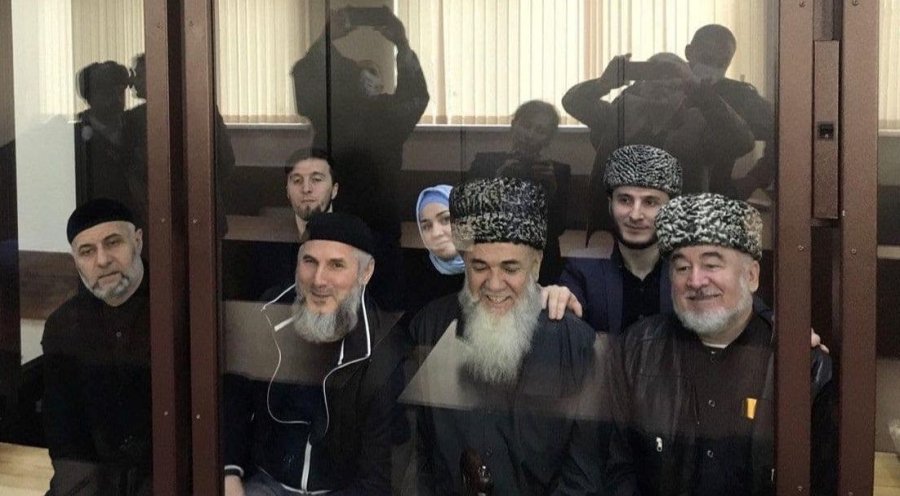 Ingush leaders in court on 15 December 2021 Photo shared by Andrei Zubov
A Russian court has sentenced seven Ingush leaders, including two men in their late sixties and a woman, to terms of imprisonment from 7.5 to 9 years for organizing peaceful protests in 2019 The case is a chilling example of the methods Russia uses to crush peaceful assembly both within the Russian Federation and in occupied Crimea. Those on trial were accused of 'organizing violence' and of 'involvement in an extremist organization', although they had merely led peaceful protest against an arbitrary decision to hand Ingushetia territory over to the neighbouring republic of Chechnya. Any 'violence' was purely due to the force used by the Russian Guard to disperse peaceful protesters. All of the defendants have been recognized as political prisoners by the renowned Memorial Human Rights Centre and the sentences were condemned by Amnesty International as a gross violation of the rights to freedom of expression and assembly.
It is worth recalling Russia's excuses for its invasion and annexation of Crimea and aggression in eastern Ukraine when considering its very different behaviour within its own borders. The political crisis in Ingushetia began in September 2018 when the Kremlin-appointed leaders of Ingushetia and Chechnya signed an agreement by which a significant part of the territory of Ingushetia was handed over to Chechnya. All of this was carried out in secrecy, with no public discussion. The latter would, in any case, be impossible in Chechnya, under the rule of Russian President Vladimir Putin's protégé Ramzan Kadyrov.
Peaceful protest began in Matas (the capital of Ingushetia) immediately and continued until 17 October 2018 when the decision was sent to the republic's Constitutional Court. On 30 October, that Court declared the decision to hand over the country's territory to be unconstitutional. Constitutional Court judgements are, by law, final and not subject to appeal. That is the theory, since under the current regime in the Russian Federation any law can be broken if it doesn't suit. Hence the Kremlin-appointed head of Ingushetia 'appealed' against his own Constitutional Court's judgement to the Russian Federation Constitutional Court. The latter obliged on 6 December 2018 by declaring the 'agreement' to hand over Ingushetia territory legal. A draft law was soon afterwards tabled in the Ingushetia parliament removing the requirement that territorial changes be confirmed by referendum.
An indefinite protest was announced, with this due to begin in Matas on 26 March 2019. Although the protest was peaceful and did not disturb public order, huge contingents of enforcement officers were brought in on 27 March, with the violent methods used to disperse protesters causing scuffles and injuries. The leaders of the protest managed to get the protest stopped, and the square vacated.
The Memorial Human Rights Centre reports that this was used to prompt political repression in Ingushetia. Criminal charges were brought against dozens of participants in the protest, with hundreds of others facing administrative proceedings. Eight well-known Ingush leaders were arrested and charged with 'organizing life-threatening violence against representatives of the authorities' and, later, with creating or taking part in 'an extremist organization'.
The eight were: Akhmed Barokhoev (b. 1954); Barakh Chemurziev (b. 1969); Bagaudin Khautiev (b. 1990); Musa Malsagov (b. 1972); Ismail Nalgiev (b. 1991); Akhmed Pogorov (b. 1963), Zarifa Sautieva (b. 1978) and Malsag Uzhakhov (b. 1952).
Pogorov is due to be tried separately, so the sentences demanded on 8 November 2021 by prosecutors Timur Zolotovsky and Dmitry Khandogy on 8 November and provided by 'judge' Yanis Kutsurov from the Kislovodsk City Court were against the seven other recognized political prisoners.
69-year-old Malsag Uzhakhov; 67-year-old Akhmed Barokhoev and Musa Malsagov (49) were sentenced to nine years' imprisonment;
Three younger men: Ismail Nalgiev; Bagaudin Khautiev and 51-year-old Barakh Chemurziev were sentenced to eight years, with the one woman, 43-year-old Zarifa Sautieva, sentenced to seven and a half years. All of the sentences are in an ordinary prison colony (as opposed to the harsh regime prisons in which Russia is holding most Crimean Tatar and other Ukrainian political prisoners). The conditions are, nonetheless, appalling, and these would likely be death sentences for at least the two men in their late sixties.
In its reaction to the sentences, Amnesty International stated that: ""By jailing these protest leaders, the Russian authorities add their names to a long list of Ingush activists imprisoned simply for practising their right to freedom of peaceful assembly. The baseless charges levelled against them serve as little more than a tool to punish and intimidate activists, while their sentencing sends a chilling message to civil society leaders in Ingushetia and beyond."
The seven Ingush leaders remain in detention, with the sentences to be appealed.