Russian FSB plants "prohibited literature" to imprison Crimean Tatar activists for 10 years or more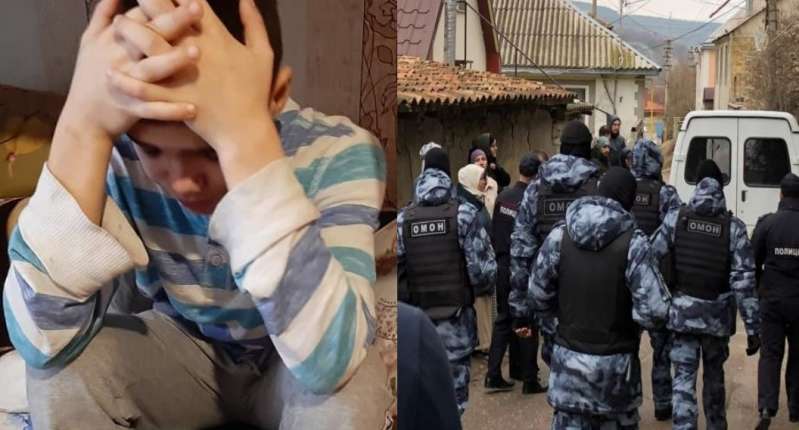 Russia has carried out a new wave of armed searches and arrests in occupied Bakhchysarai, this time targeting two sons of a renowned Crimean Tatar historian and a TV ATR presenter, now living in mainland Ukraine, who has provided coverage of political repression under Russian occupation. As with all such 'operations' over the last few years, this is an evident attack on civic activists and journalists involved in the human rights initiative Crimean Solidarity and attempt to terrorize other Crimean Tatars into leaving Crimea or falling silent about persecution and other rights violations.
Armed and often masked officers turned up at seven homes early on 11 March, carrying out an illegal search even of a home that is not presently occupied. In typical breach of procedure, all the lawyers who arrived to represent the men were prevented from being present during the search. In at least one case, 'prohibited literature' was planted by the FSB, which was an activity they clearly didn't want lawyers recording.
That one of the aims of the events on 11 March was terrorization is clear from the gratuitous number of searches and homes targeted. Crimean Solidarity coordinator Lutfiye Zudiyeva explains that a search was carried out of the home of Crimean Solidarity civic journalist Seydamet Mustafayev, although his name is not included in this new 'case'. Not only did the enforcement officers continue with the search although Mustafayev himself was not at home, but they took his elderly father, Enver Mustafayev away. They have since released him.
The FSB were equally well aware that ATR presenter Seitumer Seitumerov had left Crimea following persecution in 2018 and that they would only find his elderly mother at home, yet they carried out the search regardless.
Four Crimean Tatars have been arrested: the two sons of historian Shurki Seitumerov – Seitumer Seitumerov (also a historian) and his brother Osman Seitumerov, the two men's uncle Rustem Seitmemetov and Amet Suleimanov. According to Zudiyeva, the FSB have, once again, targeted civic activists or their relatives.
Suleimanov is a Crimean Solidarity activist and journalist (streaming information about arrests and political trials onto the Internet). He has recently restricted such civic activism, but only because of very serious heart problems. He suffers from chronic rheumatic heart disease, aortic insufficiency, coronary artery disease and other conditions. All of these mean that Russia is placing his life in danger through the events on 11 March and, still more, his imprisonment in the intolerable conditions of the Simferopol SIZO [remand prison].
Amet Suleymanov with his three sons – Ibrahim (now 11), Mukhammad (8) and Mansur (4)
Lawyer Edem Semedlyaev, who was prevented from attending the search of Seitumer Seitumerov, says that "as usual, the search was for prohibited literature and technology". 'Search' should be understood very loosely since the FSB increasingly brings the literature with them, and then, in the absence of lawyers, claims to have 'found' it. Suleimanov's wife reports, for example, that the officers planted two new books, specially put in book covers, on the desk where their children do their schoolwork.
It is important to stress that the FSB are really only interested in written material or computer technology, and do not even pretend to be looking for weapons or explosives. This is of major significance since the four men arrested on 11 March face serious prison sentences under Russia's 'terrorism legislation'.
The brothers, Seitumer and Osman Seitumerov, Rustem Seitmemetov and Amet Suleimanov are charged with involvement in Hizb ut-Tahrir, a peaceful pan-Islamist party which is legal in Ukraine and most other countries, and which only Russia has chosen to call 'terrorist'. No good reason has ever been provided for the highly secretive ruling by Russia's Supreme Court in 2003 to label Hizb ut-Tahrir 'terrorist', yet these charges under Article 205.5 § 2 of Russia's criminal code carry a sentence of from 10 to 20 years' imprisonment.
From left Seytumer Seytumerov and his brother Osman
ATR presenter Seitumer Seitumerov is, for the moment, the only person whom the FSB are trying to label the 'organizer' of a Hizb ut-Tahrir group (Article 205.5 § 1) with this potentially carrying a life sentence. Seitumerov is fortunately safely in mainland Ukraine, with this unfortunately meaning that the FSB could try to pin 'organizer' charges on somebody else as well – essentially for their paperwork, and for the bonuses, or even promotions, that such Hizb ut-Tahrir prosecutions are known to bring them.
Rustem Seytmemetov
There is no recognizable crime, and none is needed, since the FSB have their own 'experts' willing to find 'proof' of involvement in Hizb ut-Tahrir in innocuous religious discussions. They also plant 'evidence' in the form of books linked with Hizb ut-Tahrir and use highly dubious 'secret witnesses' whose testimony cannot be verified. Since 2017, Russia has been quite openly using such fake 'terrorism' trials against civic activists and journalists in occupied Crimea, and the arrests on 11 March bring to 70 the number of men either 'convicted' after fatally flawed trials on such charges, or facing huge sentences. Another seven children* have seen their fathers taken away in handcuffs. All of the men have, or will be declared political prisoners by the Memorial Human Rights Centre. The latter has repeatedly pointed out that Russia is not only breaching its own legislation by imprisoning men for non-existent terrorism, but is also violating international law by illegally applying its repressive legislation in occupied Crimea.
* Amet Suleimanov has three sons: Ibrahim (b. 16.07.2008); Mukhammad (18.10.2011) and Mansur (11.02.2016). Seitumer Seitumerov has a two-month old son, Suleyman (b. 14.01.2020), while Rustem Seitmemetov has three children – Said, who is 12, Bakhiye (b. 02.10.2013) and Beyan (27.08.2017).