Abducted journalist found murdered
The body has been found with clear signs of torture of activist and journalist Vasyl Serhiyenko who was abducted from outside his home on April 4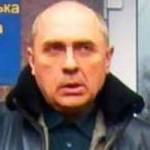 The Cherkasy newspaper Procherk reports that the body has been found in a forest of activist and journalist Vasyl Serhiyenko who was abducted from outside his home on April 4. 
Yury Botnar, head of the Cherkasy regional branch of the VO Svoboda party which the dead man was a member of says that Vasyl Serhiyenko was found with a bag over his head, with handcuffs on and with knife wounds.   
The police had reported finding traces of blood near the forest, which led them to the body.  The police understand him to have been an AutoMaidan activist (linked with EuroMaidan).
The journalist and Maidan activist was reported by his mother to have been abducted from outside his apartment block at around 20.30 on Friday evening.
VO Svoboda asserts that Serhiyenko had received threats because of his journalist and "patriotic activities" and says that he had written articles exposing a local oligarch and MP (until recently) from the Party of the Regions, Gennady Bobov.  The latter in turn has called on the police to carry out an impartial and fair investigation and has offered a reward of 50 thousand UAH for information.