Brothers tortured for their role in dismantling a militant checkpoint
Only one of the Khovkhotva brothers abducted by Kremlin-backed militants in reprisal for the Shabelkivka residents' dismantling of a militant checkpoint has been released. The militants in Donbas region also killed one person and wounded another after shooting at their car on Monday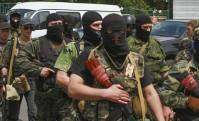 Photo: EPA
News of Donbas reports the release of one of the two Khokhotva brothers abducted as part of a punitive operation by Kremlin-back militants in the township of Shabelkivka, near Kramatorsk in the Donetsk oblast.  The militants shot his leg, presumably as punishment.  His brother has been taken to a so-called strafbat in the village of Semenivka near Slovyansk.  There he will probably be forced to build fortifications for the militants and could be used as a live shield. 
As reported, on June 21  residents of Shabelkivka called on the militants from the self-proclaimed Donetsk People's Republic to leave Shabelkivka and to take down their checkpoints.  When the militants refused, around 200 residents made their way unarmed to the checkpoint, dismantled it, and drove away the militants.
The latter, unfortunately, went off for Russian mercenary reinforcements and with their help broke up a later rally and abducted Allexei and Roman Khokhotva whom they consider responsible for the checkpoint having been dismantled.
One dead after men in camouflage open fire on car in Donetsk oblast
Four masked men in camouflage  with automatic rifles opened fire on a car in the Maryinsk district of the Donetsk oblast on Monday.  According to the regional police report, the driver of the Daewoo Sens died from the gunshot wounds, his passenger is in hospital with abdominal wounds.  There is no indication of why the armed men, presumably militants shot at the car.