Ihor Indylo could not have died from a fall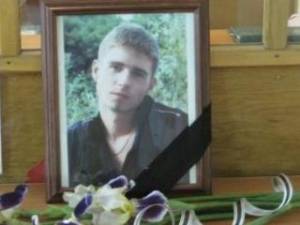 Four years after Indylo, a young student died in a Kyiv police station, a second forensic medical examination has confirmed that the fatal head injury he received could not have come, as claimed from a fall.
The results of the assessment, ordered on Nov 27, 2013, were announced on Friday July 11 by Judge Iryna Dihtyar.  The report states that none of Indylo's falls in the cell for administrative offence detainees could have resulted in a brain injury to the extent stated.   The injury could have been the result of a fall prompted by receiving a blow around the face.
The examination found that Indylo had 2.9 promils of alcohol in the blood . It could not establish how he had received the injuries to his arms.
The assessment seems to have stated that the fatal injuries could only have been received in the police room where the only other people present were the police officer [Serhiy Prykhodko] and Indylo's friend, Olexander Khomenko. 
It also found discrepancies in the former testimony from medical experts in the case. 
Judge Dikhtyar deferred the hearing to 10.00 on August 12.
Ihor Indylo died during the early hours of what was to have been his twentieth birthday.  Video footage shows a young man walking without any obvious inebriation into the police station.  He died around 6 or 7 hours later of injuries which were not treated, and which the police claimed he sustained from falling in a drunken state from a bench in the cell (which is 50 cm from the ground). 
The CCTV footage shows that at 21.49 police officers dragged Ihor to the cell and left him on the floor. Despite his extremely chaotic movements he was left until 4.51 when he was found dead.
During the original trial Prykhodko claimed that Ihor Indylo fell in the interview room.  Khomenko asserted that he hadn't seen anything, but heard his friend fall. 
Khomenko has been very reticent about saying anything, and most people following the case reported him seeming very frightened.
It should be stressed that there was initially total silence over Ihor's death, and any attempts to investigate came only after a TV report on 1 + 1 revealed information about the death, arousing public outrage.
In December 2011, Serhiy Kovalenko was amnestied. He had been charged with "professional negligence without grave consequences" for not checking the grounds for detaining Ihor Indylo..
On 5 January 2012 Serhiy Prykhodko received a five year suspended sentence for "exceeding official powers accompanied by actions denigrating the personal dignity of the victim"
New information reported here