Call for sanctions against Russia over repression in Crimea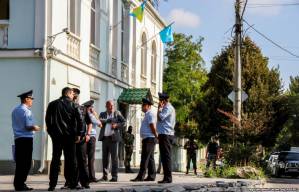 Armed search of the Mejlis premises in Simferopol, Sept 17
The Coalition for Combating Discrimination in Ukraine [CCD] is calling on the Ukrainian government and international community to pay heed to systematic rights violations in the Crimea under Russian occupation and to impose international sanctions. 
The appeal dated October 14 notes that during the 6 months since Russia annexed the Crimea there has been a steady increase in systematic violations of freedom of speech; the right to personal security and freedom of association. There have been disappearances and numerous searches, with serious grounds for believing that particular groups are being discriminated against.
There are cases of discrimination on ethnic or language grounds. There are virtually no Ukrainian language printed media or official publications in Ukrainian. Only one of the four Ukrainian language programmes on Crimean TV remains, and Ukrainian language sites are blocked for Crimeans.  In the (former) Ukrainian lyceum in Simferopol only one parallel class in Ukrainian.  CCD mentions only that there are 9 classes, against 31 in Russian.  After the ninth grade students have to study in Russian .  Other Ukrainian schools are closing, with only 4 remaining whose future is in question. In September the faculty of Ukrainian Language and Literature at the Tavrida National University was dissolved, and most of its staff made redundant.
CCD names some of the many forms of repression against Crimean Tatars, including bans on Crimean Tatar leaders Mustafa Dzhemiliev and Refat Chubarov from their homeland; the killing of Reshat Ametov and numerous disappearances; searches and bans on peaceful gatherings.  They note also the forced eviction of the Mejlis, its newspaper Avdet, and the Charitable Krym Fund from their premises in Simferopol.
Please see, for example:
Missing Crimean Tatar Edem Asanov found dead
Targeting the Crimean Tatar Mejlis as pro-Russian euphoria fades in Crimea
Remembrance of Victims of Stalinism and Nazism banned in Simferopol
Russia resurrects Soviet ways in treatment of the Crimean Tatars
In Sept the only Crimean Tatar TV channel ATR received a letter claiming that the channel 'is persistently fostering the idea of possible repression on ethnic or religious grounds, is fostering the formation of anti-Russian public opinion and is deliberately stirring up distrust of the authorities and their actions among Crimean Tatars, with this indirectly creating the threat of extremist activities."
See:  Crimean Tatar TV channel ATR accused of 'extremism'
Many religious communities are also coming under constant pressure.  Some Crimean Tatars are members of religious groups that are totally legal in Ukraine, but considered illegal in Russia. There has also been persecution of member of the Ukrainian Orthodox Church of the Kyiv Patriarchate, and Catholic churches have been forcibly closed by so-called self-defence paramilitaries with the support of the local authorities.  Russia's FSB is trying to force priests of the Orthodox Church of the Kyiv Patriarchate to collaborate.
There has also been an increase in pressure on the LGBT community.  On Sept 2 Sergei Aksyonov, the leader installed at gunpoint when Russian soldiers seized government buildings on Feb 27, publicly stated that "such people" are not welcome in the Crimea and will not be allowed to hold events in public.  There have been numerous bans on LGBT events with these appealed against without success in Russian courts.