Crimean Tatar leader Ilmi Umerov's powerful final words in surreal proceedings where 'traitors put patriots on trial'
Crimean Tatar leader Ilmi Umerov has ended his final address (translated here) to a de facto court under Russian occupation by suggesting that they will all meet again at the international courts at the Hague and these are no empty words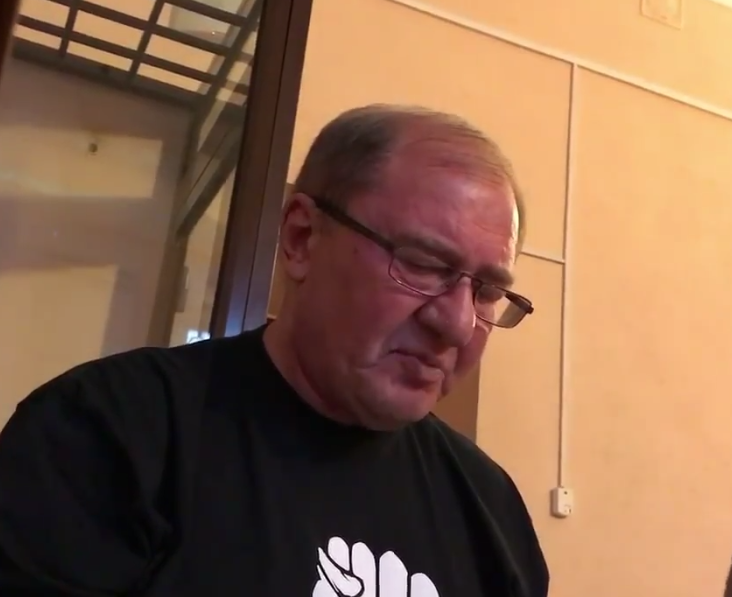 Crimean Tatar leader Ilmi Umerov has ended his final address to a de facto court under Russian occupation by suggesting that they will all meet again at the international courts at the Hague.  These are no empty words.  Russia has not only violated international law through its invasion and annexation of Crimea, but has also unleashed unprecedented repression, including through such politically motivated trials as that of Umerov. 
Two trials are ending at the moment, with both Umerov and Ukrainian journalist Mykola Semena charged, most insanely, with "public calls to action aimed at violating Russia's territorial integrity".  In both cases, the charges are based solely on the men's expressed opinion, which, as Umerov points out, is in full accordance with that of all international structures and the civilized world.  Both have used the same so-called 'linguist' working for the Russian FSB – Olga Nikolaevna Ivanova – who has taken part in gross distortion and / or falsification in order to come up with non-existent 'public calls'.
This has been most flagrant in the case of Umerov's interviews, since the FSB have been shown to have 'shopped about' until they found somebody willing to provide and comment upon a wrong translation of what Umerov said. He is thus being tried not only for his opinion in a trial that Russia has no right to hold on occupied territory, but also for something he did not say.
Yet in this political trial, as in that of Crimean Tatar leader Akhtem Chiygoz and Semena, the only mystery has been what Moscow will decide should be the sentence.   Nobody seriously believes that de facto prosecutor Yelena Artemenko decided herself on September 20 to demand a three and a half year suspended sentence, with other measures aimed at silencing Umerov, nor that 'judge' Andrei Sergeevich Kulishov will be doing anything but obeying orders and reading out a ruling handed to him.
This does not negate the culpability of any those implicated in this prosecution, and all measures will be taken to hold them answerable.
Ilmi Umerov's final address to the court on Wednesday made it abundantly clear that he will not be silenced. 
His speech in full
 "I do not consider myself guilty before Russia of anything.  It is Russia that is guilty before me.
It is Russia who committed an act of aggression against Ukraine, having occupied and annexed my native land – Crimea.
I am on trial in a fabricated case.  It is of course not over my utterances or a particular TV program, but for my political views and convictions which I do not conceal.
While not recognizing Russia's jurisdiction in Crimea, I consider Crimea's return possible only through non-violent means. I think that effective strengthening of sanctions would lead to Russia itself taking the decision to return Crimea to Ukraine's jurisdiction.
My opinion thus totally coincides with the position taken by the entire civilized world. Confirmation of this can be found in numerous international acts and treaties, as well as in the Resolutions of the United Nations General Assembly from 27 March 2014 and 19 December 2016.  In those documents the UN confirms Ukraine's sovereignty and territorial integrity and its internationally recognized borders and does not recognize any changes to the status of Crimea and Sevastopol, based on the results of the Crimean referendum on 16 March 2014 since this referendum had no legal force. The UN further recognizes Crimea as an inalienable part of Ukraine under temporary Russian occupation.
I would reiterate that according to Article 15.4 of the Russian Constitution, international law takes priority over domestic legislation. Furthermore, even your President Putin recently said, in commenting on the pronouncements of a Russian official regarding foreign policy, that "every person has the right to his own opinion".
I would like to stress once against that there are borders between Ukraine and Russia which have been recognized, both by the two countries, and by the entire world.  I am rather speaking out in favour of the restoration of both Russian and Ukrainian territorial integrity within their internationally recognized borders, fixed with the collapse of the USSR in 1991. The changes in 2014 are the result of Russian aggression, the annexation of Crimea and establishment of de facto Russian rule. These changes cannot be considered legitimate.
During the events of February – March 2014, the Crimean Tatar people demonstrated their firm civic position of commitment to Ukraine's [territorial] integrity and in the vast majority of cases has not changed this. It is for this position that the Crimean Tatar people have found themselves under the repression machine of the Russian occupation regime.  This was recognized in the UN General Assembly's Resolution on the Human Rights Situation in Crimea and Sevastopol (Ukraine) of 19 December 2016.
"Condemning also the reported serious violations and abuses committed against residents of Crimea, in particular extrajudicial killings, abductions, enforced disappearances, politically motivated prosecutions, discrimination, harassment, intimidation, violence, arbitrary detentions, torture and ill-treatment of detainees and their transfer from Crimea to the Russian Federation, as well as reported abuses of other fundamental freedoms, including the freedoms of expression, religion or belief and association and the right to peaceful assembly,"
As for the specific case against me, during the court hearings that have continued since May, we have seen confirmation of the lack of any substance to the charges which have totally fallen apart. The demonized FSB in fact proved incapable even over a whole year of properly fabricating a criminal prosecution in three volumes.  This, however, has not stopped the prosecutor from demanding a guilty verdict and suspended sentence of three and a half years, with a three year probation period, and with a ban on any public and teaching activities,
The defence team have worked well, and I'm grateful to them.
We can accept only an acquittal.  Any other ruling will be appealed at the next court stage, then in the international courts.
We are not, however, labouring under any illusions, and do not expect an acquittal.
Those in Crimea who betrayed Ukraine are prosecuting those who did not.
Traitors are prosecuting patriots!
The struggle will continue, regardless of the content of the sentence.
The Crimean Tatar people are upholding in this the security of the entire civilized world. If Russia's aggression against Ukraine and Crimea remain unpunished, this will provide a precedent resulting in the final collapse of the entire world order.
I will end my address with a line from the national hymn of the Crimean Tatar people.
"I swore an oath, I gave my word to die for my people"
See you in the Hague!"
20 September 2017
Details about the trial, and especially the conscious decision to manufacture 'public calls' by putting words into Umerov's mouth that he  did not utter: FSB caught red-handed falsifying the charges against Crimean Tatar leader Ilmi Umerov
The verdict is to be announced on September 27.