Russia's charges against Ukrainian journalist different from the 'confession' he was tortured into making
The case against Vladislav Yesypenko is based solely on a grenade which the FSB claim they found in his car, but which does not have his fingerprints, and on a televised 'confession' which he retracted as having been obtained through torture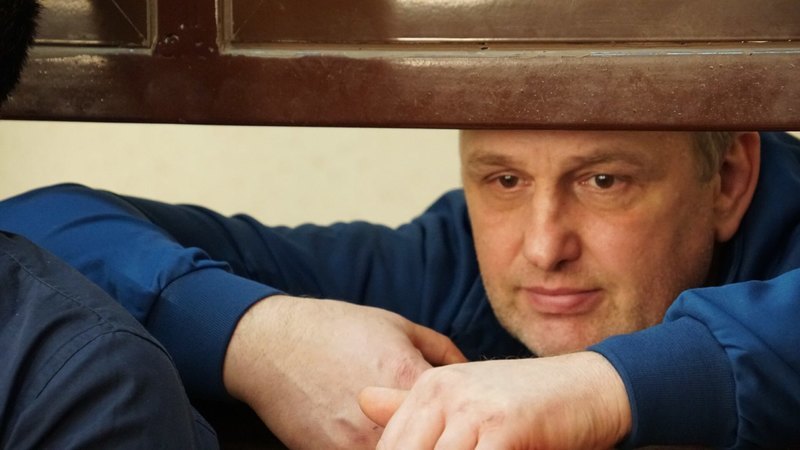 Vladislav Yesypenko in court Photo Crimean Solidarity
Russia's trial of Ukrainian freelance journalist Vladislav Yesypenko is due to begin on 6 July 2021 at the Russian-controlled Simferopol District Court, under judge Dilyaver Berberov.  'The case' against the journalist is based solely on a grenade which the FSB claim they found in his car, but which does not have his fingerprints, and on a televised 'confession' which Yesypenko has retracted as having been obtained through torture.  The fact that there was clearly very little to 'investigate' does not necessarily explain the speed with which the charges have been passed to the court.  It  possible that Yesypenko's trial is needed for Russia's mounting offensive against RFE/RL's Crimean service, Krym.Realii, one of the most important sources of truthful information about the human rights situation in occupied Crimea.
Lawyer Emil Kurbedinov points out that the case is being heard in a general, not a military, court since, despite the original claims following Yesypenko's arrest, he is not being charged under Russia's notorious 'terrorism' norms.
Yesypenko was arrested on 10 March, a day after he and a friend, Yelizaveta Pavlenko took part in laying flowers at the monument to the great Ukrainian poet Taras Shevchenko on the 2007th anniversary of his birthday. Just as in Soviet times, it has become an act of civic courage to take part in such 'events' which are known to be closely followed by the FSB.  It was initially known only that an 8-hour search had been carried out of Pavlenko's home and that various items had been taken away.  It later became clear that Yesypenko had been arrested, although the FSB only announced his arrest on 16 March. 
We now know from Yesypenko himself that he was stopped by traffic police on the way to Simferopol, with the FSB then turning up and forcing him to the ground. They immediately began a 'search' of his car during which they supposedly found a grenade (which later proved suspiciously lacking in any fingerprints).   He refused to sign the protocols of this 'search' and was told by an FSB officer in a balaclava that they would take him to another place where he would sign everything they told him to.
He was indeed taken to a basement, somewhere in Bakhchysarai , where he was undressed, thrown to the floor and had wires attached to his earlobes.  An electric current was then switched on, with the pain intolerable.  Yesypenko says that when, at some point, his torturers understood from the reduced intensity of his screams that he was becoming accustomed to the pain, they increased the voltage.
Between bouts of torture, they fired questions at him, demanding that he confess to working for Ukraine's security service, etc.  If they didn't like his answers, the torture would resume.  He was also kicked if he stopped doing the push-ups they also demanded.
At some point he signed the papers they thrust in front of him, and was also forced to take part in a farcical 'interview-confession', saying that he had spied for the SBU.
The initial announcement from the FSB on 16 March claimed to have "broken up spying and sabotage activities for the Ukrainian Security Service by Russian citizen Vladislav Yesypenko."   The actual activities described in the report were those of any journalist, with Yesypenko having "taken photos and video footage of infrastructure and places where there are a lot of people in the republic of Crimea". 
This is by no means the first time that the videoed 'confessions' have next to nothing to do with the charges actually laid.  The FSB appear to have concentrated solely on the grenade without fingerprints, charging him with illegally preparing and possessing an explosive device.
The FSB had prevented him from seeing a proper lawyer for around a month, almost certainly to ensure that the torture marks were not formally recorded.  It was only during the first hearing, on 6 April, that the journalist was able to formally reject the questionable services of the 'lawyer' foisted upon him, Violetta Sineglazova, and state that he wished to be represented by Alexei Ladin and Emil Kurbedinov.  This still required courage and Ladin has reported that, after the hearing, the FSB had threatened to kill Yesypenko if he didn't 'cooperate', telling him that it would be reported that he had hanged himself while alone in his cell.   
RFE/RL President Jamie Fly immediately protested over Yesypenko's arrest and demanded his release.  These calls were reiterated on 14 April by the European and International Federations of Journalists