Grant Hero of Ukraine status for freed medic who saved 100 victims of Russian torture and rape, including a child
Yury Armash had been a military medic for several years before 2022, but what he saw and experienced after Russia's full-scale invasion of Ukraine shocked him in its savagery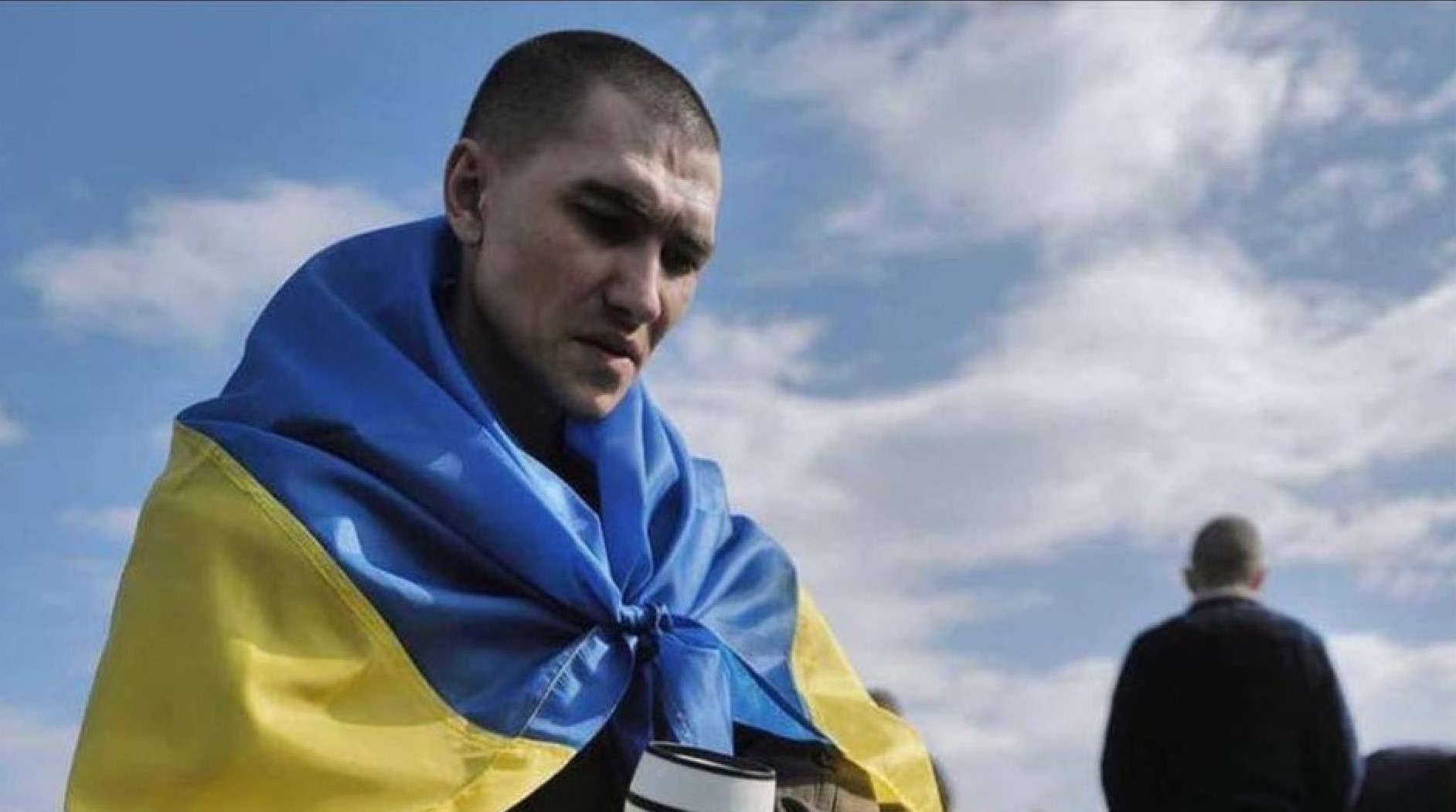 Yuriy Armash when released on 26 April 2023 Photo posted by Suspilne ii
Over 27 thousand Ukrainians have signed a petition to Ukraine's President Volodymyr Zelensky asking him to recognize 33-year-old military medic and former prisoner of war Yuriy Armash as a Hero of Ukraine.  They point to the medic's unwavering service to Ukraine and to the hundreds of lives he helped save.  These included around a hundred Ukrainian prisoners of war and civilian hostages whom the invaders had subjected to horrific levels of torture.  Since his release, he has spoken of the methods used against him and other prisoners, as well as of the cell in occupied Nova Kakhovka that the Russians and collaborators used for raping female prisoners, including a 14-year-old girl.  His captors knew that Armash was a medic and, at least, allowed him to provide what treatment he could, in the absence of proper medication and conditions, for the victims of their savagery.
There were various forms of violence, he explains.  If they didn't like something you said, or how you looked at them, they'd take you to the basement, suspend you by your legs and begin torturing, doing whatever they wanted to you. 
Armash is originally from the Vinnytsia oblast but had been serving as a medic in the Ukrainian Armed Forces. His contract had ended in February 2022, and he had planned to leave, but Russia's full-scale invasion made that impossible.  He was initially trapped in Oleshki, in part of the Kherson oblast which swiftly fell under Russian occupation. The danger of being caught became too great, and on 3 April 2022, he and two very young soldiers, Mykola and Vladyslav, whom he had put up in his rented apartment tried to escape to Ukrainian held territory.  They managed to bypass two checkpoints but were caught near the third and taken to occupied Nova Kakhovka, where they were all held prisoner for five months in one of the notorious prisons that the invaders set up in the police building in Nova Kakhovka.  Armash was later imprisoned for three weeks in occupied Sevastopol.  From there he was taken to Russia's No. 12 prison colony in Kamensk-Shakhtinsk (Rostov oblast).  Within a few months of Russia's full-scale invasion, No. 12 had become one of the 'concentration camps' that Russia has been using to hold both Ukrainian prisoners of war and a very large percentage (around 40%) of civilian hostages.  The civilians were particularly badly treated, Armash says. Although he says that this was because they couldn't keep up when their tormenters demanded that they 'march' quickly, it may also be linked with the total illegality of holding civilian hostages.  There are no legal ways to get civilian released in an exchange, and this doubtless contributes to the Russian captors' sense that they can do whatever they like with them.  The treatment even of POWs at No. 12 was appalling, with all regularly subjected to beatings and other forms of ill-treatment.  
It was, however, during the first months of captivity, in occupied Nova Kakhovka, that Armash played a particularly vital role. 
In various interviews* since his release on 26 April 2023, Armash has described both the torture that he himself was subjected to and what he witnessed after the Russians were forced to seek his help as a doctor when they went too far in torturing prisoners.
Torture chamber prison in occupied Kherson oblast
As of November 2023, Ukrainian investigators had identified 11 'torture chambers' used by the Russian invaders in parts of Kherson oblast now liberated.  The evidence uncovered there, as well as that provided by Armash and others held on still occupied territory make the huge scale of Russian crimes on Ukrainian territory frighteningly clear.
The conditions in all such prisons are appalling, and that in Nova Kakhovka was no exception. Armash was held with 16 other men, all civilians, in a cell intended for four people. In his cell, ages ranged from Oleksandr, at 19, to a 55-year-old, however in another cell, the Russians held two young boys, aged just 14 and 16, prisoner.  In most cases, the Russians claimed to suspect civilian hostages of helping the Ukrainian Armed Forces by providing coordinates of Russian technology, etc.  There were also imprisoned public officials and businesspeople with some of them held effectively since the beginning of Russia's full-scale invasion of Ukraine   Armash says that he gradually reached the conclusion that it was entirely dependent on the will of individual Russian soldiers how long a person ended up held captive.  Or almost, since the FSB oversaw the imprisonment of businesspeople, with release in such circumstances essentially a question of paying a ransom. Armash says that, in general, all Russians and their collaborators [polizei] were subordinate to the FSB, however the polizei also answered in the first instance to Russia's Rosgvardia.
In the first two or three days, the only food they were given was what the invaders had not eaten.  After that, however, the relatives of other hostages brought food for them which was shared among them all.
'Interrogations', with the use of savage forms of torture, including a knife pushed into the top of the leg until the blade touched the bone and electric currents passed through the body, were carried out by the Russian FSB.  The latter did not, of course, identify themselves, but their identity, Armash said, became clear by the third interrogation.  During these, either he was blindfolded, or his torturers were in masks.
Saving those tortured
Although Armash does not specifically mention another category of civilian hostages, we know that they included school directors who had refused to collaborate with the invaders.  Among them was Oksana Yakubova, Director of the Nova Kakhovka Lyceum No. 2 who was abducted in August 2022.  She spoke earlier with Oleh Baturin from the Centre for Journalist Investigations [CJI] and specifically mentioned the imprisoned medic "who saved more than one life". 
The Russians had tried to get Armash to work for them.  He refused, but said that as a prisoner and a medic, if there were civilians in need of medical care, he would help them.  This suited them, he says, and from 20 April 2022, he would get called upon to treat other prisoners.  He estimates that he treated around ten hostages each day, with some of them brought to him in a terrible state.  It was then that he began asking for the Russians to provide at least basic medication and other items, including bandages, etc.  He says that they did not refuse, but he understood that this meant that they would continue torturing people.  Their victims were both men and women, although it was men up to 35 or 40 who received particularly savage treatment.
Two civilians and one POW were in such a terrible state after the torture that he had to say that there was nothing that he could do.  One of these was an employee of the Kakhovka Hydroelectric Power Plant who was so battered that they do seem to have finally released him.  In another case, they broke the victim's leg and Armash insisted that it needed to be put in plaster, or the man risked losing it altogether.  He tried to get the man released, but they refused, and he knows that they beat him again, even with his leg in plaster.
The Russians and their polizei would get drunk and then come around looking for victims to torture. Other former hostages, just as Viktor Maruniak, the then 60-year-old Village Head of Stara Zubrivka in Kherson oblast, has also spoken of the Russians seeming to get pleasure from torturing people.  
Armash was, unfortunately, watched very closely while providing medical assistance and was, therefore, not able to find out the names of the men he treated. 
It was a bit easier to identify hostages in the women's wing which he was moved to in May 2022.  He had himself asked to be moved after some fighters from the Russian proxy 'Donetsk people's republic' ended up in his cell, probably for looting, and he feared that they'd kill him, as a serving military officer.
In all, he believes he helped around one hundred hostages, with the Russians often getting him up at night because they'd overdone it with their torture.  He recalls that the youngest of their victims was just 18.  The Russians pulled his fingernails out and then just left him in the cell for around four days until he developed gangrene. It was only then that they called on Armash. 
The medic found that a lot of men had a very specific head wound which he was later told by military people was a wound from the silencer to a machine gun which the men were beaten with while being taken to the 'police station'. 
Arnash recalls that he was more often called on to help men during the day, women at night.
The treatment of women was entirely dependent on age, he says, as well as on a s specific rotation, as some of the Russians showed no interest in the prisoners, while others separated women aged between 25 and 30 into a separate cell where they were raped.   The worst case he saw was that of a 14-year-old girl who was obviously so ashamed that she tried to conceal the fact that she had been raped.  He saw that she was bleeding heavily and insisted that she get taken to a hospital.  She was brought back almost immediately, but did, at least, get medication to stop the infection.
CJI asked Armash for his impression as a person who had served in the Armed Forces even before Russia's full-scale invasion of Ukraine.  He replied that, although he had seen a lot before, he was shocked by the sheer level of savagery after 24 February.  He had been in rooms in the Nova Kakhovka 'police station' – torture chamber where there were scissors, chainsaws, axes and machetes, all of which were bloodstained.  He had understood there that the Russians had not called him to treat the victims of such torture, who had perhaps simply been taken away somewhere immediately.
The above is only a small part of what Yuriy Armash both endured and witnessed. While Nova Kakhovka and any other Ukrainian territory remain under Russian occupation, such crimes will continue.
*  The above is based mainly on interviews given by Yuriy Armash to Oleh Baturin from the Centre for Journalist Investigations