Russian horrific castration of Ukrainian POW was about terror and preventing own soldiers from surrendering
A Russian tweet demanding the 'humiliating death' of Azov defenders raises suspicions over the killing of 53 Ukrainian POWs at Olenivka, shortly after Russian propagandists showed a Ukrainian prisoner being castrated
Relatives of Azovstal defenders holding a picket in Kyiv on 30 July, demanding an investigation into the killing of POWs at Olenivka and for Russia to be declared a terrorist state Photo Valentyn Ogirenko, Reuters
Russia's UK Embassy has tweeted that the Azov Battalion defenders of Mariupol, whom it calls 'militants', deserve a "humiliating death" by execution. The tweet was posted a day after Russian propaganda channels showed a Russian soldier castrating a Ukrainian prisoner of war [POW] and after at least 53 Ukrainian POWs, including Azov defenders, were killed in an unexplained explosion at the Olenivka prison colony in occupied Donbas. Twitter has found the tweet to violate its standards, but "has determined that it may be in the public's interest for the Tweet to remain accessible". It may well be, since the tweet, the video it includes and others in which POWs have almost certainly been tortured into blaming Ukrainian defenders for Russia's crimes in Mariupol, only heighten suspicion that Russia deliberately killed the soldiers in its custody.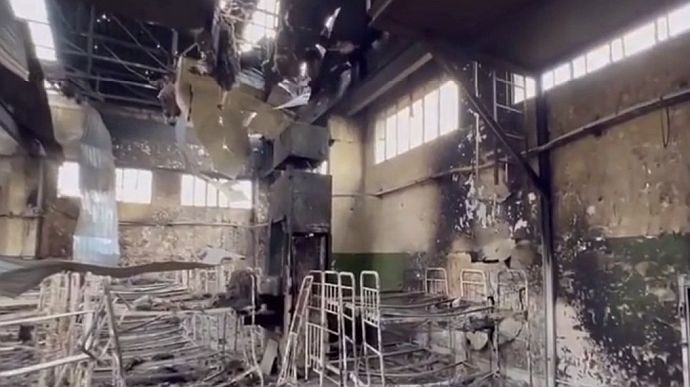 Olenivka From a video posted by Russian propaganda sources
It is known that at least some of those killed on 29 July were Azov Battalion defenders, who were among hundreds of Ukrainian soldiers, medics and civilians, trapped by the Russian invaders at the Azovstal Plant in Mariupol. The Ukrainian soldiers, who defended Mariupol and, finally, Azovstal to the last, were taken, as prisoners of war, to Russian-occupied Donbas, on and around 17 May, as the result of an agreement in which the UN and the International Committee of the Red Cross [ICRC] acted as guarantors of the men's safety in Russian captivity.
Within hours of the news, ICRC reported that it had "requested access to determine the health and condition of all the people present on-site at the time of the attack." It stressed that all prisoners of war are protected under international humanitarian law and should not be attacked. It also pointed out that it had not been granted access to visit all POWs and other detainees. Ukraine's President Volodymyr Zelensky has called upon both the UN and the Red Cross to be given full access to the site at Olenivka, with Ukraine's new Human Rights Ombudsman also asking for access.
Media reports on 31 August quote Moscow as saying that it will allow access to the UN and Red Cross. As of 30 July, ICRC was reporting that they were still being denied access. Even if finally allowed, it remains to be seen how free and extensive the access would be, since a full investigation would prove conclusively whether there was, as Russia claims, a missile attack, with the use of HIMARS artillery, or an explosion, as witnesses have told the Media Initiative for Human Rights. US journalist Christopher Miller has tweeted Maxar satellite images from before and after "an attack that Kyiv says – and preliminary evidence suggests – Russian forces carried out". The damage visible on those satellite images, and from the videos posted by Russian propagandists, do not suggest the involvement of any missile.
Russia will doubtless rely, as it has with MH17 and other crimes, on the international media simply reporting that "Moscow accuses Kyiv and Kyiv accuses Moscow'. Western countries have, however, already demonstrated that they do not view this as a 'take your pick of scenarios' situation. The statement issued on 29 July by Josep Borrell, High Representative for the European Union, spoke of "the latest Russian atrocities", and a tweet from Melinda Simmons, Ambassador of Great Britain to Ukraine, as well as comments from US defence officials make it clear that they view Russian claims with scepticism.
All certainly want an investigation, but so too does Ukraine. For the moment, there is nothing to suggest that Russia is interested in allowing any fact-finding mission.
The latter is crucial for two reasons. It would, obviously, confirm or refute the conflicting claims about the source of the explosion / missile strike. It would, however, also enable investigators to speak to the POWs about the conditions and, most importantly, about the alleged 'confessions' shown by Russian propaganda channels. This, in turn, would make it easier to assess whether there was a deliberate plan to kill the prisoners of war, and if so, whether this was, as Ukraine's Military Intelligence has suggested, by the notorious Wagner unit, without it having been agreed with Moscow. If the telephone conversation that Ukraine's Security Service [SBU] allegedly intercepted is genuine, then it is certainly suspicious that the Azov defenders should have been moved to the barracks just days before the attack.
Evident use of torture, including for Russian propaganda purposes
It was surely no coincidence that the killing of 53 Ukrainian prisoners of war (and injuring of 75 others) was reported soon after publication of a shocking video of a Ukrainian POW being castrated. Oleksandr Pavlichenko, Executive Director of the Ukrainian Helsinki Human Rights Union, points out that the so-called Soviet 'peacekeepers' in Afghanistan resorted to horrific torture, with this tradition unfortunately continued by Russia in both wars in Chechnya. As Volodymyr Yavorskyy, from the Centre for Civil Liberties, notes, the aim is to ensure that Ukrainian soldiers do not take prisoners of war, and that the Russian military can then scare their soldiers into believing they will be tortured, so that they do not surrender.
All of this suits only Moscow, and it is imperative that Ukraine's defenders do not behave like the Russians and continue to take prisoners. This is in accordance with international law and also means that they can later be exchanged for Ukrainians held in Russian captivity.
Propaganda videos
Russia began using Ukrainians forcibly taken to Russia for propaganda videos soon after its full-scale invasion of Ukraine. On 23 March, Russian state-controlled media broadcast a video in which a young woman, looking very stressed, claimed that Ukrainian Azov soldiers had committed some of Russia's most egregious war crimes, such as the bombing of a maternity hospital. MediaZona discovered that three videos with Ustinova were produced by Russia's Security Service, or FSB, with state media sent the videos and instructed not to divulge their source.
There have been numerous other reports that Russia is using 'refugees' in this way, forcing them to provide so-called 'testimony' that they were fired upon by the Ukrainian Armed Forces. It is likely that the video produced by the Russian Embassy in London was from this series.
It was long feared that Russia would torture Azov and other Ukrainian defenders, and possibly kill them. There was every reason to expect this, since Russia has been using such methods against Ukrainians since 2014. Very many of Russia's Ukrainian political prisoners, such as Serhiy Lytvynov; Mykola Karpyuk and Stanislav Klykh, were originally seized, held incommunicado and tortured into 'confessing' to an insane array of alleged 'crimes', many of which could not have happened. The same is true of a huge number of the civilian hostages held by the Russian proxy 'republics'. Those finally released, like writer Stanislav Aseyev, have provided invaluable information about Izolyatsia, the first Russian secret prison in occupied Donetsk and the torture methods used there.
Russia is also using identical methods in occupied Crimea and, more recently, against civilian hostages seized in occupied parts of the Kherson and Zaporizhzhia oblasts.
On 29 July, Anastasia Magazova posted three videos from propaganda channels of the proxy Donbas 'republics'. In an important report, in both English and Russian, she explained that she has been following these channels, and had already noted that over recent days they had begun posting so-called 'interviews' with Azov Battalion POWs. "They all talked about committing terrible crimes against civilians (especially in Mariupol). They confessed to everything that was attributed to them, and described in detail all the horrific crimes 'committed'. Each of the captives in these videos said that they received all orders to commit these crimes directly from Zelenskyy's office. Each publication of these "interviews" ended with a rhetorical question from the "journalist": How will Zelenskyy make excuses now? What will he tell his Western partners now after these confessions by "his" heroes?"
Magazova says that she returned to these propaganda channels after the news about Olenivka and found them claiming that "Zelenskyy ordered the execution of Azov prisoners for telling the truth".
It is worth stressing that the 'confessions' of the above-mentioned political prisoners and others were often demonstrably absurd. Lytvynov, for example, was supposed to have 'confessed' to raping and killing non-existent women and children alleged to have been living on equally non-existent streets. In many cases, Russia's FSB has shown videoed 'confessions', with the imprisoned Ukrainians then sentenced on entirely different charges. Most importantly, in the vast majority of cases, the victims have retracted such 'confessions' as soon as they are, after long periods of being held illegally, given access to independent lawyers. Their accounts of the torture methods used (beatings; electric shocks; mock executions, etc.) are also disturbingly similar.