Silence abets Russia in torturing and risking the lives of Ukrainian hostages and POWs in occupied Donbas
Of the civilian hostages, 'sentenced' by these Russian proxy entities on 'spying' or even 'treason' charges, very many are known to have been imprisoned and savagely tortured for their pro-Ukrainian position
From left clockwise Hryhory Sinchenko, Yuri Shapovalov, Bohdan Kovalchuk, Bohdan Maksymenko, Pavlo Podvezko, Olena Fedoruk, Valery Matyushenko, Oleg Shevandin, Olena Pyekh, Marina Yurchak
205 Ukrainian defenders of Mariupol and other prisoners of war, as well as ten foreign nationals seized while serving Ukraine, were freed on 21 September. This was an important exchange of prisoners which was met with huge relief and joy in Ukraine. For some, however, it came tinged with sadness and in many cases, with a degree of bitterness. All were united in rejoicing over the POWs' release, but the families of men and women who were seized in occupied Donbas before the full-scale invasion of Ukraine fear that their loved ones have been forgotten, even abandoned.
Russia was holding at least 120 Crimean Tatar and other Ukrainian political prisoners even before 24 February, and that figure has now risen substantially. There were also at least 44 Ukrainian prisoners of war and 300 civilian hostages held prisoner in the self-styled, and entirely Russian-controlled 'Donetsk and Luhansk people's republics' [D-LPR']. Of the civilian hostages, 'sentenced' by these Russian proxy entities on 'spying' or even 'treason' charges, very many are known to have been imprisoned and savagely tortured for their pro-Ukrainian position
While it is only now that Russia is staging fake 'referendums' and openly planning to annex occupied Donbas, there have never any grounds for doubting that it was and remains Moscow that decides the fate of any specific Ukrainian hostage or POW. Since Russia is all set to claim 'overwhelming support for joining Russia', it is vital that they are held to answer for POWs and hostages, many of whose lives they are directly jeopardizing.
Russia's supposed 'recognition' of its proxy 'republics' and its total invasion killed the Minsk Accords which had provided the only formal mechanism for securing the release of hostages and POWs. Since then, we have, however, seen that even a terrorist state sometimes needs to negotiate and hand over its hostages.
At this stage, publicity can help to save the following hostages and POWs. Please help!
In each of the following cases, it is likely that the person was seized and tortured for their support of Ukraine and opposition to Russian occupation.
Valery has been imprisoned for well over five years. He was seized on 15 July 2017 and tortured at the notorious 'Izolyatsia' secret prison for the first ten months of this time. On 28 March 2019, he was 'sentenced' by a 'DPR' pseudo-court to ten years for supposedly collaborating with Ukraine's Security Service [SBU].
Valery Matiushenko Family photo
Matiushenko, who was 52 when seized, had never concealed his pro-Ukrainian views. He is one of at least two hostages (together with Olena Fedoruk) from Kalmiuske (formerly Komsomolske), a city 50 kilometres south of Donetsk and Ilovaisk and just over 30 kilometres from the border with Russia. Witnesses are adamant that much of the shelling they experienced in 2014 came from the Russian Federation, and that after the battle near Ilovaisk (at the end of August 2014), the Russian military appeared in the city, bringing their own technology. At the time, Russia was still denying its direct military engagement in the conflict and the evidence of it at places like Kalmyuske.
Matiushenko suffers from Tourette syndrome, a neurological disorder which, in ordinary times, manifested itself only in a nervous tic. Due do the torture he endured, this has been causing muscular spasms which are physically and psychologically draining, and can cause breathing difficulties. Matiushenko also has an inguinal hernia which, without proper treatment in hospital conditions, is life-threatening.
Olena's two adult daughters left after Kalmiuske was seized, but she remained to care for her bedridden mother. It became impossible to continue running her flower shop, and she found work at the militants' headquarters, where she was responsible for making inventories, for example, of chairs, tables and beds which were taken to local fighters and Russian military. She was arrested on 25 July 2017, and 'sentenced' on 16 August 2019 to 11 years' imprisonment. The charges here and below, unless otherwise stated, were of 'spying for Ukraine'.
Vitaly Atamanchuk Family photo from 2018
The 71-year-old former miner already had many serious health issues, including Bekhterev's disease (a form of chronic rheumatic inflammation) even before he was seized by the Donetsk militants. According to his daughter, after torture and in the appalling conditions of militant imprisonment, this condition is progressing, and he is also suffering ever-more frequent heart palpitations and often loses consciousness.
Atamanchuk, who had never concealed his pro-Ukrainian position, was seized by 'DPR' militants, together with his wife and son Oleh, during the night from 4-5 September 2019. His wife and son were finally released, however the torture Oleh had been subjected to had clearly taken a huge toll and he died within the year, aged just 49. Atamanchuk was later 'sentenced' to 17 years' imprisonment for supposed 'spying for Ukraine'. Even the one meeting during the entire period of his imprisonment with a lawyer was held in the presence of two guards and was also videoed.
Natalia Statsenko Photo shared by Lyudmila Denisova
A Makiyivka doctor, the 42-year-old was seized by the so-called 'DPR ministry of state security' on 10 July 2019, seemingly after the militants gained access to her social media accounts. She was taken to 'Izolyatsia' where she was held, and certainly tortured, for several months, before being imprisoned in Donetsk SIZO [remand prison] No. 5 She suffers from chronic spinal disease, causing problems for the static and dynamic functioning of the spine and urgently needs an operation.
Olena Piekh
After the torture she was subjected to during three and a half years in 'DPR militant' custody, Olena Piekh is in urgent need of proper hospital care. During the first three months after her seizure in August 2018, the militants used electric shocks, screws twisted into her knees, asphyxiation and mock executions to force her to 'confess' to what the pseudo 'republic' called 'state treason' and 'spying'. They also ripped off her Star of David and subjected her to foul anti-Semitic abuse.
Oksana Parshyna and her son, Maksym Photo shared by Monika Andruszewska
35-year-old Oksana Parshyna was in her third month of pregnancy when she set off for Donetsk to try to transfer into her sister's name the ownership papers for the land on which her home, destroyed during the battle for Donetsk Airport, stands. This was an enforced move since the militants are essentially grabbling private property whose owners were forced to flee. Oksana was seized on 14 May 2021, with the militants accusing her of 'spying for Ukraine'.
Oleh Shevandin
Shevandin is a very well-known sportsman from Debaltseve who was seized by DPR militants over five years ago. The militants are refusing to give any information about his whereabouts, however the car he was driving is known to have been used by at least the Russian commander, 'Zarya', responsible for the seizure. Shevandin had left Debaltseve with his family after it was seized by the DPR militants (with heavy Russian military involvement). Unfortunately, they learned that his elderly mother had insisted on returning, and took the fatal step of returning to try to ensure that she was safe. Larisa Shevandin says that very few people knew of his plans, and she has to suspect that somebody turned out to be an informer as the DPR militants were clearly waiting for him when he arrived at a checkpoint in occupied Donbas on 1 May 2015. The family know only that Shevandin himself was taken on 3 May to Donetsk with the militants accusing him of spying for Ukraine. His captors have refused to give any information about where he is imprisoned and have not included him on the exchange list.
Yevhen Stavtsev (family photo)
36-year-old Stavtsev was seized by the so-called 'DPR ministry of state security' at his home, late in the evening of 6 October 2017 and was held and tortured for some time at Izolyatsia. During a 'one-day trial' on 18 February 2019, Stavtsev was 'sentenced' to 14 years, with the militants claimed that he had 'spied for Ukraine and created a terrorist organization'.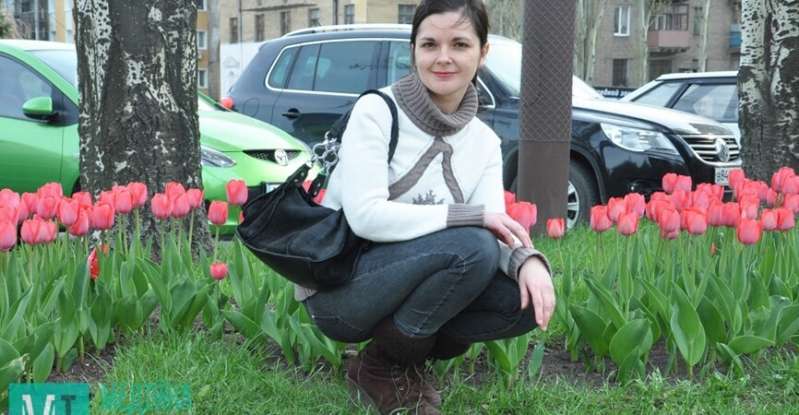 An environmental chemist, Yurchak was 40 when seized by 'DPR' militants on 9 November 2017. It is now known that she was held at 'Izolyatsia' and doubtless tortured for almost a year, however at the time she simply disappeared and her parents had no idea what had happened to her.
Although the 15-year sentence received on 26 March 2020 was, as usual, for supposed 'spying, it seems Yurchak was also accused of 'insulting' top militants, whose vehicles she refers to as 'orc-mobiles'. From back in 2014, Yurchak was active on Twitter, making no secret of her pro-Ukrainian views and writing honestly about what she saw. She openly wrote, for example, about where the shelling was coming from and the direction in which military technology was being transported.
Almost all that we know about him and about Yuri Shapovalov comes from videoed 'confessions'. Although the 'sentence' of 14 years is for the standard 'spying for the SBU', 31-year-old Podvezko appears to have been charged over alleged communications with a Twitter user whom both Russia and its proxy 'republics' do have cause to hate. Necro Mancer @666_mancer is one of the citizen journalists who has provided invaluable information about Russian military and pro-Russian losses in occupied Donbas; military movements, etc. He seemingly lives in Donetsk and began documenting the military movements and military losses that Russia has tried very hard to conceal. In their 'prosecution' of Podvezko, the DPR militants claim that Necro Mancer works for the SBU and that Podvezko passed him information.
The 56-year-old neuropathologist was 'sentenced' in DPR in April 2020 to 13 years' imprisonment for posts on Twitter which were claimed to "destabilize the situation" in the unrecognized 'republic'. He is known to have been held and tortured for some time at Izolyatsia. Although Shapovalov's Twitter account was clearly hijacked by the militants following his seizure, the tweets from before January 2018 can still be seen here at Залишенець Донецький @relictDon. They show a person with clear pro-Ukrainian views and a deep antagonism to 'Russian world' ideology and the devastating impact this has had on Donetsk.
The so-called 'DPR ministry of state security' arrived at the flat the then 20-year-old shared with his mother on 10 April 2020, and took both the young man and his computer away. He was almost certainly targeted for the passionately pro-Ukrainian views he expresses on social media. There are particular concerns in his case, as Bohdan has a congenital heart defect.
Bohdan was seized, together with several other teenagers, in September 2016 and forced to give videoed 'confessions' of having carried out tasks for Ukraine's SBU [Security Service]. Bohdan was just 17 at the time, with the youngest lads – 15. At the time of the last major exchange of prisoners in December 2019, the militants offered to 'pardon' the young men, but only on condition that they 'repented' and agreed not to leave occupied Donbas. Kovalchuk, however, refused, saying that he wanted to go to government-controlled Ukraine. Probably as punishment for this, he remained imprisoned, with the 10-year 'sentence' still standing.
Hryhory Sinchenko
Sinchenko, who was originally from Makiyivka, but was living in the Kherson oblast, was first taken prisoner when he returned to occupied Donbas to reinstate medical documents. The militants accused him of blowing up cigarette kiosks, and he was savagely tortured, including with the use of electric shocks, asphyxiation and being suspended for several hours by handcuffs.
He was released in the exchange of hostages and POWs on 27 December 2017, but later returned to Donbas, seemingly to continue partisan activities against the Russian proxy 'republic'. He was seized again and savagely beaten in October 2019, with the so-called 'DPR ministry of state security' accusing him of involvement in the blowing up of a Donetsk radio tower in protest at the widespread use of torture in the DPR's illegal prisoners.
Shelest is a lecturer in information technology at the Donetsk National Technical University. He was taken from the home in Donetsk that he shared with his mother on 13 September 2017 and 'sentenced' on 17 May, 2019 to 11 years for supposed 'spying'. He has been held since then at Prison Colony No. 32 in Makiyivka,
Shabolda was seized by the 'DPR' militants on 24 June 2019 and has been imprisoned ever since. The militants not only tortured him, but threatened to bring his two small children in and cut their heads off if he did not 'confess' to spying. Shabolda's wife and the children are now safely on government-controlled territory, but the 32-year-old remains imprisoned.
Boranov was 31, married, with a 7-year-old son, Platon, when he was seized by DPR militants on 9 September 2017. He had been a soldier in Ukraine's National Guard for a year and a half, and according to his mother, took part in the liberation of Sloviansk in early July 2014. In September 2017, he was not formally a member of the Armed Forces and had told his mother that he was going to Kyiv for work. It is likely that there were things the young man was not at liberty to disclose. His wife and mother went through hell for two years before learning from a hostage released in December 2019 that Stanislav is alive, with the militants holding him under the name Oleksandr Bozhok.
Seized on 16 June 2020 by the 'LPR ministry of state security' and then 'sentenced' on 5 February 2021 to 12 years on the standard charge of 'spying for Ukraine'. He had only been transferred to a SIZO in December 2020, and had almost certainly been held in a secret prison or basement before then and tortured.
The so-called 'LPR ministry of state security' reported 21-year-old Lilipa's 'arrest' on 22 September 2020. They accused him of passing 'state secrets' to the SBU, with the latter having supposedly recruited him when he was 16.
Olena Zaitseva was seized by 'DPR' militants in February 2019 when she tried to prevent them from taking her 19-year-old son Vladislav prisoner. Both mother and son remain imprisoned, and there are particular concerns about Olena's state of health.
Volodymyr Cherkas vanished in September 2017 after returning to occupied Donetsk for his elderly mother, who was quite alone after the death of her husband. It remains unclear where he is now, but he was held and doubtless savagely tortured at Izolyatsia for over two years, and there are very real concerns about his state of health, since Cherkas has a heart condition and is receiving no medical treatment.
Viktor Shydlovsky has been held hostage in 'DPR' since 2019, although any real information only became available much later. Now 49, he was used by Russia for an anti-Ukrainian program on Russian state television, even while the 'DPR militants' held him in solitary confinement, and denied that he was in their custody.
Andriy Harrius was seized by 'DPR' militants on 11 December 2018 and has been held prisoner ever since. The 34-year-old former police driver, whose wife was about to give birth to their second child, is claimed to have been planning acts of sabotage for Ukraine's Security Service [SBU] and could be sentenced by an illegal 'court' to death or life imprisonment.
Natalya Shylo knew that it was dangerous for her to return to occupied Donetsk because of her openly pro-Ukrainian position. Her elderly mother, however, had undergone an operation and needed her support. She was seized by 'DPR' militants in July 2021. The militants claim that the maths and physics teacher was 'spying' for Ukraine.
POWs
Yury Hordiychuk and Pavlo Korsun
Yury Hordiychuk (b. 25.09.1982) is a solo father, with a small son (Maksym). He and his slightly younger comrade, Pavlo Korsun, were taken prisoner by 'DPR' militants on 22 May 2019, together with six other soldiers from the 53rd Mechanized Brigade, when they mistakenly crossed into militant-controlled territory. It is not clear when one of the men, Roman Bespaly, was killed. The militants initially tried to hide his body, and only handed it over near the end of 2019. The other POWs were released in stages, however the militants staged a 'trial' of Hordiychuk and Korsun on 30 October 2019, with the puppet 'court' of an unrecognized 'republic' illegally sentencing both men to 17 years' imprisonment.
Since 2014, Russia and its proxy 'republics' have been violating international law, both by staging 'trials' of prisoners of war, and by forcing them to take part in propaganda stunts, including for Russian television.
One of their victims has been Ihor Myronchuk, a professional soldier from the Uzhhorod-based 128th Mountain Assault Brigade,, who has been defending Ukraine in Donbas since early 2014. He took part in the battles for the Luhansk Airport and Debaltseve, and has received several state honours.
Myronchuk was seized by militants in the Donetsk oblast on 9 February 2019, and clearly tortured into repeating Moscow's line about the war for the Russian and Russian-controlled militant propaganda media. Myronchuk's brigade reacted swiftly and appropriately to the propaganda video, stating that it had been taped and edited for propaganda purposes, and that any comments made in it were clearly due to the pressure placed on him. His entire 'interrogation' was full of lines that could have been, or were, written by Moscow's propagandists.
Myronchuk was subjected to a farcical trial and 'sentenced', just as illegally, to 12 years' imprisonment.
Yuri Diachenko POW 'sentenced' to 13 years
The only information about Diachenko was posted by the Media Initiative for Human Rights in January 2020, when the servicemen from the 24th Mechanized Brigade was 30. He was captured by 'DPR' militants near occupied Maryinka in the Donetsk oblast on 28 July 2018, with the first information about him coming from a former hostage, released in December 2019. Diachenko had explained to him that he had been abducted during the night from 27 to 28 July 2018; that he had lost consciousness and that, when he came to, he was wet and covered in dirt, as though he'd been dragged through the mud. He said that he had been held separately and tortured for a month before being moved to the SIZO.
It was later learned that a so-called 'DPR court' had sentenced him to 13 years' imprisonment. His whereabouts now are, however, unknown.
Onishchuk is part Polish and was living only around 50 kilometres from the Ukrainian-Polish border when he was called up in 2014. His mother told a Polish journalist in 2020 that her son had dismissed any suggestion of moving to Poland to avoid mobilization and accepted that it was his duty to serve.
He was seized by 'LPR' militants on 15 June 2015, while travelling by taxi to his military unit. They let the taxi driver go and it was the latter who informed the police of the abduction. Whether or not, as Onishchuk's comrades reportedly said, the young soldier was, in fact, seized while carried out a military task, he was a serving soldier and should, undoubtedly, have been treated as a POW, in accordance with international law. Instead, his elderly mother has been put through unbearable anguish with the militants twice confirming that they were holding him, only to then withdraw such confirmation. Perhaps the most hopeful indication was from a former hostage, released in December 2017, who confirmed that Halyna Onishchuk's son was alive. If, as hoped, that remains the case, it is unclear why the militants are so secretive about Roman's whereabouts.
Serhiy Khotienov
Khotienov disappeared in February 2015, during the retreat from Debaltseve, which the 'DPR' militants gained control of due to the significant involvement of Russian troops. He is officially classified both as a POW, and as missing without trace, however his family are convinced that he is being held prisoner in 'DPR'.
Vitaly Chmil
The 36-year-old is from the Mykolaiv 36th Naval Infantry Brigade and disappeared on 2 May 2018 near frontline Shyrokyne. The Armed Forces immediately concluded that Chmil had decided to change sides. Then on 23 May, the 'DPR news agency' produced a video during which Chmil says that he was declared a deserter after he was taken prisoner and that the militant command and the Kyiv authorities couldn't care less about them. He then went on to repeat the same propaganda lines which POWs have been forced to repeat, such as that there are no mercenaries in Donbas, etc. Such videos are produced while men are under the total control of militants who know how to apply torture without leaving evident marks. Chmil's wife, Oksana, and his mother are both adamant that he could not have betrayed his country.
Andriy Kachynsky
Kachynsky, a soldier from the 128th Mountain Assault Brigade, was seized by militants during the night from 28 to 29 December 2019. It is unclear how he came to be in militant custody, however by 3 January 2020, 'DPR' militants had posted a video in which Kachynsky was, purportedly, admitting to having taken part in an unsuccessful 'act of provocation' and then been abandoned by his unit.
With respect to this video, Kachynsky's sister, Tamara, has noted that her brother does not speak so much and so coherently as on the video and she would guess that he was repeating the words to a prompt. She adds that her brother had wanted to join the army and had signed a three-year contract eight months earlier. Up till and including 27 December, he rang the family every day, asking about his mother who was bedridden and had lost her sight following a stroke.
Stanislav Panchenko
Panchenko, then a 20-year-old solder of the 58th Separate Motorized Infantry Brigade, disappeared during the night from 17-18 January 2019. He was on duty when all contact with him was lost. As with Kachynsky, a video was posted after Panchenko had been held prisoner by the 'DPR' militants for around three days. In it, Panchenko supposedly admitted to having voluntarily gone over to the militants' side. In confirming that Panchenko was indeed a prisoner, his brigade pointed out that these three days would have been sufficient to force the captured soldier into 'admitting' to whatever was demanded of him.
Having doubtless tortured this supposed admission out of Panchenko, the 'DPR' militants then went on to stage a 'trial' and 17-year sentence against the young soldier.
Most hostages and POWs whom 'DPR' have sentenced on 'spying charges' are imprisoned at Makiyivka prison colony No. 32. This is known to have been hit by shelling at least once, and, even those without grave health issues, are in very real danger.